Grab the perfect .APP domain for your next app or game
Google Registry announced on May 1st the .app top level domain but allowed registrations only for a handful of select developers (i.e. big names) that quickly became early-adopters. As of May 14th though, they opened .app domain registrations for everyone.
For devs having a great .app domain might help with marketing, especially since these are better for branding than .com domains. Thus if you plan on releasing an app/game and already thought of a name, check out to see if that's available and register it before anyone else does. Google set up a special page for this where basically you can search in realtime the availability of .app domains and after that register it: Check .APP domain availability.
The downside is that there are already some "early adopters" that grabbed all the important .app domains. I suspect that they used dictionary names in combination with the .app extension to register those, so don't even think about grabbing a sex.app domain… I mean an educational.app one ;). A few select devs were highlighted on Google's get.app domain, for instance:
picnic.app, a grocery ordering app
lola.app, a trip planning app
myra.app, medicine ordering app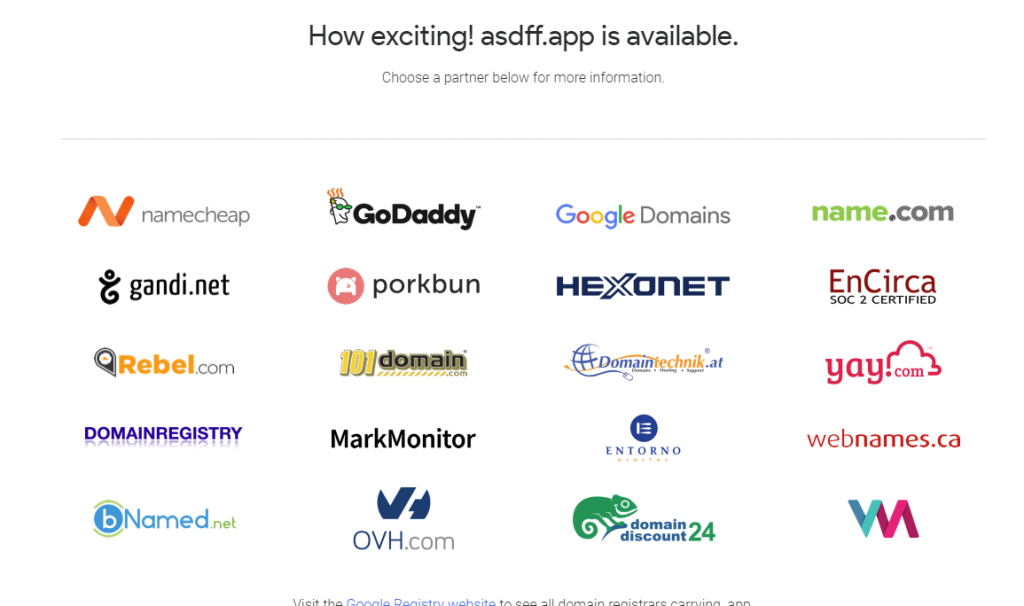 Once you find an available domain though, Google will show you various registrars it currently has a partnership with and sells the .app domains through. 20 .app registrars to be more precise: namecheap, GoDaddy, Google Domains, name.com, gandi.net, porkbun, HEXONET, EnCirca, Rebel.com, 101domain, Domaintehnik.at, yay.com, DOMAINREGISTRY, MarkMonitor, ENTORNO, webnames.ca, bNamed.net, OVH.com, domaindiscount24 and VarioMedia.
Why would you register an .app domain for your app? Here's a few benefits:
Branding. In terms of branding an app domain, nothing beats the .app TLD. Everyone knows what an app is, thus they'll easily recognize it.
HSTS preload list. .app TLDs are automatically included on the HSTS preload list which basically "tells" the browser to make HTTPS required when accessing an .app domain. This means that it's mandatory to have an SSL certificate installed for your .app domain too, but it's also better from a security point of view.
Slight SEO advantage. Google doesn't specifically states that .app domains will be favored in search results when searching for an app, but I do believe an .app TLD gives the indexer a list an extra hint that it's a site about an app and might favor it. Not to mention that Google Registry is the registrar of the entire .APP tld, so draw your own conclusions.