Are you an app developer that recently published a game or app in Google Play? Then tell me this, do you know what is the first thing visitors see when deciding to install an app or game from Google Play's mobile app? They see a still from the demo video for that app/game with a large video play button. Remember, almost all Google Play's visitors come from mobile devices so this is how an app presentation page looks like for them: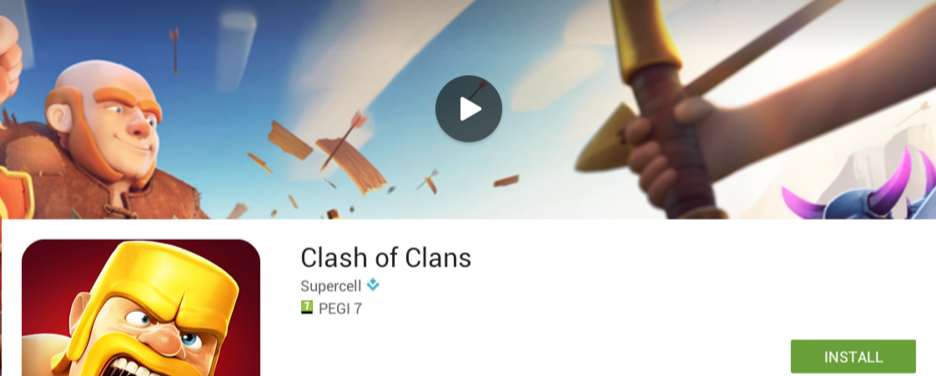 That app demo video play button shows first, before the actual Install button. This just proves how important app demo videos are for your Google Play listing page. However, there are still many (MANY) app developers that don't include a demo video that shows their app/game in action or an app preview/tutorial. A video that clearly shows the app in action is the most important visual element for a listing page, more important than the app screenshots.
Want a video demo for your APP? Click here to have it created for you!
While it's very important to have a video demo, you shouldn't create and load ANY video demo for your app/game listing. A bad video can do more harm than good if it doesn't present your app correctly. When creating your video you must look from your app listing page visitor's perspective. Here are some things to AVOID for your app/game video demo:
Avoid generic videos. There are a lot of websites where you can create an animated video using some generic elements to showcase your app or game. While those look nice, for users it's more confusing than useful to watch something like that. Remember, users want to see the app in live, real action, not some animated characters jumping around. Even some big players to this after paying a media agency thousands of dollars to create a 30 second animated video that focuses more on the CGI skills of the agency than the app itself.
Demo videos should not be commercials! Another thing is that you should stick to the main purpose of the demo video, showing your app in action so that users can decide if it's worth for them to install it. Derailing from that purpose means to create a video that resembles more a commercial rather than a showcase/presentation video – don't oversell, be honest and present your app/game as clear as possible. You've seen this with game trailers for sure  where the presented video has very little to do with the actual gameplay. Clash of Clans is one such (bad) example as it's meant as a video commercial yet they list it on their Google Play page instead of presenting the gameplay:
Avoid lengthy videos. Don't confuse demo videos that are supposed to show a preview of your app/game in action with tutorials on how your app should be used. A demo video should be anywhere between 30 seconds to 2-3 minutes, usually the shorter the video the better. If your app is very simple go for a shorter presentation, otherwise create a longer video though try to aim for 1 minute.
The goal of the demo video is not to trick users into installing your app, its goal is to help them decide faster if the app is a good fit. That's why the video must be honest without any hyperbolic declarations. If you trick your users into installing the app by showing something in-accurate, chances for a bad rating increase.
So how do you go about creating an app demo video? Here are some steps to follow:
Decide the format. The easy way to create a video demo is to screencast/record your app/game directly from the device it's installed on. The more difficult version is to record the app in action externally using a camera and a special setup. It all comes down to how much you are willing to invest in creating the video (time & money). The external-filmed version is more professional while the internal-recording one is more handy. If you do have the equipment (basically a good camera, tripod, lighting) go for the external version as it gives users a better feeling on how the app works.
Have a script. Decide what you want to showcase. The most important features/benefits that can be presented in a reasonable timeframe (~1 minute) and order of showcasing those. It's better to write it down and do a short repetition before the actual recording. Avoid presenting unnecessary details, just stick to the most important parts.
Video editing. No matter how you record your video (in-app or external) you'll have to do some video editing. When it comes to recording your app/game in action you can use a combination of Camtasia (to record your desktop) and Bluestacks to emulate Android on your computer. There's also the option of recording action right from your device by using a video recording app (Shou.TV for instance). If your device is not rooted you'll need to run at least Android Kitkat for the recording to work. The idea is that no matter the recording source, you'll still need to edit the video to include some captions of important actions/features/benefits. Since prices for full blown editing apps are in the $thousands, my recommendation is to go with DaVinci Resolve (free video editor) or an older version of Adobe Premiere CS2. The final edited video should have a soundtrack added (there's lots of audio royalty out there to pick from) plus captions here and there that would basically give a short presentation of what the feature/benefit is.
The above are only a few suggestions that I find important, obviously there are others but I'll try to keep this simple (which is basically what you should do with the app demo video, KISS). To give you an idea, below are 2 examples, one that I find to be very good, the other not so much.
THE GOOD: Monument Valley video trailer
Why is the video demo for Monument Valley good? Because it is focused solely on the gameplay and shows the most important feature the game has, its breath-taking visuals.
THE BAD: Clash of Clans
The above video for Clash of Clans is amazing as a commercial and that justifies the 80+ million views. It ran during the Super Bowl and lots of $$$ in this campaign. However they are using it on the Google Play listing page as a game demo video which sucks. It is not good as a video demo because it doesn't show the game at all in action, the first part is only a 3D movie that doesn't have much to do with the actual gameplay. Summing it, this is an excellent game ad but an awful game video demo.
App Demo Video / App Video Previews Service
You lack the time or knowledge to create an app video preview? I can help with that, just use the form below to get in touch and I'll handle everything, from deciding what fits best for your app to creating a script, recording and editing the final video.
Just use the form below to get in touch:

So what's the price for creating an app demo video? For now it's $99.99 and trust me when I say it's one of the lowest you could find (if you don't believe me do a search for "app demo video price" and you'll be astonished to see prices from $500 upwards).
What do you get when you purchase this app demo video service:
App video that will be up to 3 minutes in length (depending on the complexity of the app it can be from 0.5 to 3 minutes)
Full HD quality, without any distribution restrictions (you can do whatever you want with it)
Accompanying audio soundtrack
Optionally I can publish your app preview video on my YouTube channel for you to get more exposure (your choice if you want this or not).
Any questions regarding this app video service? Feel free to drop me an email and we can discuss this further.