Bridge Constructor Portal (+Promo Code): Build Bridges, not WALLS!
Update: I have 1 free Google Play promo code that unlocks the full version of Bridge Constructor Portal (the Android version). The game is normally paid and costs $5, so if you want to participate in the giveaway just leave a comment below. I'll pick a winner when 10 comments are posted (or on February 7th), whichever comes first.
Prelude
I did play my share of games and I swear that there are some games that make you stupid. Not make you feel stupid, but really make you stupid. You know the type, those games where you dumbfoundingly click away while your brain takes a nap. Tap to pop some bubbles, tap to plant strawberries, tap to.. anything. Games that focus exclusively of milking you through in-app purchases (no, not you EA, you're "cool"). I'm afraid to look at the top most played Android games because I think at least half of those fit this criterion.
And then there's honest games. Those that truly entertain you without having your neurons commit suicide. Those that come with a story, those games that give you exactly what you pay for, those that are worth every penny they ask for. Think of Monument Valley, Minecraft, Leo's Fortune and luckily for us lots others. I have one more to add to my list of honest games, and that's Bridge Constructor Portal.
Published by HeadupGames, it's a game that combines 2 incredible creations: Bridge Constructor and Portal (yes, that "cake is a lie" Portal). The result is mesmerizing, a game that puts your brain to work for building incredible structures, while keeping you entertained. This is a game that is worth every penny (and some). In my good times of gaming (ok, a long long time ago, in a campus far far away), I remember playing The Incredible Machines series & the Lemmings, 2 wonderful puzzles I had great memories with. Bridge Constructor Portal's gameplay reminded me of those 2 games, as if the Lemmings were put in cars, dropped in an Incredible Machine contraption designed by an architect, all guarded by the malefic robot in Wall-E… sorry I mean GLaDOS from Portal.
Gameplay
Now, in all seriousness, Bridge Constructor Portal is a sequel to the Bridge Constructor series but all set in the Aperture Laboratories from Portal, Valve Corporation's popular title. For those of you that don't understand from its title what the game is about, I must say that this game is too difficult for you so don't play it. For the rest of you, it's a beautifully-crafted engineering simulator where the goal is to build bridges of all sorts with the purpose of helping a laboratory car (or convoy) travel safely from an initial point to an exit gate. IGN captured the first 9 minutes of it:
While I played for almost a week now Bridge Constructor Portal for Android, the game is multi-platform (multi-multi platform). It's available on Windows, Linux, macOS, iOS with soon to be released versions for Nintendo Switch, PlayStation 4 and Xbox One. Now try to enumerate the platforms it's available on and you'll be out of breath, that's how serious HeadupGames is about this game. And if they are taking any themed requests I'd like to see a Star Wars version of Bridge Constructor taking place in a Death Star infested by portals. If they create that I promise to shave my beard or kiss my wife. Or both!
Back to its gameplay, here's essentially what it is all about:
You are hired as an assistant (after dying a few times during the selection process) at Aperture Laboratories under the supervision of GLaDOS.
You must design and construct bridges to get the laboratory cars from one location to another.
The only 2 building materials you have are metallic struts (that can be converted to roads) and cables which you must anchor from fixed points on walls/floors.
At any point during each level you can test your constructions and see if they don't break apart (elements that are too stressed will be marked red)
When you're ready, send the first truck over to test its resistance. Yes, your bridges must withstand their own weight, the driving trucks and impact landing.
Portal elements are everywhere, from the sentry turrets to propulsion/repulsion and launching pads. This is the salt of the game…
The physics are incredibly realistic, so you must use your wits to pass cum laudae. On one side there's the building skills, where you must design bridges that don't break, on the other is trajectory estimates and spatial visualizations. Fancy words you'll remember when pulling your hair out in some levels.
Once a vehicle successfully passes through the gate, you can advance to the next level or try your bridge with a convoy of vehicles.
No time constraints, no material constraints, just that for each level you'll see how much money you've wasted to build your bridge. The lower the better. Oh and don't try to save people inside trucks, they jump into safety in acid pools anyway (insert sociopath grin here)
60 levels in total, and for each level you an play with a single car or convoy. The more you advance the tougher the levels.
Bridge Construction Portal is the most fun I've ever had for $4.99, including my 2nd grade incident with a lollipop and my family's two cats. And once paid, you get the full game without any nuisances. No in-app purchases, no ads or anything. Trust me, Bridge Construction and Portal is a good mix.
Features
Bridge Construction Portal can be played both on your smartphone and tablet. It works smooth on either, if your device has decent specs. I'm even using it on my Amazon Fire that has an old Google Play app and works just fine. However, if there's something I prefer it's playing it on a tablet rather than phone. You see, some levels have larger areas, and if you're on a tablet you can add/move elements faster. It does have a pinch-and-drag zoom that helps you focus on specific areas of the screen, however I feel you can enjoy the game more on a larger screen.
You see, some levels have larger areas, and if you're on a tablet you can add/move elements faster. It does have a pinch-and-drag zoom that helps you focus on specific areas of the screen, however I feel you can enjoy the game more on a larger screen. Looking back to my bridge creations, I would say Bridge Constructor Portal is actually construction porn, as some of them are real beauties. So just as in regular porn, the bigger the screen the better the experience… actually wait, I don't like regular porn on bigger screens as other things are big, so forget this comparison.
Unleash the architect in you.
The game has some Construction Tips (sort of a best practices) which I highly recommend reading. It gives some very good examples on how you can build a bridge that fits a certain situation. And by Chapter 2 (level 11) you'll have used up all your creativity, that's why the guide helps. The gameplay in its essence is very simple, the idea is to help test vehicles safely get from one initial point to the finish line. You create bridges, ramps, slides and other mind-bending constructions by using struts and cables. These must be anchored to fixed points (a limited number) in such a way to sustain themselves and the passing/flying/dropping vehicles.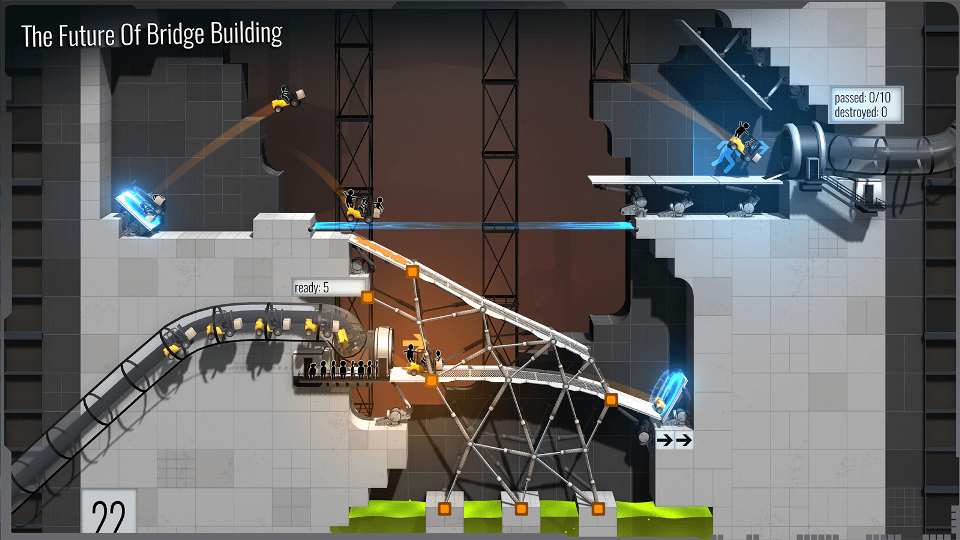 As far as controls go, you simply select the strut or cable to attach, then tap-drag-release to create a segment. The struts have limited length (you'll see a visual aid on how much those can stretch), are heavier but also the most resistant. The cables on the other hand can be as long as you need, are easy but break faster. When in doubt, use the Test button to see if the bridge is sustainable and which parts are the most solicited. Then send in the first vehicle and see if it makes it to the other side. Each vehicle has Bendies in it, but you can still pass a level if only the vehicle makes it through the finish line.
It's not only about connecting dots, much like an architect you must visualize what you want to build and then troubleshoot.
60 mind-bending levels.
There's 60 different levels (test chambers) to play, and for each you have 2 modes (single vehicle and convoy). I barely made it to level 30 so I don't know how much it takes to finish the entire game, but I believe there's dozens and dozens of hours involved. These levels are grouped in chapters (10 for each chapter) and the more you advance, the more difficult things get. Because, and this is where Portal kicks in, there's also gels (propulsion/repulsion), cubes that must be directed to certain switches, sentry turrets, acid pools, laser barriers, faith plates and nevertheless the portals. Luckily portals are colored to show you where you'll land once the vehicle goes through.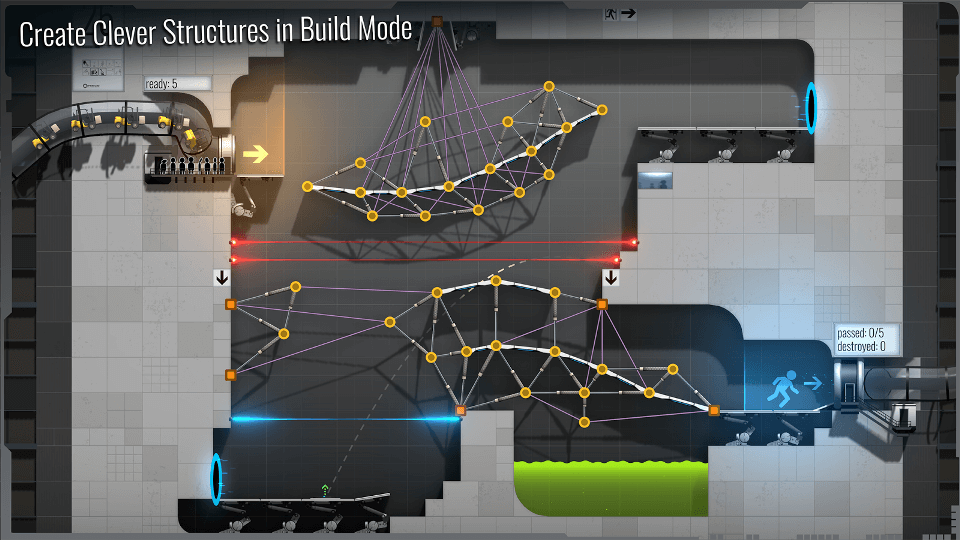 And then there's the dark humor. From using all sort of pompous names (i.e. "Chief Custodian for the Aperture Science Enrichment Center"), to hilarious lines (i.e. "…you are now entitled food and artificial sunlight"), you'll have a blast. If you want to make things even more fun, just imagine that this is a simulator for working in a North Korean nuclear facility.
Realistic physics.
The dynamics of elements in Bridge Constructor Portal are very realistic. That's some heavy physics right there, from the moment you start testing the bridge or actually send vehicles, your bridge will move just as a real one. If you didn't design it properly and one element is too solicited, it will break creating chaos. And when you thought you have everything figured out and ran the first vehicle successfully, you send a convoy and suddenly you're a mass murderer.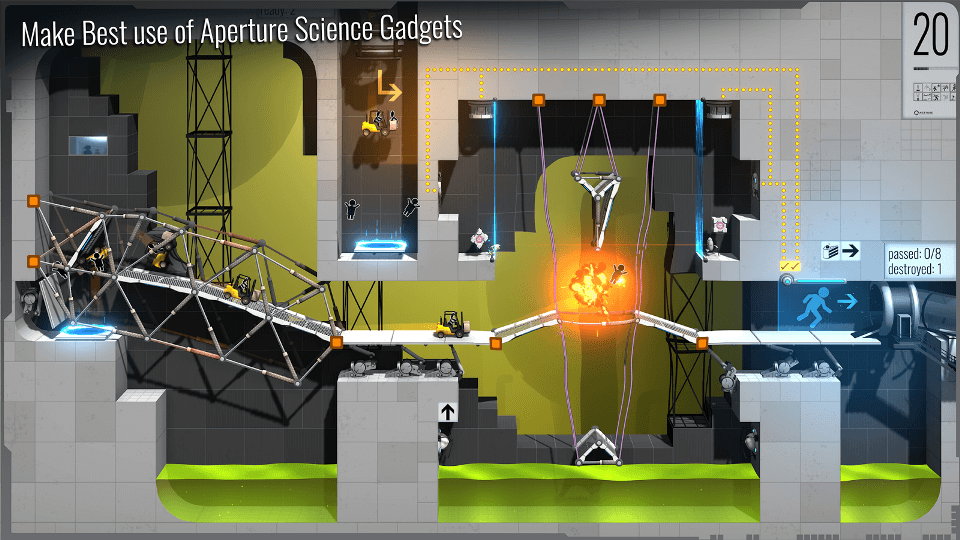 Some levels even require you to estimate trajectories. Vehicles are launched through the air and must land on a bridge that must also handle the extra impact force. Those are the toughest levels but also some of the most rewarding ones (granted, I didn't get to level 60 to see if you won't have to fight GLaDOS itself, or herself).
Hard to earn achievements.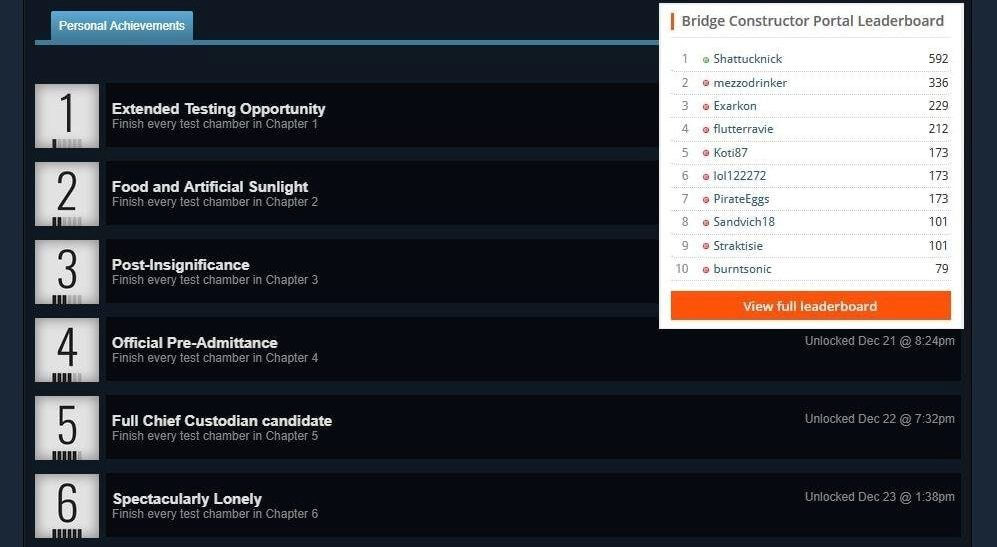 Although these only provide bragging rights, there are several achievements you can … achieve. From finishing your first 10 test chambers and getting an "Extended Testing Opportunity", to passing 1,000 times through portals or delivering XX convoys. My favorite achievement is the "Entry-Exit Relay Repeater System" which basically translates to going back and forth through the same portal 30 times. Don't ask me how I managed to do that, but I have.
Save your progress.
For each level you have the option to save your construction (several slots available). This helps since you can later load your progress to continue where you left off. In my case there were several levels with high complexity where I had to test different construction scenarios. The ability to save/load a particular construction saved me time as I didn't have to re-do a previous construction that worked better.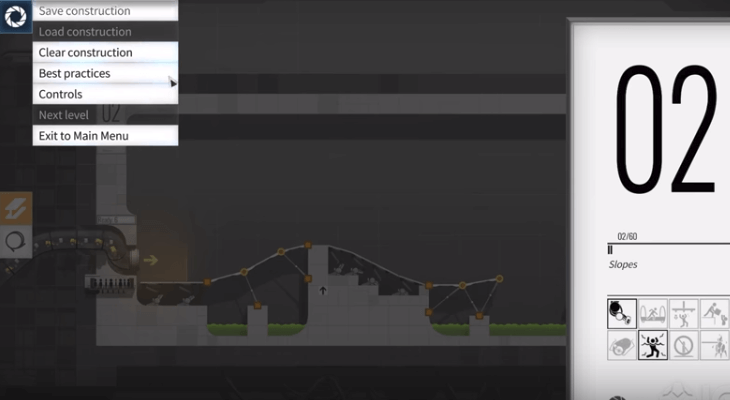 Yes, a very important part in Bridge Constructor Portal is testing, tweaking then testing some more. Much like programming, you design something, test to see if it works, you make changes and test again and so on, before the final release. This aspect trains your mind and it's one of the main reason I let my 7 year old kid play it too. I won't admit that he managed to pass level 32 when I was stuck, that little prick.
Original GLaDOS voice.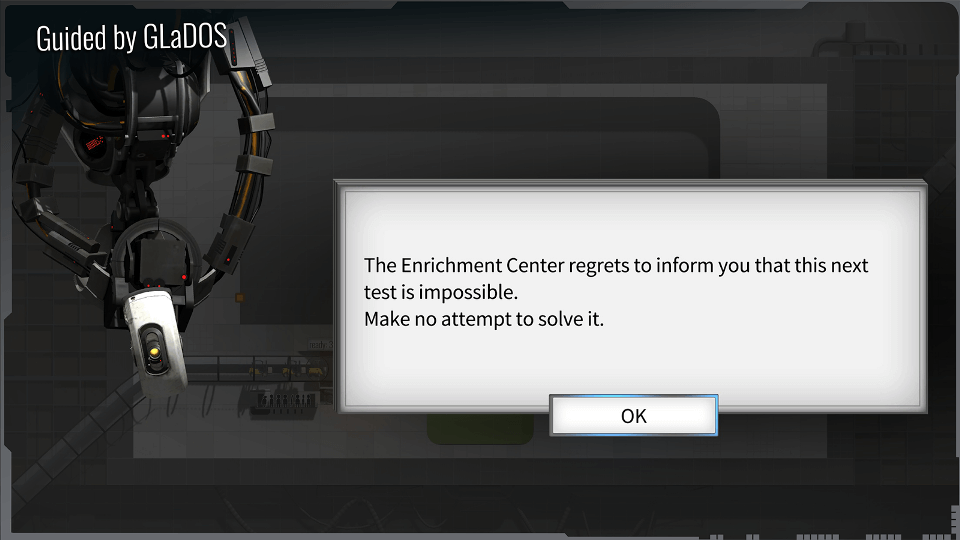 If you've played Portal you'll be delighted to hear the original voice of GLaDOS giving you "helpful" instructions here and there. Even if you haven't played Portal (shame on you!), there were countless memes based on it, and at least the expression "The cake is a lie!" should ring a bell. Nevertheless, the audio side of Bridge Constructor Portal is a great match for the game's play and I'm happy they decided to include the original voice of Ellen McLain in it.
Conclusion
Bridge Constructor Portal is well worth what they ask for given that the game is very well designed, has an excellent gameplay and doesn't include any in-app purchases or annoying ads. For the price of a cheap burger you get dozens of hours of brain-teasing entertainment, suitable (and recommended) for all ages.
[pb-app-box pname='com.headupgames.bridgeconstructorportal' name='Bridge Constructor Portal' theme='light' lang='en']