Google Play Indie Games Festival 2017 – a chance to promote your indie game
UPDATE: And the Indie Game Festival finished, winners announced. This year's 3 big winners are:
Flipping Legend by Noodlecake Studios Inc
Slayaway Camp by Blue Wizard Digital LP
Tiny Bubbles by Pine Street Codeworks
There are 7 others that were part of the top 10 group of indie games:
Age of Rivals by Roboto Games
Beast Brawlers – PvP Arena by V2 Games Inc.
Covens by Raincrow Studios, LLC
Crashy Cars by pixelbizarre
Jigsaw Story by Happy Square Studio Inc
Loteria Latin Bingo by Gorilla Bean Games
Splitter Critters by RAC7
All great Android games, if you haven't already I definitely recommend trying those. Google created a collection here: Indie Game Festival Winners & Participants.
Game promotion & app discovery in Google Play is a nightmare, most game devs don't stand a chance at having their apps/games featured. That's why everytime there's a slight chance to do some app promotion, you (as in the developer reading this) should take it. The latest opportunity is taking part in the Google Play Indie Games Festival 2017 – at least for US/Canada indie game developers.
The Google Play Indie Game Festival is at its second edition, as it was held for the first time in 2016. So here's what it is about:
It is an event where 20 lucky indie developers will get a chance at demo-ing their game. Last year there were 30 finalists, I guess they're reducing costs.
Out of these 20 finalist indie devs they'll choose 3 winners. No specifics into what they'll win, but for sure one of the prizes is exposure.
Attendance is free, so every visitor there can also test out and play some of the upcoming games (more promotion means for your game).
Unfortunately only indie game devs from US and Canada can submit their games to be considered for the festival. And it's a festival (as the name suggests, duh) only for indie games, not apps.
Now comes the important part. If you are an indie game developer located in US/Canada, you have until August 6th (2017) at 11:59PM PST to submit your game. My suggestion is to submit your game even if you're not too happy with its current state. Better to have your game rejected than not trying at all to promote it. The submission form is available here: Google Play Indie Game Festival 2017 submission form.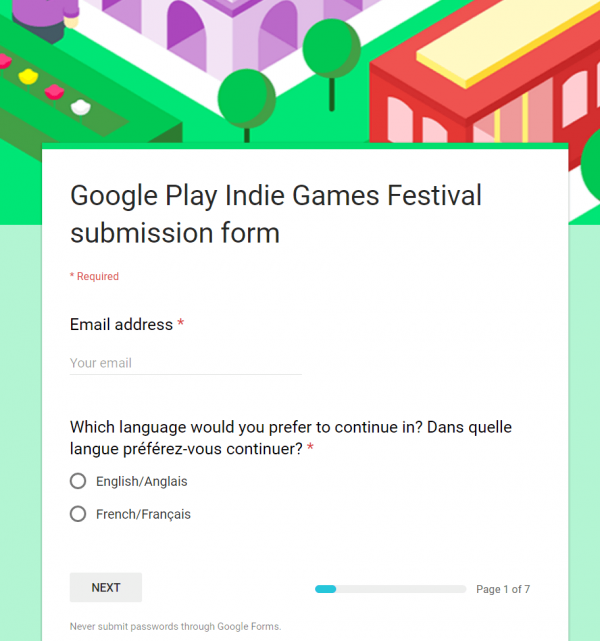 The finalists won't be picked by popular vote however there's a panel of judges that will decide who are the 3 winners out of the 20 finalists. Last year's judges were picked from Googlers with experience in gaming but also CEOs of popular gaming companies (i.e. Ron Carmel from World of GOO, Dan Finden @ FunPlus). The 3 winning games last year were:
Bit bit blocks, which now, a year later, has between

100,000 – 500,000

Numbo Jumbo, with 10,000 – 50,000 installs and
Orbit, the only game out of these 3 that really took off, with between 5 – 10 million installs.
I posted the winners so that you'd see how their install base evolved after winning the festival. Again, no matter what you think about your indie game you should submit it as you have a chance at being picked.
Everyone knows about Google's IO annual event and the Google Play Awards that are hosted during the event, but very few devs know about GPIGF. This means that the competition is low and you stand a better chance at being picked as a finalist here than in Google Play Awards. The festival agenda for last year looked like this, I'm pretty sure it will be similar this year but I couldn't find anything official: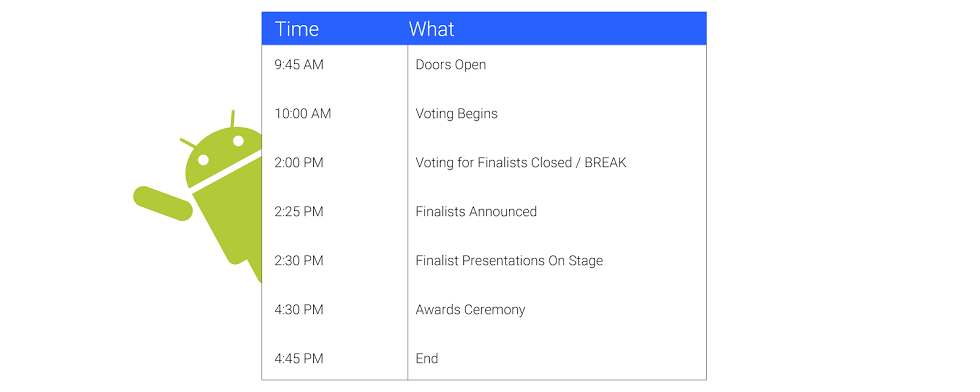 If you plan on attending, the event will take place on September 23rd in San Francisco. They do have a site set up especially for Google Play Indie Game Festival however all the dates in there are still showing 2016 so for some reason they didn't update the site (and the official Google post for 2017 is not that detailed). There's even a pre-registration page that says registrations are closed, but I wouldn't worry about that since I believe it's due to it not being updated.
There's also the chance that the event wasn't too successful last year and they're cutting down in 2017 (less finalists), but who knows. Here's an overview of what happened in 2016:
Other than that, don't bring pets as they're not allowed, there won't be any lunch served (just light snacks) and finally, there won't be any free WiFi. Last part shocked me too :).
Anyway, good luck to all indie game developers that submit their game, and hope you win! If you are picked as a finalist I promise to review your game on AndroidB (just be sure to ping me).