The most expensive Android apps + some pricing tips for devs
Why mobile apps are cheap
Before mobile apps went mainstream, desktop apps ruled in terms of volume. And prices for desktop apps rarely were below $9.99, with maximums of thousands of $ (i.e. for specialized software such as 3D modelling). Those prices made sense, because software requires a lot of development and regular maintenance.
Then mobile apps started popping and Steve Jobs did something awful for app devs. He imposed a price of $0.99 for ebooks/songs that quickly became the de-facto limit for apps as well. In fact only recently Apple increased the minimum price (for paid apps) to $1.19, as before it always was $0.99. I say that's price fixing and is awful for 2 reasons:
First of all, app development became devalued. Sure the volumes for mobile apps are higher than desktop, but still most devs earn nothing.
Second, users are now accustomed to getting either free apps or for very cheap (i.e. $0.99), which reduces the quality of the apps. Most users won't pay above that small fee so devs are forced to cut either in their profits or in the quality of the app.
This doesn't mean that there are no pricey apps out there, just that those are quite unpopular.
Google has an upper limit as to how much a paid app/game can cost and that limit is set at $400. As soon as Google imposed that limit, some devs thought of releasing "The most expensive app" and thus now we have hundreds if not thousands of apps that cost $400 but do practically nothing. They just wanted to earn the title of the most expensive app for Android. If an app is $400, even 1 accidental purchase might earn that dev a bunch of money. As you can see below, most will "show a diamond" or say something such as "I'm rich" but practically no value whatsoever.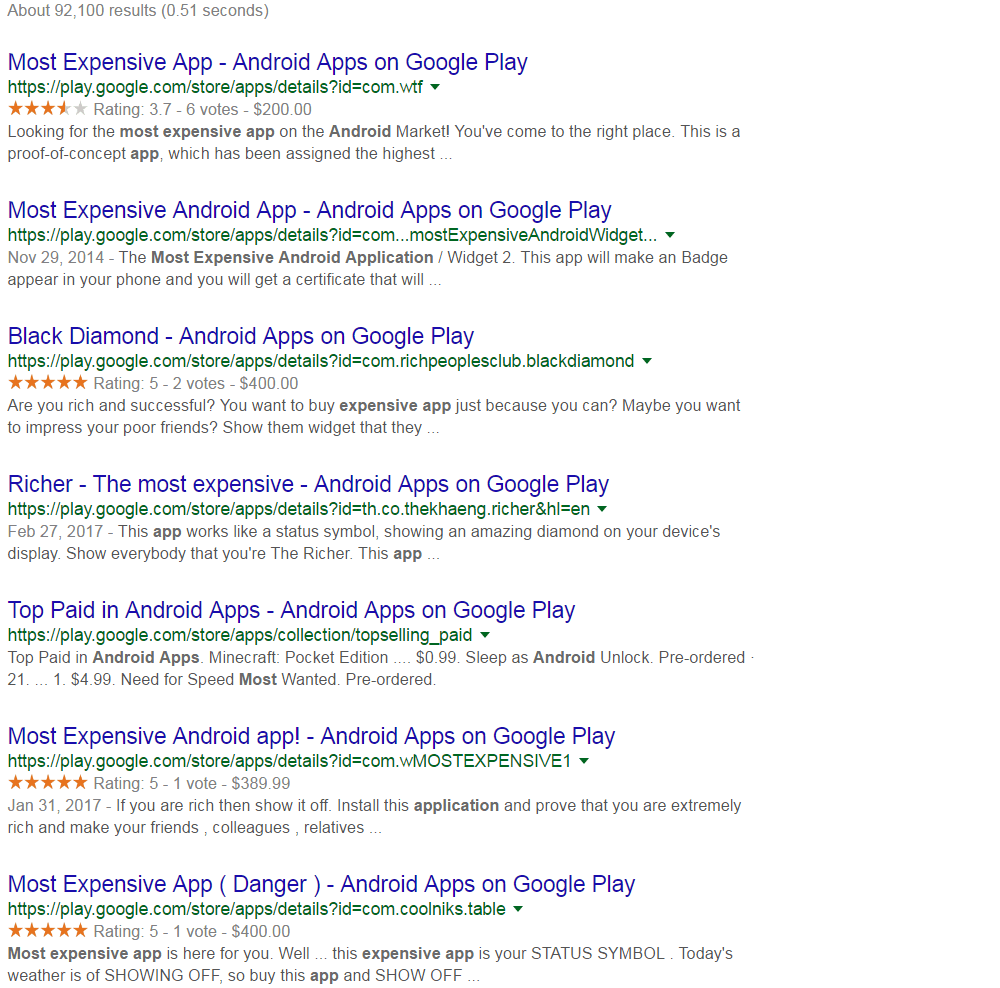 So technically yes, the apps you see in the screenshot above are the most expensive apps in the Google Play store. However, I'm discounting them for the lack of value. Instead I'd like to mention the most expensive Android apps that add real value and aren't just a marketing ploy.
The most expensive Android apps
The 15 most expensive Android apps that are also popular:
The above apps and games are the most expensive apps for Android that are also popular. This doesn't mean that there aren't apps/games that are useful but also more expensive than the above ones, it just means that these were in the top 400 paid apps. An example of 2 very expensive apps: Zollinger's Surgery Atlas 10/E that sells for $280 and a comprehensive medical atlas; Harrison's Internal Med 19/E that sells for $250, another medical atlas – unfortunately due to their price tag both have very few installs.
Android apps pricing strategy
So what is the conclusion judging by the price tag and targeting of the most expensive apps for Android? You must find a niche and then you can put whatever price you want. The narrower the niche, the better. If there aren't competitors then you've hit the jackpot, as you can put a high price until competition realizes the opportunity. By then you should be the de-facto in that niche and keep on banking.
Sure, if you have an unique idea and a great niche you can put whatever price you want for your paid Android app. But if you have neither of these and still want to sell your app, what is the best pricing strategy you should pick?
The only logical response here is to test the best suited price for your app. Start with the lowest price you consider fit and increase it little by little and see if your revenue increases (as prices go up, less users buy it but revenue should increase). To help you here's a statistic of the prices used by Android apps listed on Amazon:
$0 – 324,508 apps
$.01 to $.99 – 23,863 apps
$1.00 to $1.99 – 13,979 apps
$2.00 to $5.99 – 11,390 apps
$6.00 to $9.99 – 1,504 apps
$10.00 to $19.99 – 2,077 apps
$20.00 & Up – 1,412 apps
So I'd start with a price close to $0.99 and then increase it up until $5.99 while checking the revenue. If revenue drops at any level, go back a step. I wouldn't go higher than this.
How's your experience with paid apps? Feel free to share a comment if you're a dev or an user, as long as it's a pertinent comment related to pricing Android apps. Thank you!
Featured image credit: wadamen @ DeviantArt