World of Guns: The most realistic 3D gun disassembly game
There's something fascinating about guns and my first recollection of holding one was (way) back during one of my summer holidays. It's not what you'd think though, my grandparent was crafty with wood and he sculpted for guns, mainly due to the fact that owning real guns was and still is strictly regulated. But even that wooden gun gave me tremendous joy. Together with friends we'd play warriors of different kinds and PAC PAC PAC was the most shouted sound. I still treasure those memories, as I'm sure many others do.
Fast-Forwarding (a bit), my last high school year was a productivity disaster. First there was Tomb Raider and my first recollection of a Desert Eagle gun that Lara handled so gracefully – its distinct shooting sound, just like a slow drum roll, was music to my years. Then I discovered first person shooters and still remember the excitement of picking up and firing various types of guns. I'm lucky I graduated high school, all things considered.
Guns are fascinating because they give you the sense of power. I know there's quite a debate on whether these should be banned in the US or not, but I believe it's people that kill other people, not guns. For the same reasoning you'd have to ban fast food. Back to guns, I still own a complete world encyclopedia with guns that's full of illustrations and was a self-gift as an adult. It was fascinating to see how many types of guns there were and still are, but then I discovered an Android game that redefines my vision of "fascinating" in terms of guns: World of Guns.
The App
After spending way much time for reviewing it than I usually do with other apps, I can attest that World of Guns is simply said the most realistic gun-related app. Period. It will show you in a stunning 3D view everything that happens with a gun, from how it works to disassembling and re-assembling it. If you have even the slightest curiosity about guns, you'll be wowed by the unparalleled realism in World of Guns. And that comes from the way its developer, Noble Empire, pays attention to detail. You see, each gun model they add is basically the result of months of research of the actual gun, blueprints and documents. Each part of every gun in the game is re-created and has the same function exactly as in the real thing. Just take a glimpse at their presentation video to see exactly what I mean:
If that's not wow, I don't know what it is. And they have close to 200 videos on their Youtube channel that show mainly gun disassembly in action. If you're looking for the right term for this and not sure what it is, then I'll tell you, it's called GunPo*n. Added the asterisk for filtering, but you know what I mean, and numerous other groups and Internet channels (including a very popular Reddit one).
Gun disassembly is indeed the game's core feature and it has incredible details. As of right now they have 160+ gun models and 20000+ parts. Each gun can be disassembled and re-assembled, you can see animations with it in action (including a stunning X-Ray dynamic analysis) and control the time down to 50x slow motion mode. You can also "cutaway" a gun to see a particular section, and you'll literally view everything down to the tiniest detail (they had me at the gas dynamics).
Ah and don't worry, you also get to try out those guns. Just be sure the sound is enabled as otherwise you'd miss a lot. There are 10 different shooting ranges and each has its own objective to achieve. Plus other mini-games such as gun quizzes, puzzles (which part goes where) and competitive modes if you plan on climbing up the leaderboards.
Features
THE 3D gun encyclopedia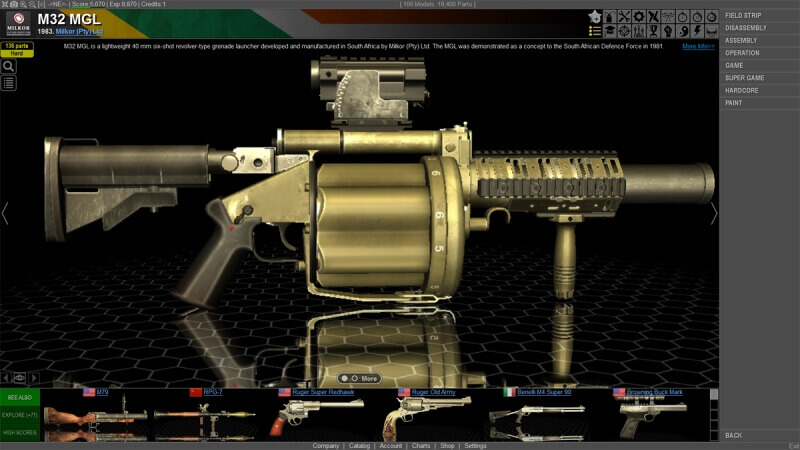 WoG is an incredible gun encyclopedia that's continuously expanding. I call it an encyclopedia because of how extensive its library of 3D guns it is and how well explained. Over 160 different guns that range from historic to modern ones. Guns that made history (i.e. Colt SAAs, Garands and Lee-Enfields), sleek guns (Glocks, P90s, M4s and Tavors), Soviet-bloc guns (i.e. AKs, VSS Vintorez) and many others including a M134 Minigun and .55-caliber Boys Anti-Tank rifle. With all these guns you can experience the real feel of shooting one.
Realistic Gun disassembly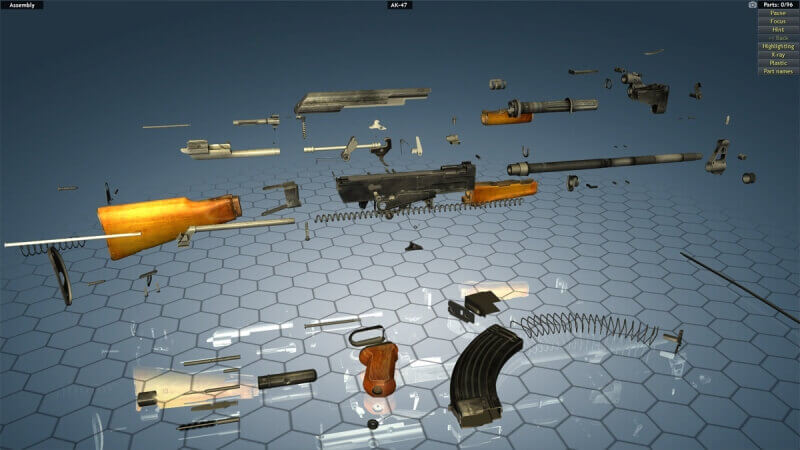 While each model can be swiftly explored in 3D, the real fun starts when you have to disassemble the gun and then re-assembly it. You can train yourself with easier tasks, such as disassembling a 20-part gun, and advance to insane models that have 90+ parts. If you're stuck you get hints, but once you've studied a gun well enough it's all an exercise of memory.
Amazing animations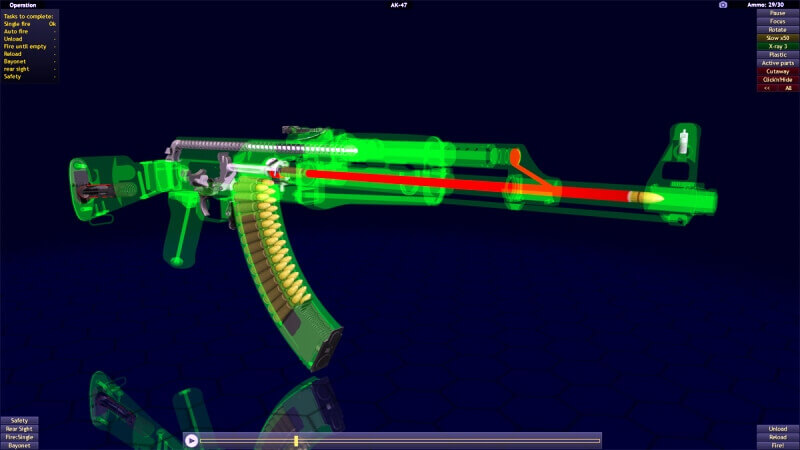 You can load, unload and fire the guns all while watching an animation of how that works. The good part comes when you access a Show menu that will reveal some awesome views. For instance you can enable the X-ray mode, seeing the "inside" of the gun and how that's triggered when shooting, Cutaway to see a 3D section in the gun, Plastic to enable different coloring and also emphasizing the moving parts. What I particularly love is the Slow mode combination, that allows you to slow down the dynamic view up to 50 times. This will let you see what happens every millisecond, more or less.
Accessories & customizations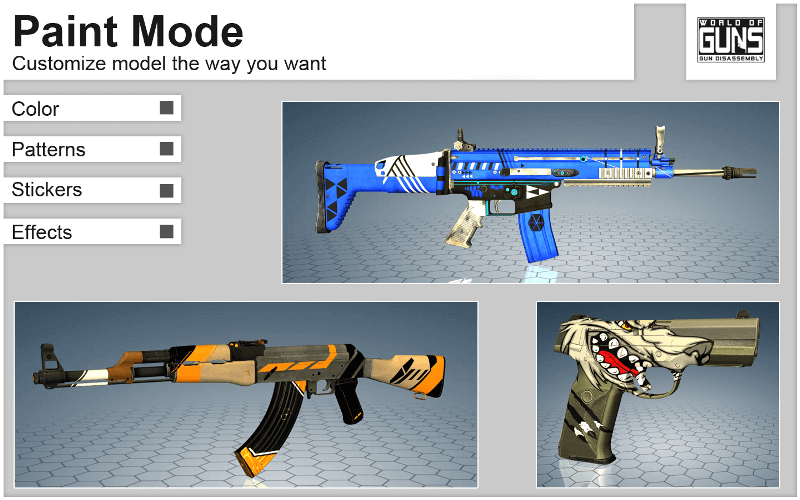 Each gun allows different customizations, so if you'd like to have the holder match the Punisher theme you can do that with a simple tap. Add flags, various colours and much more to have the gun of your dreams. Furthermore, you can add accessories to guns (i.e. bayonet) and enhance your experience.
Shooting ranges & competitive gaming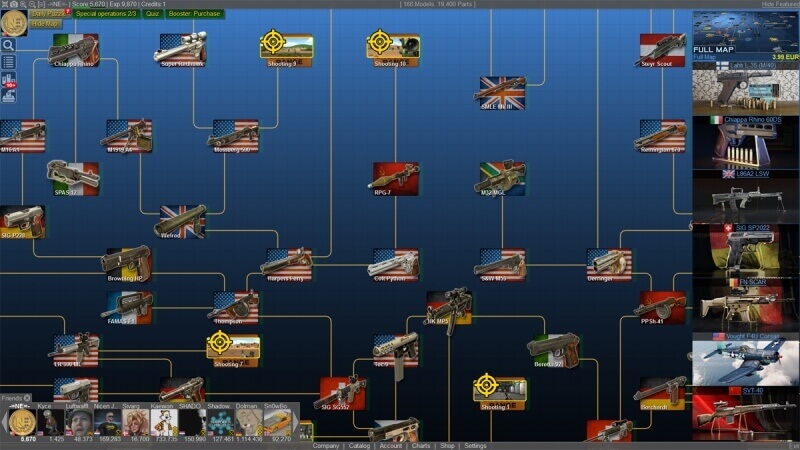 By default you play in a Competitive mode, where you unlock new guns as you advance. For every gun there's a set of tasks (i.e. fire it empty, change its grip) and once you complete all you get XP points and are able to unlock other guns. Power players can unlock all items without spending a dime, so it's one of those games that doesn't force you into purchasing in-app items. You'll have a map-like view to see which guns you can unlock next, and your score on each level counts towards a global leaderboard. Basically the faster you do it, the higher you climb. The fun part comes in the Shooting ranges, where you'll be able to shoot various targets using your customized gun.
Quizzes & Puzzles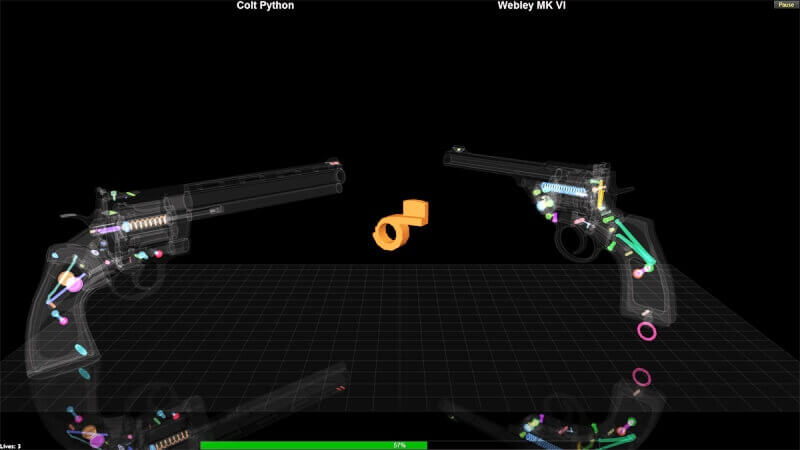 You can practice what you've learned about guns with a quiz that asks various questions based on guns & their parts. Next, you can play daily puzzles where you'll be shown various parts and you must decide to which gun you can fit those. A gun-lovers delight.
Premium models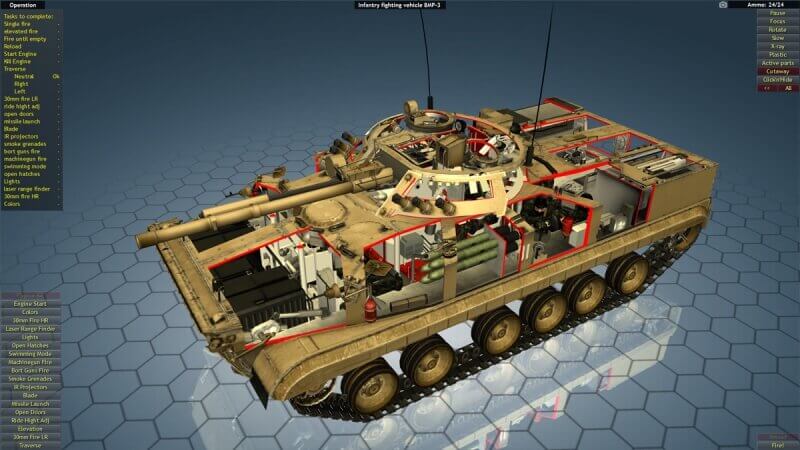 World of Guns seems to be expanding onto other items as well, so that's why the Premium section exists. You'll be able to assemble/disassemble cars (i.e. the mighty DeLorean), tanks, motorcycles and even skeletons (such as the human skeleton, dinosaurs, other animals).
Gun Wallpapers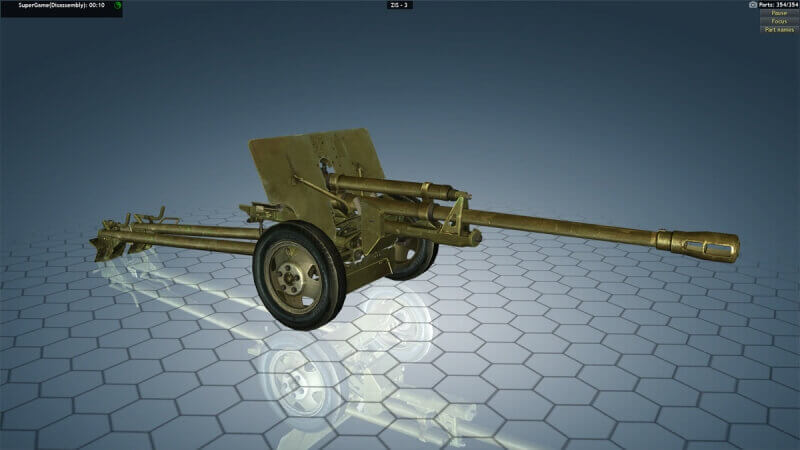 Lastly, for gun enthusiasts, you can download wallpapers and use those on your smartphone. The wallpapers are gun-centric and you'll be able to show off your personalized gun or other premium model.
Conclusion
World of Guns also lets you create an account (regular registration or using Facebook/Google+) and using that you'll be able to sync all your items between various devices. It's an immersive experience for gun enthusiasts, educative for knowledge-thirsty users and fun for the rest. It fascinates my son too and he's barely out of kindergarten, so this can be used at any age.
If you're not so inclined towards guns, the premium section will allow you to see how a car works, a plane, tanks and I'm pretty sure that soon they'll add even more various models. My only wish is for them to start doing Ikea furniture, as maybe this way in the near future I'll get to have a functional bed – or at least Ikea should pay these guys to do the user manuals for them.
[pb-app-box pname='com.nobleempire.wog' name='World of Guns' theme='light' lang='en']