Dingless, the app that smothers voice notifications
Facebook Messenger has a distinct "ding" sound notification when someone messages you. I came to realize that all of us are actually under a "Pavlov" effect everytime we hear that sound notification. You can easily try this in a bus/crowded area by observing others when that messaging sound notification comes in, at least a few others will pull out their smartphones to check for messages. Instinctively. That sounds triggers our urge to imitate socialization through messaging.
Unfortunately the way it works now you have no general control over sound notifications. And Facebook Messenger is just one app from the large pool of apps that push sound notifications. There's also Whatsapp, Viber, Tango, Skype, Snapchat and these only represent a fraction. Even games try to lure you into playing some more by sending sound notifications now and then ("Your dragon just hatched!").
The App
If you combine all these with the fact that sometime you just need to focus on something else and not be distracted you'll feel that something is missing and you haven't noticed it until now, one-tap control over sound notifications. Sure, you do have individual control as you can disable notifications for each app, but this means you'll have to manually do it in each individual case and thus spend a lot of time. This is how cumbersome is the process of dealing with sound notifications is:
You must go into Settings -> Sound and Notification -> App Notifications
From that list you tap the app you want to stop receiving notifications form (all types, not only sound)
Tap on Block to permanently disable all notifications from that particular app
And the above steps are for Android 5.0+, on previous versions it is even more difficult.
Also, once you disable notifications for an app it stays disabled so you'll have to go all over again to re-enable sounds. Luckily a dev already thought about this problem and found a solution, Dingless.
Dingless is a free and simple app that helps you keep sound notifications under control with a single tap. Not only the sound notifications for an app, but for all apps on your device. And while "free and simple" sounds something that everyone would say, Dingless is one of the few apps that's truly free (no IAP, ADS) and with a minimal design approach. This translates to an incredibly easy to use UI and truly one tap switches to enable/disable sound notifications.
Main Features
No sound notifications when phone is active. Dingless easily lets you mute any sound notifications when your phone is in use. Just a switch to disable the sound notifications of any app while your phone is active. This doesn't affect the Calls or Music, it only affects other apps, for instance Facebook Messenger. Dingless helps you save time because with one switch you disable the sound notifications of all the apps, instead of doing it individually per app.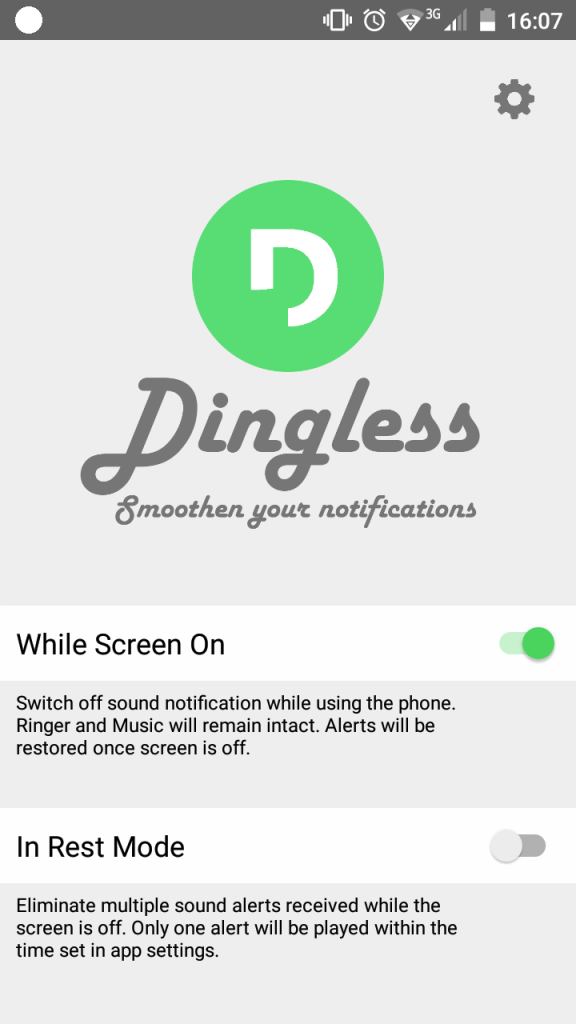 Disable sound notifications in rest mode. Aside disabling sound notifications when phone is active, you can also disable those if it's in rest mode and the screen is off. The advantage Dingless offers you is control over sound notifications from a single location. Furthermore, the change can be reverted in an instant. So if there's a particular time you want all sound notifications muted you can do that, but also easily restore sound notifications whenever you want. This option requires additional permissions (access to notifications) but that can be easily granted either on demand or from its settings.
Set time between sound notifications. Communications apps are usually the most annoying sound notification "spammers". Everytime a contact sends a message/update a sound notification pops. Thus it can become quite frustrating getting a lot of sound notifications in a short time span. With Dingless that problem is solved, as you can introduce time delays between sound notifications. You can define 30/60/90 second delays between notifications and thus you'll hear only one sound within that set time frame.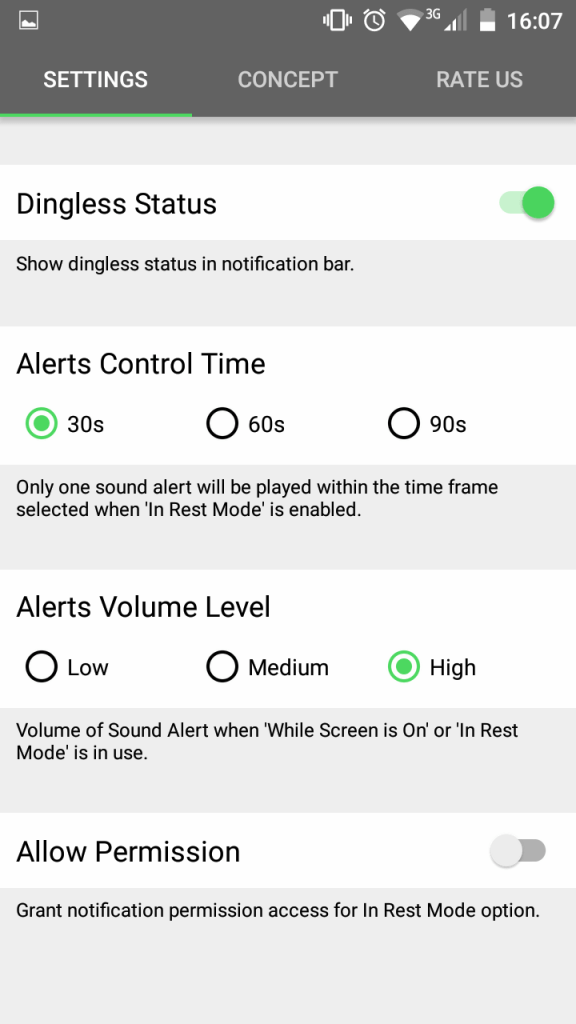 Clean interface and easy UI. Dingless focuses on doing one thing (full control over voice notifications) and doing it right. That's why it has a very clean interface with an UI that's easy to understand and work with. The purpose here is to help you save time and this app successfully does this. Dingless has a material design style and that's a winning approach in my opinion since keeping things simple is the key to an easy to use app.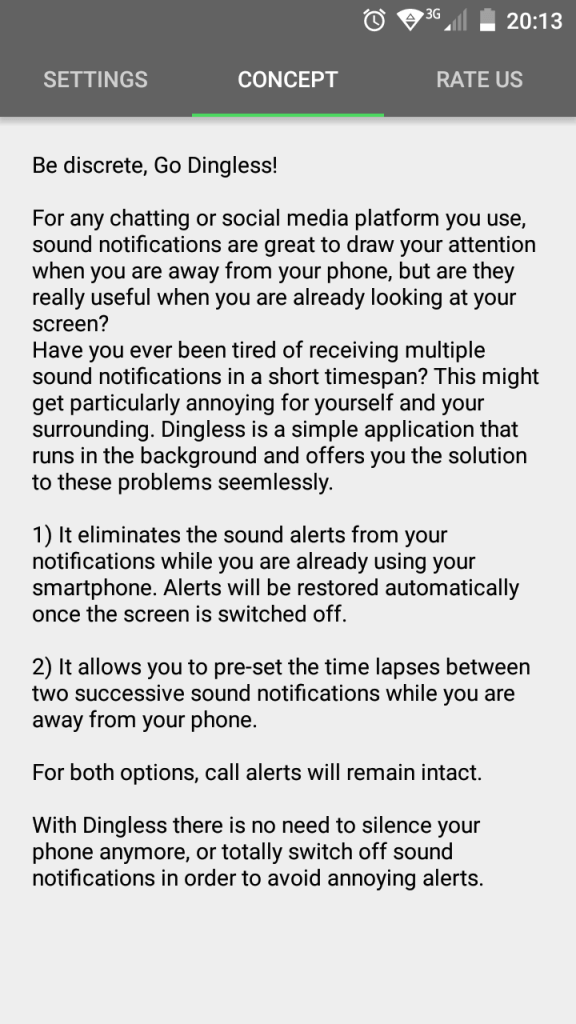 Absolutely free. Hearing the term "free" on Google Play usually raises an eyebrow because sometime there's in-app purchases, other times ads or limitations and so on. But that's not the case with Dingless as the app is truly free. No in-app purchases or ads, no annoyances whatsoever. It's what free apps should actually be.
I tend to keep sound notifications off because most of the times it is distracting to keep receiving them, especially if you have lots of friends that want to share cat photos. But with Dingless I can say that I found an excellent compromise, I can have sound notifications on but limited to one "ding" every 90s. This way I'll be notified but not that often. And if I need distraction-free times it's as easy as tapping on a switch to turn sound notifications off.
If you're an user of popular communication apps you'll surely add Dingless to your must-have basket.
[pb-app-box pname='com.beesociety.dingless' name='Dingless' theme='light' lang='en']