naduu, the app that helps you find a date for Valentine's Day
A long time ago marriage was a common thing. Parents would even match their kids without their consent, and it wasn't like divorce was even possible. As an idea, the Bureau of Labor Statistics started gathering numbers in 1976 and now, for the first time ever, there are more single adults than those in a relationship. True, the stats are for US only, but that's easily representative for any other civilized country. And the numbers are huge, in 2014 there were 124.6 million single adults in the US alone (50.2% off the entire US population). By comparison, a mere 66 years ago (1950 if you are lazy) only 22% of adults were single. So why does this happen, since nowadays online dating is a phenomenon?
We're more pretentious, that's the main reason, with a close secondary one of enjoying single life a bit too long than it should. Judging by the demographics for this blog there's a higher than average chance that you, dear reader, are single. And there's a Valentine's Day celebration coming, with love "infesting" everything around us. But don't worry, I took the liberty to try and find a good solution, one that's not as promiscuous as Tinder but also not as rigorous as ChristianDating. I present you naduu, an Android app that helps users find their other half or simply create new relationships, of any kind.
The app
naduu is all about finding the right people through personal ads. You can connect with someone 1000 miles away, or only with those in your area (I'd say "next to you" but that sounds scary). naduu is like Facebook but with a focus on online dating, rather than general cat photos and funny pranks.
Here's a quick overview on what you can do with naduu (it even rhymes):
You create a profile by providing details about you and login.
Next, naduu will show you people that are a good match.
Last, but not least, you start to connect with other users. Chat with them, follow them, or even more.
From that point on, it's all about chemistry. naduu will help you make a connection, but it all boils down on how things will evolve and if you two (or more, why not) are a good fit. That's why an important part is screening the possible "candidates" to your heart. You do that first by entering the correct details – for sure you wouldn't want to start a relationship with someone based on lies – and let naduu do its magic.
It will recommend first users that are close to you and match in a way or another with your profile. This uses your smartphone's GPS to track your exact location and all recommendations will also include a distance to see how far away your crush lives. Surely this is an option that can be disabled but it beats the purpose of finding a possible friend.
Features
Add your profile. Once naduu is installed you must create your own profile to join the community and start making friends or… more! First of all, the app must "know" you to customize your experience. For this it requires all sorts of basic information. You'll need to set your gender interests (i.e. if you are looking to meet men, women or if you are bi-) and next obviously your attributes: what size you are, how's your body constitution, what type you are, your weight, eye/hair color & length and even if you have a beard or not (lumbersexuals are on high-demand nowadays). Once that's in you'll need to add more details regarding particularities such as tattoos, piercing, if you are a smoker or not, if you are in a relationship or not (hey, the app doesn't judge) and lastly what are you seeking (i.e. a date, friendship, having fun or more).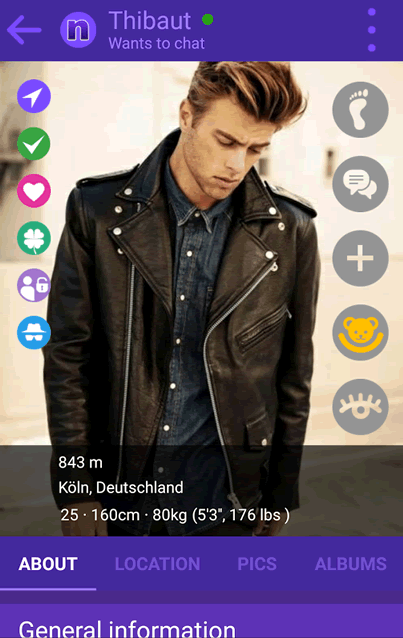 You'll also be able to choose what age variations you're comfortable chatting with (i.e. 16 through 65). Still in the registration phase, you can additionally write-up a custom status message for when you're offline or online, add a long (and hopefully truthful) description and the piece-of-resistance, your PHOTO.
Again, only if you're comfortable sharing that, otherwise you can browse without one but chances are you'll find more friends if you add a pic. Also, lying in your dating profile is just as bad as lying in your CV, even if you get the "job" you'll end up feeling worse if you're being let go for dishonesty.
Turn on the Radar. naduu uses geo-location information to help you find a friend (or date) that's closer to you. It will require GPS access and my suggestion is to allow it since otherwise you'll get suggestions for users hundreds of miles away. Once you are "pinned on a map" you can access naduu's Radar and see other user recommendations. You'll see a profile pic (if they have one set), their name, online status and the most useful part how far they are from your current location.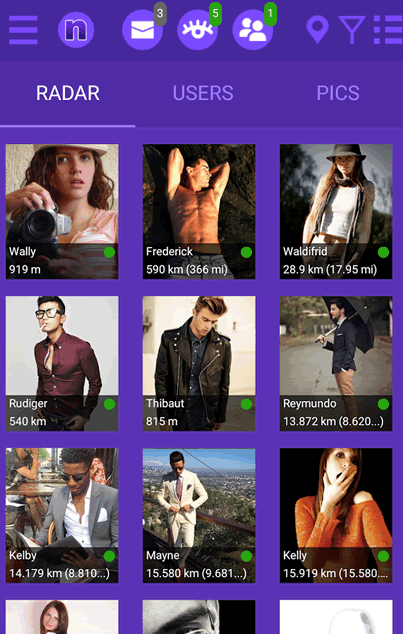 Being the app's main screen from here you also get quick access to each of the recommended users' profile to start an action. If you are not seeing what you were expecting (i.e. users that are too far away from you, not the gender you'd expect) just be sure and go into your profile settings to see if you've set your location correctly and if your entered information is accurate (i.e. what gender you are). Unfortunately for me naduu doesn't offer a "I like cats" category so I'll just have to deal with it.
Interact with Users. The next important section in naduu is the Users tab. This is where you can browse through all the users and also see more information about them than you can see on the Radar screen. You'll see their exact location (i.e. city), their age/height/weight and also access 2 quick actions, block an user or start a chat. Users can also be filtered (i.e. only show online users or ones that you know), sorted (i.e. by joining date) or even searched by entering particular details.
Once you tap on a particular user a whole new world of interaction is unlocked. You get to see their full profile, every detail that user filled in, pics & albums that he/she shared publicly, location and basically all you'd need to decide if they're a good fit for you or not.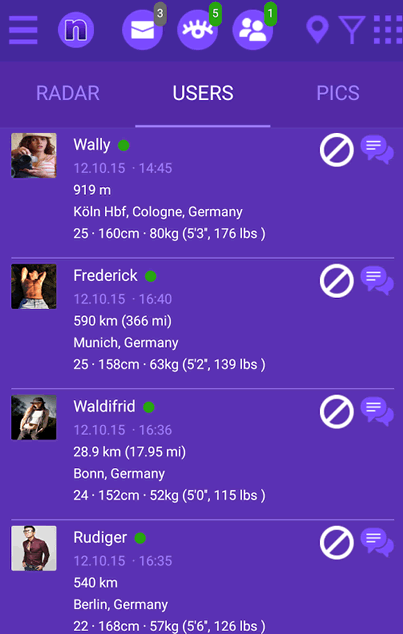 If you do decide to break the ice, you can send quick emoticons with meanings (i.e. a "heart" to say you like them, "write me", …). Plenty of other actions are available, you can add them as friends or block/report their profile, initiate a chat if they are online, leave a footprint (i.e. let them know you visited their profile) or send a heartbeat and others.
Follow and you shall be followed. Or not. naduu lets you follow other users to see their updates in realtime (using LIVE action) and in return you can get new followers as well. You can add those as your friends or if you prefer to be "stalked" that works too.
You even have a special section where you can see Visitors, meaning other users that visited your profile, and also your own My Visits tab to see which users you've recently accessed. Finally you have a Footprints & Hugs section, where basically you can see deeper interactions with other users (who sent you a hug or simply left a "footprint" visiting your profile).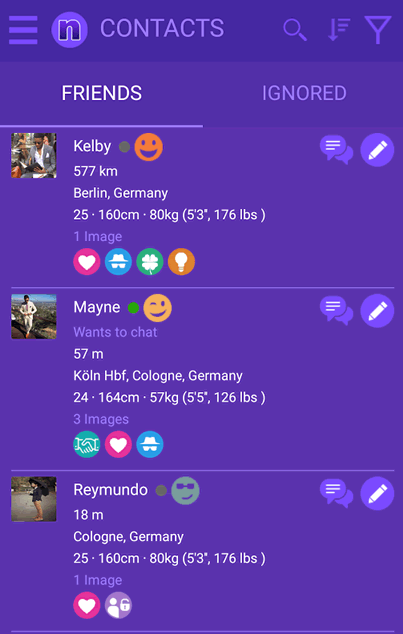 naduu is not only for 1-to-1 dating/friendship purposes, it can also be used to organize group meetings. It even provides a quick guide to finding interesting venues, institutions or even parties to attend.
Messaging & chat. You have a separate section for messages where other users (or the administrator) can send you messages. They're the sort of in-app emails, meaning they'll be kept for however long you want. On the other hand, if you want quick interactions you can start-up a chat with an interesting fellow or fell… well woman.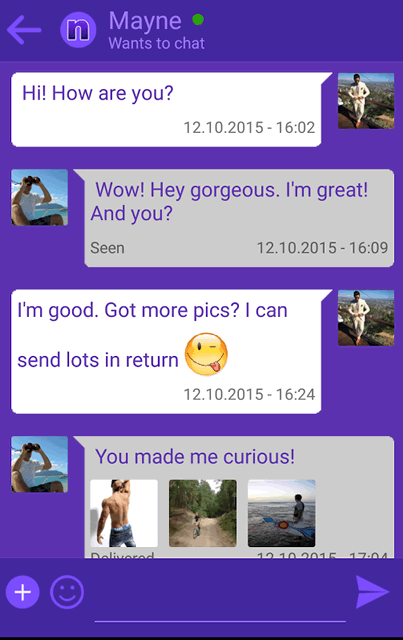 You'll be happy to find out that you can use emoticons when sending a chat and even include photos if the discussion gets to that particular point. Just remember, whatever you share cannot be "un-shared" so if you're into sexting make sure you don't send something you'll regret.
Conclusion
There's still a few days left until Valentine's Day is here so why not give it a shot. naduu has a free version but also offers a premium upgrade if you want to remove the ads. Personally, I was too distracted by a group called "Wir sind Sexy" (you don't even need to understand German to know what this group is about) to mind the ads, but the option to remove them is there. The app is basically an advanced interface to the web version found on naduu.net, so the advantage here is that you can login not only from your Android device but also from everywhere a browser is available. Love knows no boundaries, isn't it?
For me, the sail has shipped a long time ago, so naduu would work as a flirting app in my case, but given that I'd risk having a thing or two broken intentionally I'd rather use it just for chit chat. However if you are really serious about meeting someone, you can give it a try, what's the worse that can happen than a few rejections?
[pb-app-box pname='net.naduu' name='naduu' theme='light' lang='en']