10+ app landing page templates that increase conversion
Literally millions of apps and games flood the "gates" of both Google Play and iOS App Store. It's the digital equivalent of the gold rush. And this is a good thing, competition drives innovation. However this is mainly good for end users rather than the majority of devs, due to the fact that competition makes app visibility more difficult. This means at least 90% off those apps/games that are now on Google Play will never be installed if devs don't market their apps.
App marketing is a suite of (mostly recurring) actions that must be done with the sole purpose of getting more true installs. One of these actions is increasing the app's visibility and while most of the installs are driven through the app store listing page, smart devs also create external sites. It is very important to have a website that showcase your app (or apps) rather than rely solely on the listing from Google Play or iOS app store. A website has several advantages:
first of all, you can optimize it to drive traffic from regular Google web searches. The listing on Google Play gets most of the traffic from the play search engine, not from the (bigger) web search engine. Thus by having a website you increase the possibility of having your app found.
second, you are in charge over what happens on that app/game website. You control it entirely and can decide what you do with that website as far as structure, content, style and more. Plus, you are able to do all sort of tests that are more difficult to do with the Google Play listing page. Also, if for some reason Google will decide to ban your app (there are lots of reasons it can pick) by having an website you have the chance of continuing to offer the app/game as an .apk.
third, you can mention Google's competitors on your website, a thing that you cannot do via your Google Play listing (i.e. Amazon app store, iOS if you have a version for it too, …).
An website for your app is thus highly important, as it is picking the right style/theme for it. A rule of thumb is to have clean website with a clear focus on what the main action is – in this case driving your visitors to install the app/game. That main action should be instantly visible above-the-fold when visitors get to your app landing page. Next, my suggestion is to have more content "flow" on the rest of the page, with descriptions on what the app does, screenshots, videos and whatnot. Put focus on the action, most users will just follow the main action and install the app, yet you want the content for search engine visibility.
Luckily, WordPress makes it easy now to have a website up and running faster than by starting everything from scratch. Simple to install and manage, the only other task if finding an app landing page template that suits and applying it, adding content, tweaking and promoting it. While there are some free themes for mobile apps, my suggestion would be to alot around $50 and purchase an app landing template from sites such as Themeforest. I did a lot of research and the best free template for WordPress is almost as good as the cheapest paid app landing theme. So don't be cheap and get a beautiful paid app theme rather than settle for the free ones.
Below are some of my picks as far as themes for mobile apps.
AgileWP is a great app landing page theme not only because it can help you showcase your app but also because it's multi-purpose and you can use it for showcasing other things. It also has a theme for WordPress, filterable categories which work great for showcasing multiple apps/games at once and a great clean overall look.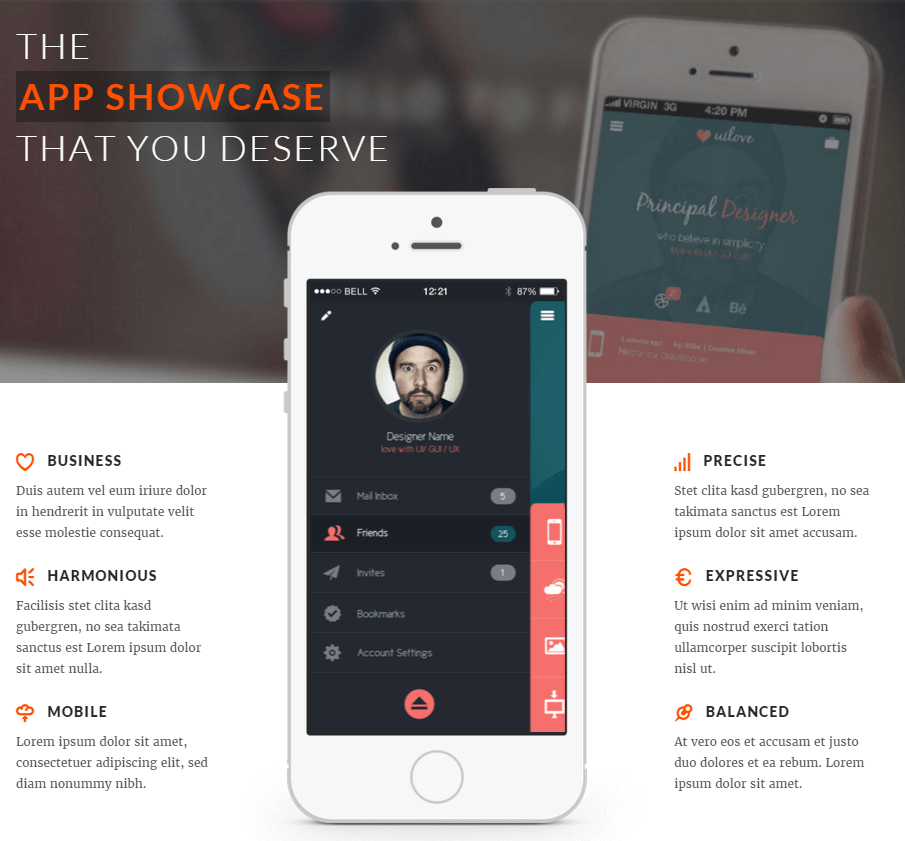 PROs:
12 color skins
multi-purpose
smartphone sliders
1500+ retina icons
easy to add custom CSS
ready for translation
video backgrounds
Woocommerce theme included
CONs:
Applay is one of those themes that's built for showcasing apps primarily. Thus it is probably the most feature-full theme for creating great app landing pages. You get drag-and-drop page builders, interactive app showcasing with feature highlights and probably the most cool thing is that you get to auto-fetch apps/games from iOS app store or Google Play just by inputing an app store url.
This is cool especially for showcasing multiple apps/games, even for creating your own app store. Each app is added as an WordPress product so you can also use it to sell your apps directly through it as well.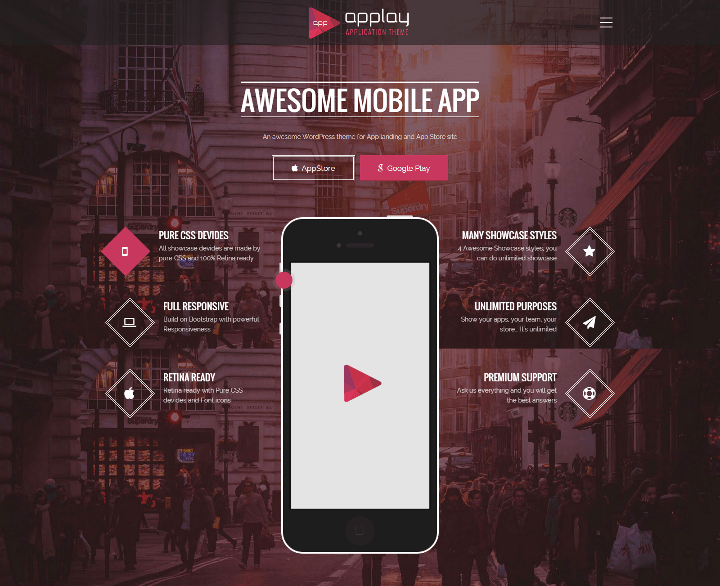 PROs:
specifically designed for showcasing apps
responsive design (bootstrap based)
can be used for creating your own app store
submit app form that auto-adds apps
unlimited colors and layout
2 different theme styles
retina ready
CONs:
since apps are added as WordPress products, the site can get slow with many apps
uses lots of resources when pulling apps from app stores
AppDev seems to be an updated version of AgileWP (both have the same author) and looks very good. It will let you create a pro looking site for one or multiple apps. The design is very refreshing and clean, actions quite easy to spot. If you're creating a site for a dev studio AppDev is something you'd have freedom to work with.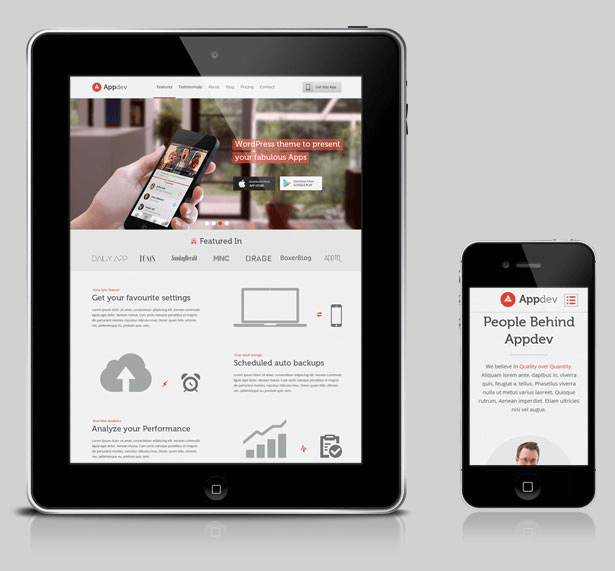 PROs:
sliders for smartphone showcasing screenshots
fully responsive (the menu's responsiveness is quite good)
gallery with captions, useful if you have multiple apps to show
retina ready and lots of retina icons
can be customized in multiple ways (colors, custom post types, …)
CONs:
none that I could see so far
EOS is one of the few themes that offers pre-launch templates for upcoming apps. It is built especially for mobile apps so a plus is that it has custom stuff for this purpose. 6 different layouts and various animations make this a great choice an app landing page, especially since it is not that expensive compared with others.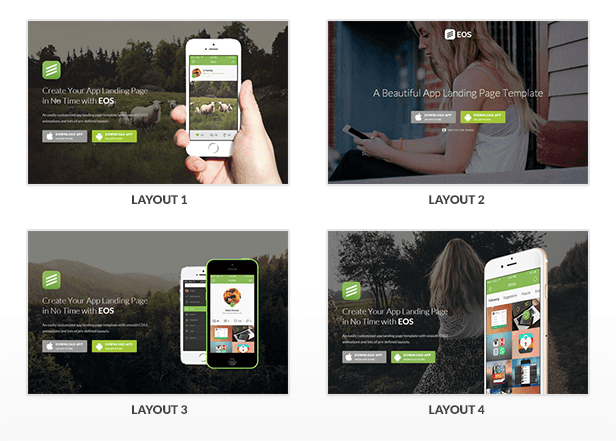 PROs:
6 different layouts each with like 4 different variations
2 pre-launch templates
light and dark versions
PSD files for phone mockups included
also has a (separate) theme for HTML only
multiple color variations
CONs:
not particularly crazy about the chosen font, decreases readability
Launchkit looks beautiful too and fits well for app showcasing, however it is trying more to be a multi-purpose landing page (i.e. to be used for corporate/marketing campaigns). It has like 6 different sub-themes you can use too.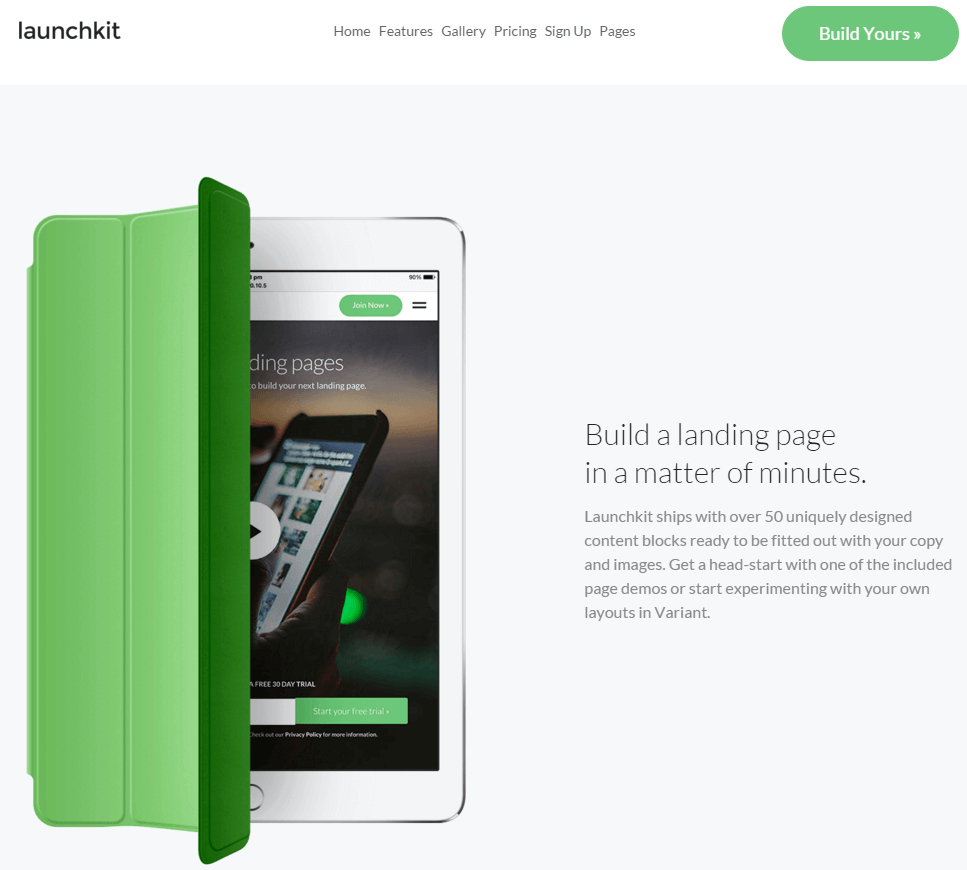 PROs:
parallax background images
unlimited color schemes
demo data for all themes
retina icons
fully responsive
visual composer
portfolios for showcasing multiple apps
CONs:
more of a multi-purpose landing page rather than an app landing one
few smartphone showcasing images
ReTouch is one theme that can be used mainly for showcasing an app, rather than a portfolio of apps. Minimalist design, great color variations and contrasts, focuses directly on what matters (in this case the appstore badge buttons). A little light on features otherwise but good for a parallax app landing page.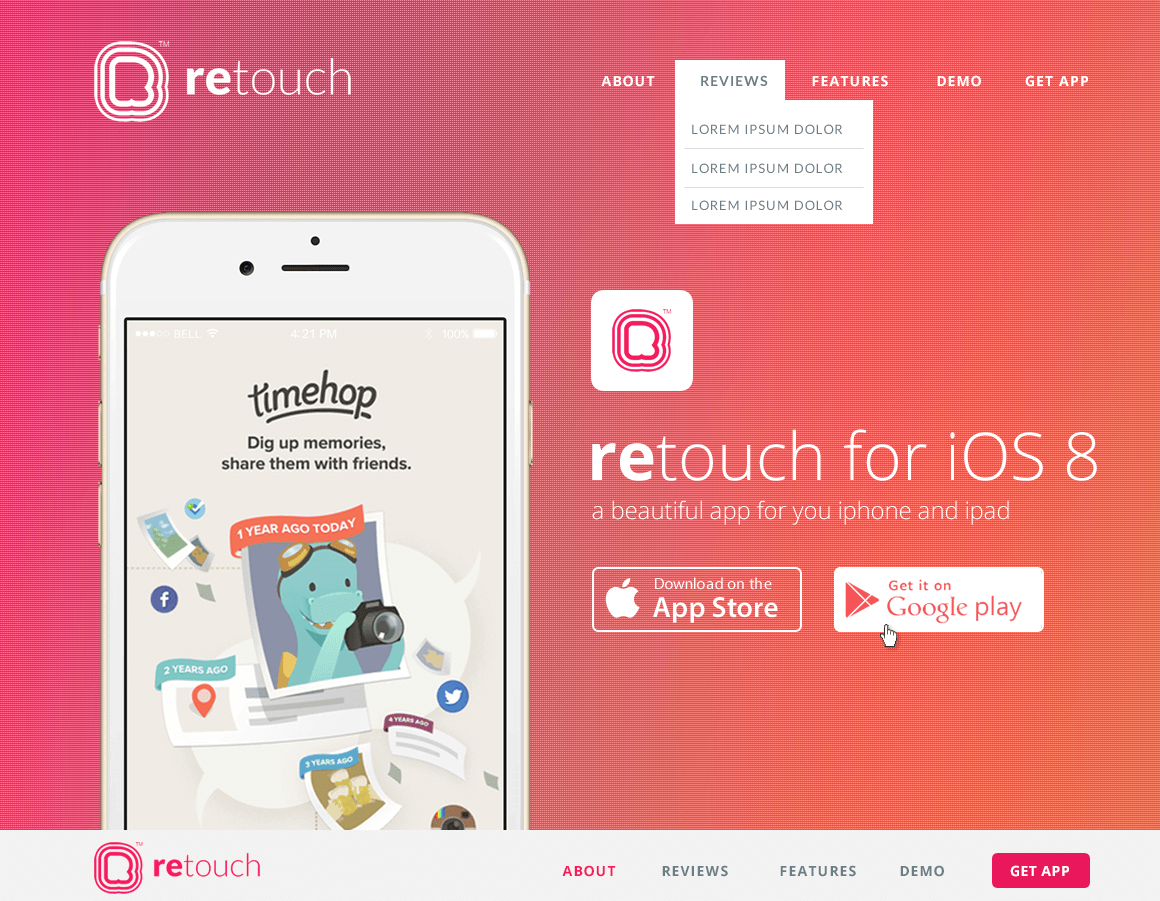 PROs:
well-thought above-the-fold action focus
6 predefined colors to change the theme
smartphone showcasing
great color contrast and fonts
cheaper compared to others
CONs:
basically a 1 page theme for app showcasing
light on features (i.e. templates)
Fusion is another theme for mobile app showcasing. Even if the smartphone showcased is actually an iPhone, it's still a good theme for mobile apps. The theme is very elegant and can be used for design agencies too. This is the same dev as the one for AgileWP so these guys know what they're doing.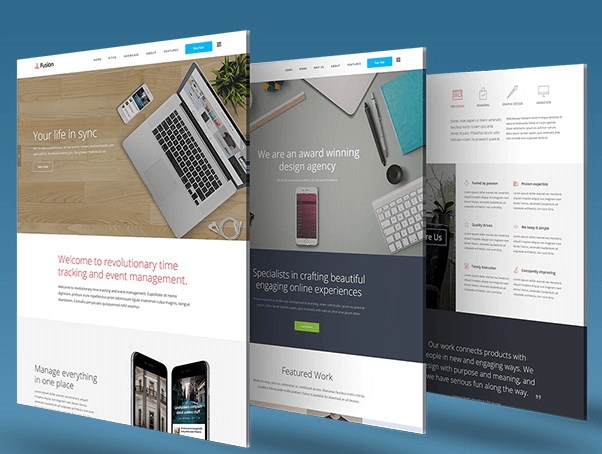 PROs:
fully responsive
retina ready icons
smartphone sliders
translation ready
child theme (easy to update)
custom post types
dozens of shortcodes
CONs:
too simple
not too many templates
Kane is clean/modern app landing page that can be used for showcasing those mobile apps. It includes a page builder to create various templates and also PSD files for phone mockups. While it doesn't have that many features, it's good to create a site for your mobile apps. The design is responsive and also has that fancy parallax effect too.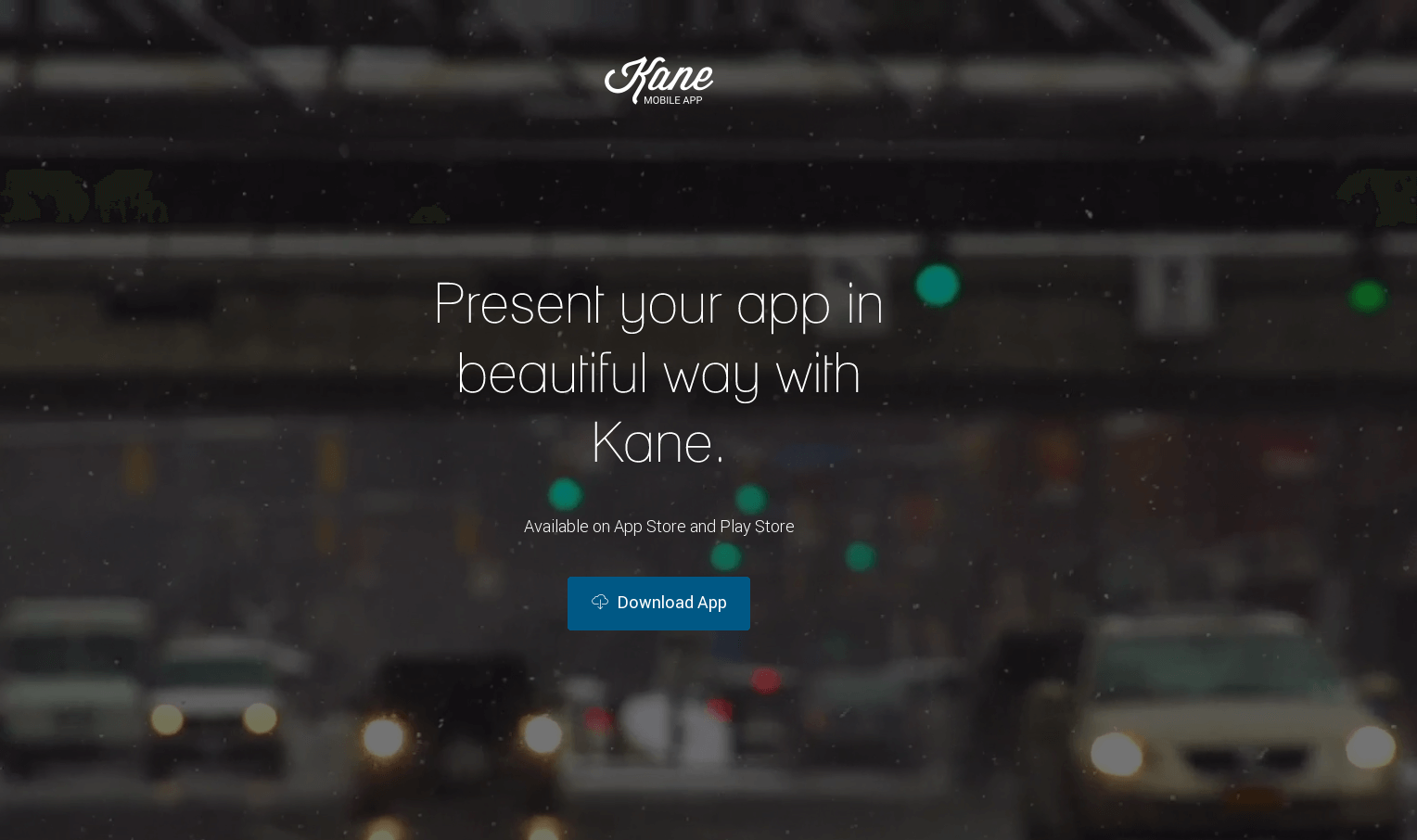 PROs:
Android and iphone mockups (with PSD)
unlimited color variations and styles
16 different styles
360 font icons
CONs:
last updated 8 months ago
Appster (probably the name is meant as a "gangster app") is a clean theme for showing mobile apps. Doesn't come with anything out of the ordinary compared with others and again the same drawback on the readability of the fonts (although this seems to be the norm, using #555 for font colors). Has pretty much what you'd need to build an app website, a bit on the minimalist side and at least 20% cheaper than other themes.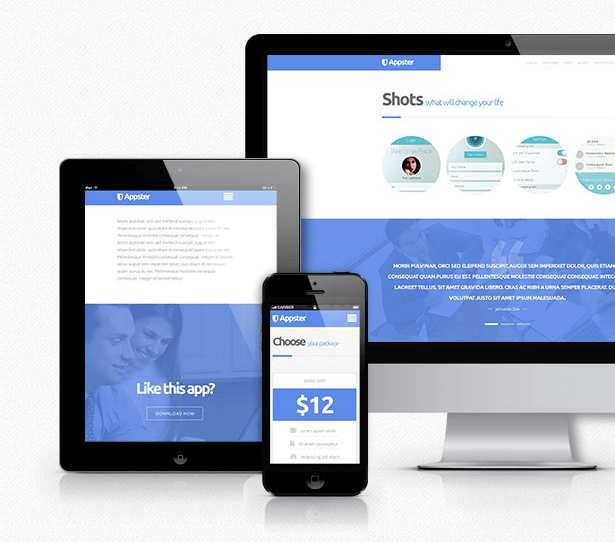 PROs:
clean, minimal style
fully responsive
includes layered PSD files (not very common for theme devs)
one-page layout too
CONs:
needs a bit more work on the typography side of things
Caelus is one of those cute themes that you can use for an app landing page or soon to-be-released version. It has a retro look so definitely a good fit for arcade games more than for regular apps. It focuses entirely on simplicity, with the main focus on sending visitors to the install page of your Android app store listing. The downside is that if you want something more extensive it doesn't have templates so you're out of luck. I'd use Caelus for short casual game landing pages.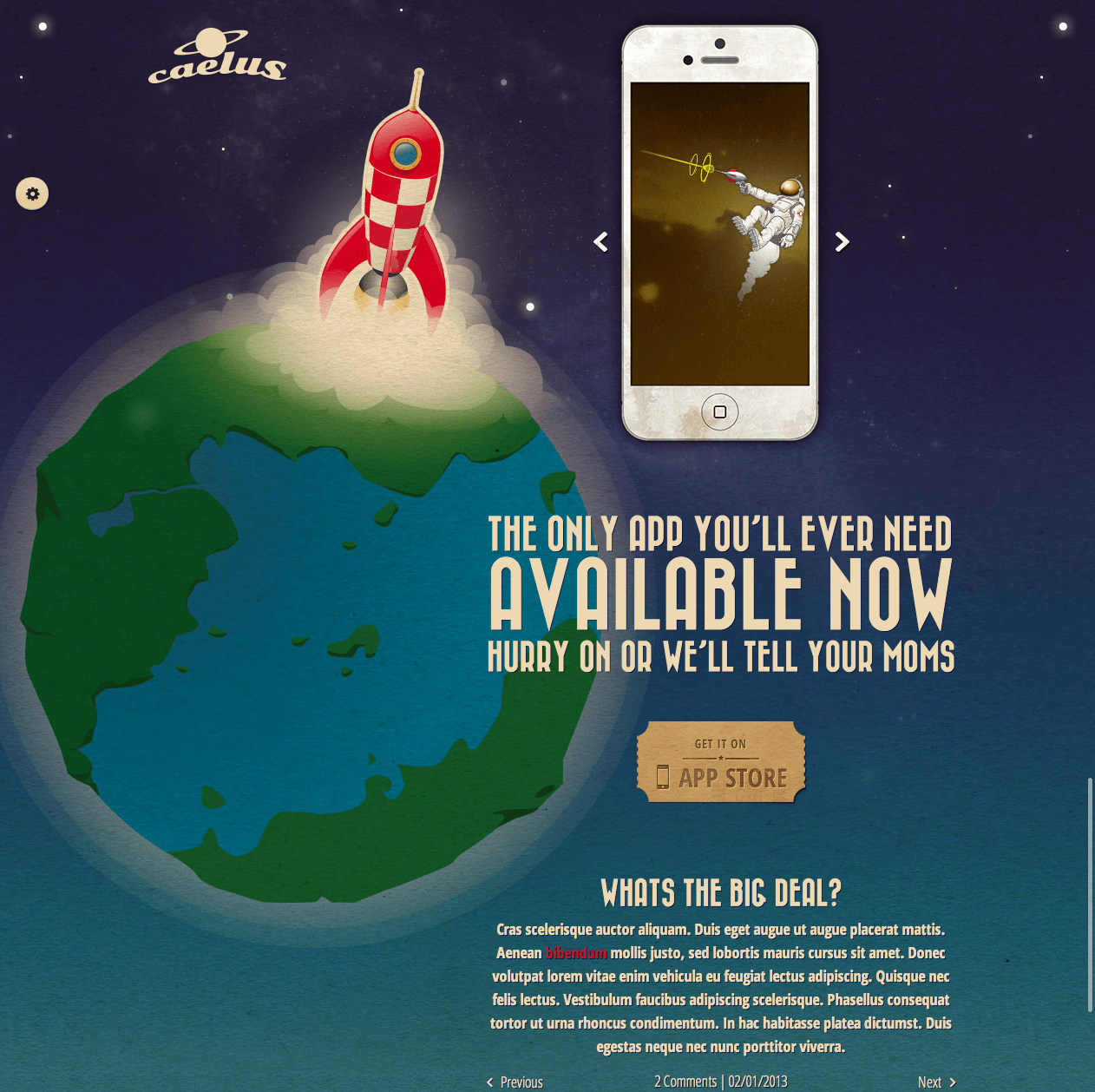 PROs:
awesome retro graphics
app landing page template and coming soon template
color variations
out of the box support for MailChimp integration to record subscribers directly
iPhone showcase slideshow
CONs:
light on features, only 2 templates
only iPhone photos
These are the main 10 themes I would take into consideration when deciding to create an app landing page for one or multiple mobile apps. I also have 2 other mobile app WordPress theme suggestions (sort of an "honorable mention"), Rocket app ($44) and Delicious ($44).
There are obviously lots of other app website themes but for me, after studying a bit, these caught the attention. Obviously themes come and go so I'll keep this updated, but if you've seen other themes that worth mentioning feel free to post a comment.