Sharpee, your Behance portfolio on-the-go
Part of the Adobe family, Behance is one of the most popular online portfolio websites. With over 1 billion views for the listed projects, if you're an artist and not featured on Behance you're missing an opportunity. As on Behance not only you get to showcase your portfolio, but you also get the opportunity of being hired by others looking for artists.
Yet, with all its popularity, Behance only has an official app for the iPhone. It does have an API though, so the team from Creative Studio Form went ahead and created a mobile Behance app for Android called Sharpee.
With Sharpee you get to have a portfolio on-the-go, as you can access your own portfolio and show it to others from an Android smartphone or tablet too:
As an artist, you can use Sharpee to show your own portfolio, or seek for inspirations through the millions of projects available. You can interact with other artists by commenting on their works or appreciate certain projects.
As a regular user, you can view Sharpee as your mobile art gallery. You can browse through the projects, see the most popular ones, view comments and most important of all you can set a particular art photo as your smartphone's wallpaper. If you see any that you like you can share it with your friends via the popular social networks. The hell with Pinterest, with Sharpee you get to see real art.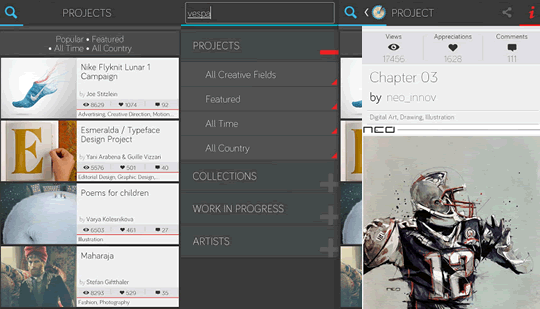 Once you open Sharpee you get to see a list of the most popular projects. Next you get access to its other features, such as:
Filter the projects by: categories (default all creative fields, but you can refine it by smaller categories), featured (most appreciated, viewed, discussed or recent), uploaded date (all time, today, this week or this month) or by the country of the artist
Filter the projects by collections (Last item added date, all time), work in progress status (most discussed, today) or by their artist (most appreciated, viewed, discussed, recent, followed)
Interact with images from a project, either by sharing the images via facebook or twitter, or download the image and even better set an image as a wallpaper. If you're viewing a particular photo from a project, simply by swiping you get to see other images from the same project.
For each project you get to see how many views it has, how many times it was appreciated or the comments left by others. Each artist that posts a comment gets a link back to his portfolio, so simply by tapping on a comment you get to see their own projects too.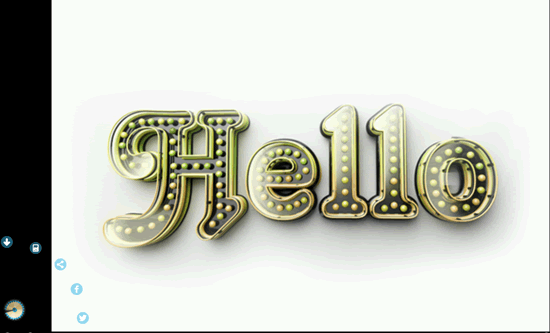 Sharpee is beautifully designed by a team of artists, for artists and art lovers. You get that feeling that it is a beautiful app from when you see its icon, as you progress through the interface you get to see that touch of design that makes it fun, friendly and beautiful. The app was just released, but the developers already are working on new features that will make the integration with Behance even more seamless: the possibility to upload your portfolio on Behance directly from the Sharpee app, login to Behance via Sharpee and be able to add appreciations/comments from your device, create collections and many others. If you're a Behance user it's impossible not to have felt the need to use it on your Android device, so luckily enough Sharpee is here to the rescue. You can see an overview about Sharpee in this quick video review too:
You can download Sharpee from Google Play and also follow its development via their Twitter @SharpeeApp channel or on Facebook at http://www.facebook.com/SharpeeApp