JEFIT, community-powered workout tracker
In US alone close to 80 million adults (34.9% of all population) are obese according to the Center for Disease Control. That's beyond worrying given that obesity can lead to heart diseases (stroke), type 2 diabetes and even some types of cancer. For a country, fighting obesity should be a top priority given that its medical cost alone is in the order of $billions.
Obesity is merely the effect, so this means the cause is:
"I have a problem with my thyroid gland"
"I have big bones"
"I have a slow metabolism"
None of the above
Yes, A through C are just excuses I've heard so many times, but D is the correct answer. The cause is actually very simple, eating more than you need and not consuming the "extra-energy", to put it lightly. The cause for eating too much is deeply rooted in our brains, it is actually that small reptilian reminiscence that gave eating impulses because millions of years ago food was scarce. There is no magical solution to losing weight, no magical pill or secret liquid-based diet. The most powerful weight-loss solution is the one you already know about: WORKING OUT. The toughest part about this solution though is motivation, or actually the lack of it.
So how do you motivate yourself to work out? Well, for one thing you could do is to watch this video:
Did it work? Probably not, as hard as Shia LaBeouf is trying I find this video rather hilarious than motivational, except maybe if you're having stool problems. Anyway, no video will help you stay motivated, as it is a cumulus of actions you must do not a one-time thing. In my particular case I found the perfect combo for motivation (not only for workouts, but generally speaking):
My wife tells me to do so in a tone that varies in intensity depending on how long I procrastinated
I combine things I don't like doing with those I like (i.e. writing my invoices while watching Friends)
Not disappointing my friends (i.e. if they propose a cycling trip I won't bail out)
My love for crossing things off a list (i.e writing goals/tasks on a list)
The APP
Back to workout motivation, I did find a tool that fits with my motivation-list: JEFIT. This is an Android/iOS/Web app that helps in setting workout goals and sticking to those. Given it has 3.4 million registered users it seems I'm not the only one that discovered it. As a parenthesis, I'm not exactly sure what the name stands for but in my mind I associate the French version of "I" (which I remembered being "Je", one of the few words I remember even if I spent 7 years studying) with, well, FIT.
By all means I'm not an obese person, but this doesn't mean I'm fit either. Being fit is actually a mix of good body stats (i.e. low body fat percentage), good health (i.e. what your cholesterol level is, heart rate, etc. ) and athletic performances (i.e. being able to run without coughing your lungs out). It's tough getting all 3 correctly so that's why workouts are for everyone, not just for those that want to lose weight. This is where JEFIT comes handy, especially as a mobile app, as it gives you access to your own pocket personal trainer.
JEFIT goes beyond the regular workout tracker/trainer part as it also has a community of active users that share in common the desire to stay fit. Just imagine what happened if all your Facebook friends all talked/shared statuses about their fitness exercises? I can tell you that's a good motivator to work out and one of JEFIT's strongest points. Here's basically the workflow behind JEFIT:
First, after installing the app, you create an account so that all your data can be synced up.
Next you can modify your user profile, especially adding all your important body stats, from your weight to body fat and arm size.
Once body stats are in place you can set up goals, for instance if you want to lose 10 pounds in the next 3 months you enter the "Due date" and the desired weight.
After you've decided what you want to work on you access a large database of exercises and pick a routine that you want to follow. These exercises (1300+ of them) are well categorized and it's easy to filter them.
Last but not least, you start doing your workouts and JEFIT will keep track of… everything, plus offer you reporting on your progress.
The first thing you'll notice in JEFIT's Android app (though I believe iOS follows the same line) is its simplicity. You have a dashboard that gives you a push on what you should do next by showing several user tasks, from recording a workout to taking goal progress pictures or adding friends.
Next you'll see your JEFIT feed with news items from you and your friends. Again, imagine Facebook for active fitness users. And as a parenthesis, thank God for sending us Ryan McLatchy – the inventor of the YOGA pants – as gyms look far more interesting now. Once you go pass the dashboard you can access a list of Workouts you downloaded/created, then a list of Exercises (with the option to search for more) and lastly you can access the Logs where everything workout-related gets recorded.
JEFIT's main features
Foolproof. JEFIT has a clean interface and that makes it easy to access in 1-tap its main functions. This gives you more time to actually focus on your workouts rather than toying around with the interface. The time-costly alternative to JEFIT is using pen and paper to write down your workout progress, but then again this is the 21st century. All you need to do is focus on achieving your goal and JEFIT will handle your workout logs. The app's dashboard gives you the 1-tap shortcuts to the most important actions: recording a workout, create custom routine, take goal progress pictures (yes, it does have a selfie-mode), inviting or adding friends.
It also comes with other quick access tools such as preloading data based on your activities' history & auto-starting timer. The easy-to-use approach is a good way to prevent procrastination, as you won't need to take that many breaks to write things up, just focus on the workout and remember "No pain, no gain!".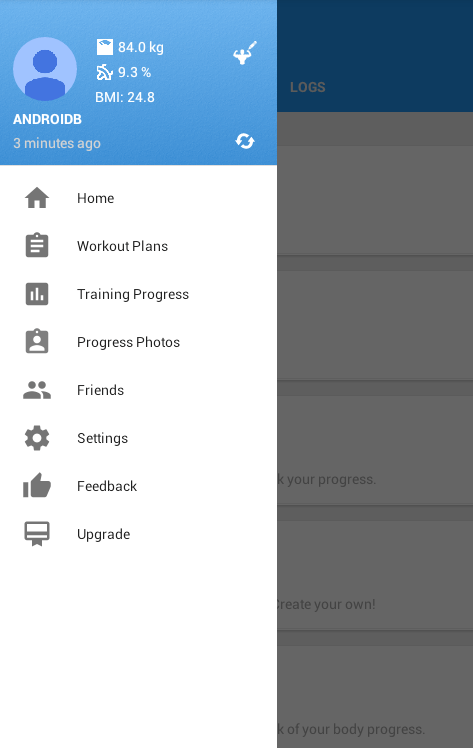 Workout Routines & Exercises. JEFIT allows you to easily manage your routines or download new ones. First of all a short explanation for beginners, a routine is a set of exercises. JEFIT offers access to one of the largest databases of fitness exercises (1300+ of them as I stated previously). Each exercise has specific details though what I find to be excellent is the animation that shows you exactly what that exercise is all about. You can combine various exercises and create your own custom workout routine based on a specific goal you target. Exercises are neatly categorized by the body-part they apply to, and with this occasion I also learned what they are called with this excellent in-app visual: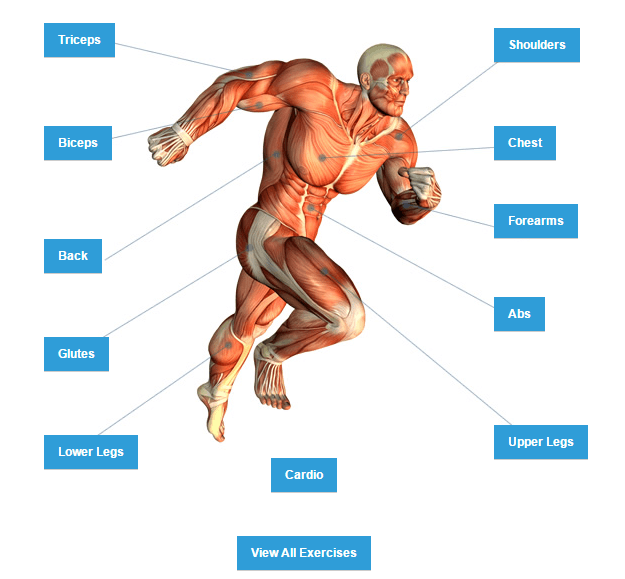 This shows you what your ultimate body-goal should be, except that you don't need to be skinned. So what the image above shows but with a layer of skin preferably (unless you're preparing to be an exhibit in the Chinese "Bodies: the Exhibition").
Workout Logs. Enter your Weight, Reps and Sets to easily track your data after each workout or view the last logs. Since each workout also has breaks, JEFIT offers a resting tool that's basically a countdown timer for you to see when you must resume your exercises. The logs are accessed in a separate tab that displays a calendar view to quickly see daily logs. A detailed log can have notes, exercise logs, body stats or progress photos. When you tap on a daily entry you'll be able to see a tabbed view with all 4 types. The Logs view is not only for showing past logs but also for quickly adding new logs.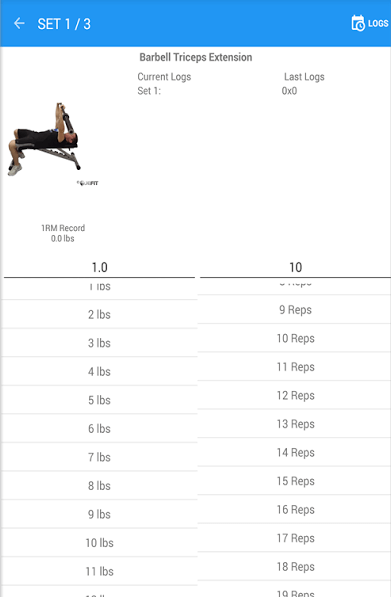 Social Motivation. You can connect your Facebook or Google+ accounts to be able to see which of your friends already use JEFIT and connect with them. Optionally you can invite your contacts or if you know someone directly by their JEFIT username. Connecting with friends is a powerful motivational tool as they will help you stay on track and focused on your fitness goals. When you share your workout progress friends that follow you will see those statuses on their wall, as you will see theirs. Trust me when I say that motivation-by-comparison is a powerful igniter (Oh, you did 30 pushups? I'll do 30 and raise you 10!). You'll also be able to communicate with friends via the internal JEFIT messaging service if you feel the need for a quick chat or want to encourage/be encouraged. My favorite part is the 3 C's of friendship you can do via JEFIT: compare, compete or challenge friends.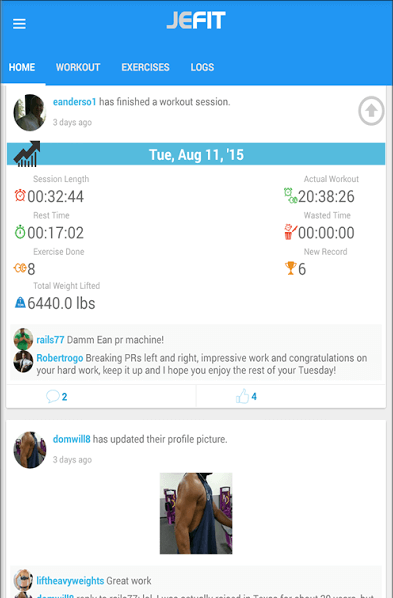 Improvement by Analysis. Your training reports will give you insights on what you did (i.e. the total weight you lifted on previous workouts) and what you can do to improve your future exercises. Gauge your muscle strength and endurance by weight, age and last training month to analyze your trainings visually. You'll also be able to view a breakdown and percentage of what muscle groups you trained over the past 2 weeks. I also think this works as a motivational element since you will receive email reports for the previous workout (obviously something you can opt out of). Those visual email reports can also remind you that it is time to work out so, as our wise Shia would say copying a famous logo: JUST DO IT!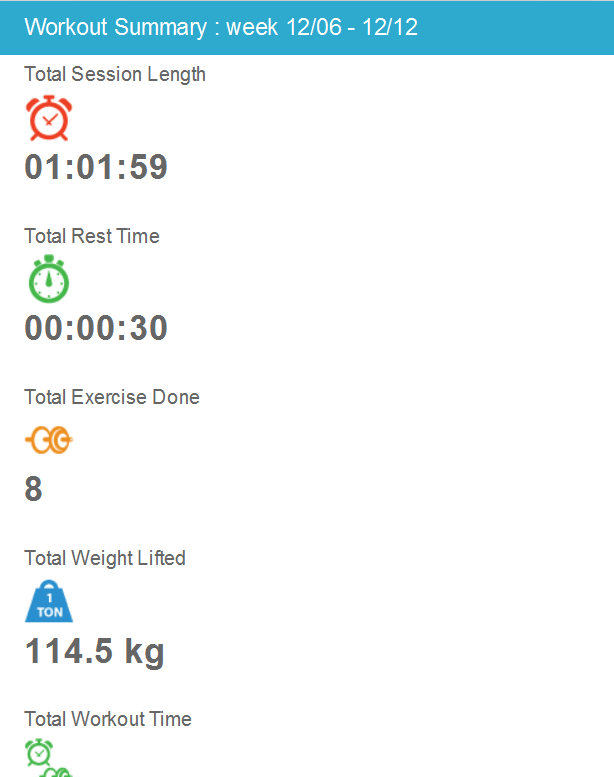 Multi-platform. JEFIT is available on Android devices, has an iOS version as well as a web version you can access from virtually any connected device. To have your data synchronized you can enable cloud sync and you'll be able to access it from different devices – maybe at home you like to work from your laptop but in the gym you enter data from your Android-powered smartphone.

Conclusion
JEFIT has 3 different editions: FREE, PRO and ELITE. PRO is available for a one-time $5 payment, ELITE for a $30/month subscription and FREE… well you guessed. Side-by-side comparison of the 3 editions: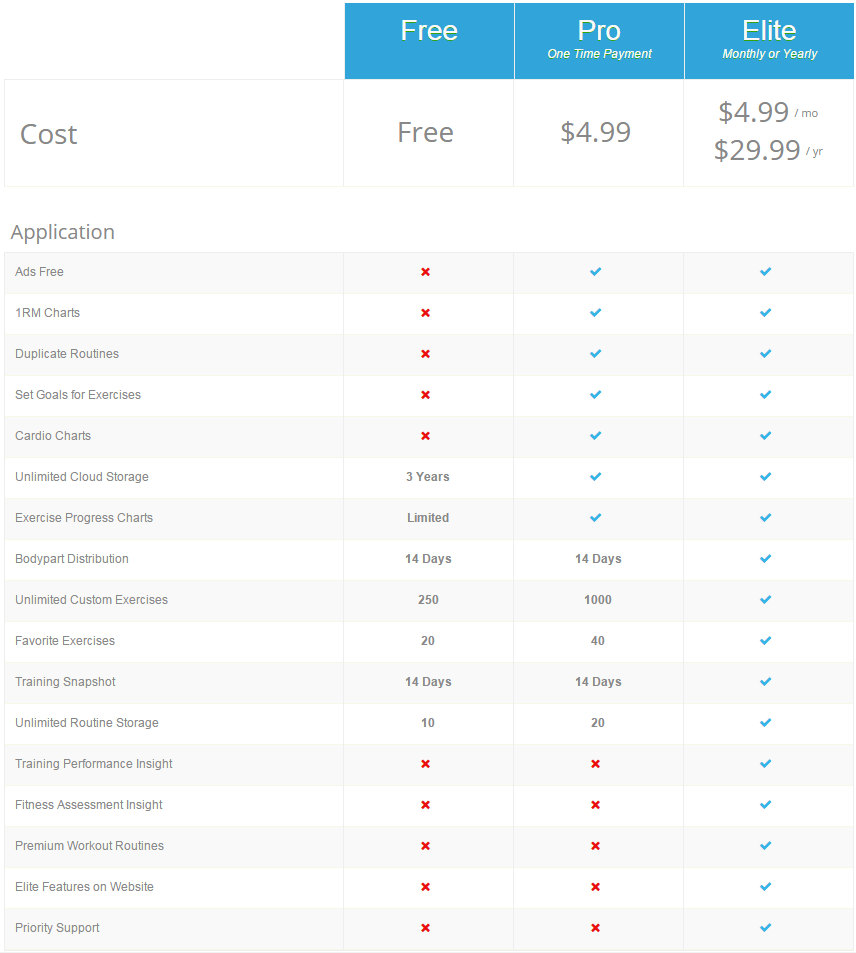 If you ask me, even the $30/month is a good investment since that's basically the price of 2 large pizzas – with the added value of getting healthier instead of getting "extra energy". If there is one wish I have for this app is a big "Am I Fat" button that, when pushed, will honestly answer the question. This way, whenever you hear the classic tricky question "Honey, do I look fat in this dress?" – for which by the way there is NO correct answer – you can simply answer "Why don't you ask JEFIT?".
[pb-app-box pname='je.fit' name='JEFIT' theme='light' lang='en']