Formula Racing, old-school F1 racing game for Android and iOS
My first computer, a clone of ZX Sinclair, had Basic on it and as many others I was ecstatic to see I can write code from a provided booklet and play my first-ever written game. It was a rudimentary car (the letter "A") that had to follow a "road" composed of "#" characters. Doesn't sound much now but it was the world to me back then, the only problem was the fact that upon restart I'd have to write the code again.
That's why I always appreciate Arcade-style classic games, as I'm sure it happens to many other nostalgic, and the game presented today, Formula Racing, fits the profile of a successful classic-style game. It is an old-school top-view Formula 1 racing game that brings the whole package for enthusiasts of the sport and style: you have a contract, a team, a suite of cars and need to race with others on the most popular tracks in the world.
DESIGN
Formula Racing has that retro-design style where you view the tracks from above in a 2D environment. From the way you select your car/team, to the race itself, everything is designed to give you that feeling of old-style Arcade game. Optionally you can download a pack of HD graphics for the track backgrounds (35Mb) that can be disabled too if you feel it slows down the game. In our tests it worked smooth with the HD graphics package too, so it depends on the device.
The main screen you see gives you quick access to everything, you can start playing right away in Single or Multiplayer mode, change your car/contract (if you have enough coins) or go into Options where you can mute the game if you want to (although it's important to hear as you get notifications when you're in a race, such as the fact that your tires are wearing out), disable the HD graphics and enable vibrations to feel when you're off track. You also get a quick tutorial on how to play the game, which is easy enough as you just press left or right on the guiding arrows.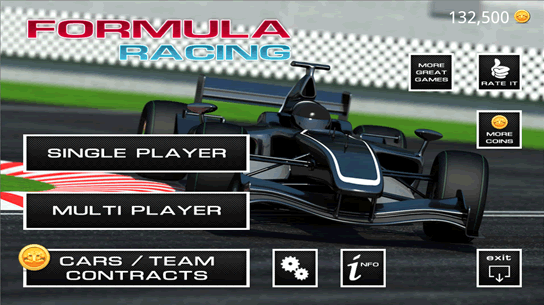 GAMEPLAY
The first thing you do when starting the game is choose a car/contract. If you don't have coins you just use the default car that's provided. As you'll win races and earn coins you'll be able to sign a different contract and get a better car from the 13 available. The upper-class cars have better speed and steering controls.
Once you've chosen the car you just have to decide how you want to play:
Single Player – You will play against the device. You have 3 other options in this mode, to participate in the Formula Racing World Championship (play against 8 opponents), to run just a Single Race or only Practice. You get coins if you win races only for the 2 options. The qualifying session is important as in the real Formula1 racing because it can give you the advantage to be in a better position at start.
Multi Player – You can connect online and play other uploaded races. You can create a race yourself and upload it for others to download and challenge your score, or you can download races from leader-boards to test your skills against top players. Optionally you can search for a username (of a friend for instance) to download their races. You get 500 coins by uploading your own race and an additional 500 coins if you win.
In Single Player (championship or single race) each race starts with 3 practice laps and 3 qualifying laps. Both of these can be skipped, but it's recommended to do at least the qualifying laps as otherwise you'll start the game in the 8th position so not in your advantage. You have 10 tracks to choose from, from easy ones (i.e. Australia) to the most difficult (United States): Australia (default track), Spain, Monaco, Great Britain, Germany, Italy, Singapore, Japan, Abu Dhabi, United States.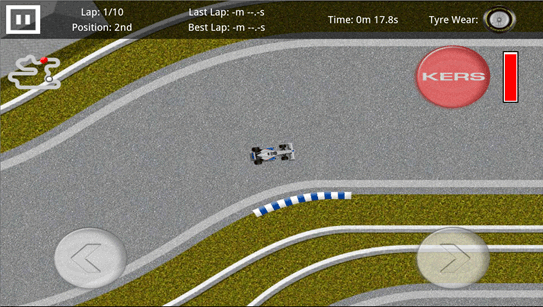 Your car is easy to control as you do it by pressing on the left or right arrows to turn the car left or right. There's also a Kers button that will give your car a turbo boost when you are in a straight line and you can take corners more vigorously by tapping on the arrows. As you progress through the game your tires will wear out so when your car's handling becomes more difficult you need to do a pit stop to get it fixed. You have a tire wear notification wheel in the top right corner of the screen that you'll need to check from time to time, and if you have audio enabled you'll be notified via radio too. When the race ends you get a coin bonus depending on which place you've finished the race, and using that coin bonus you sign better contracts and get access to better cars. See the video below for a quick review of the game:
You can get more details about the game from the developer's website at http://www.formularacing-f1game.com/ or purchase it (a mere 99 cents) directly from Google Play: Formula Racing
We've discussed with the main developer for Formula Racing to get some details about upcoming features, so if you're a fan of the game read below the valuable insight:
Q: Can you share some information about yourself with our readers?

A: I am an indie game designer for Android and IOS. I got into developing games about 2 years ago while working at a job doing web design/development. About a year ago i took up building games for my business full time and have not looked back.
Q: How did you come with the idea to create Formula Racing, what inspired you?

A: I can say i am a HUGE F1 fan, so combining my love for F1 and making games it was natural. This allowed me to use all the knowledge i have of F1 to create a simple, yet in depth game about formula racing.
Q: How long did it take from that idea until the first public release?

A: I had the idea to create the game in December 2012, thinking it would be a perfect time to release in time for the start new F1 season in March 2013.
Q: Have you developed other games like Formula Racing or is this your first one? Do they target only the Android market or others as well (i.e. iOS)?

A: I have created another Racing game last year called Formula Micro GP. This new game takes whatever was good from that, and then added so much more including a new game engine, sound engine, multiplayer and much more. The game also targets IOS devices also.
Q: With hundred of thousand of games in the appstore, how do you make people aware of Formula Racing?

A: Review sites, forums, social networking, YouTube and just getting it out there as much as possible on the internet.
Q: What future plans you have for your Formula Racing (new features, …)?

A: We just released a new update which allows you to customise/change the teams names. I intend to further develop this game to include extras such as dynamic weather, it may start raining during the race! and more features in the pipeline.
Q: What popular games are an inspiration for you as a developer and why?

A: I love old classic games and I believe they translate well onto mobile platforms due to there simplicity.
Q: Have any tips/advices for other developers that want to start working on a game? Any tools that you consider to be a must?

A: Be prepared to put in the hard work, game development is a tough industry, never give up, set clear goals and strive towards them. Build something you are passionate about as this will translate into the game/app. Tools i use is Corona Labs for 2D Gaming and Unity3D for 3d games, these help you minimize your development time getting more projects out quicker!