WeatherBug, the free weather app that brings sunshine in my life… or at least accurately predicts it
As a kid I was worry-free and just went along with the tide of things. During holidays if it was a rainy day I'd just play inside, if it was hot I'd go outside, nothing unusual here. I even got super excited when we had lots of snow during the winter, as most kids do.
But growing up it became very clear that weather is a strong element in our lives, and for me in particularly a source of worry. I'm a strong supporter for Murphy's Law as experience taught me that if something can go wrong, it will surely do. Has it been 2 weeks without rain and this week-end is the one I've planned to go camping? Bang, it will most likely rain. Planning an outdoor birthday for my kid? Clear weather all day until the moment it starts pouring right when you set the barbecue. Decided to take on ski lessons? Probably it will be the hottest winter ever recorded…
You get the point, weather-related, when it comes to probabilities, the chances are pretty high that it won't be the way you're expecting it to be. Realizing how prevalent Murphy's Law is actually helped me discover and solve a problem. If you can't control weather (my rain-invocation dance sucks anyway) don't think of it as an enemy but rather as a friend with whom you have to have co-joined schedules. And luckily there are a lot of tools to help with weather predictions, from televised/radioed weather programs to meteorologists in your pocket – talking about mobile apps not actually little people living in your pocket and telling weather (though how cool would that be).
The App
Until recently I've only used the default weather app that comes on Android. The main problem however was reliability, as I don't know where it got its info but most of the times it wasn't giving me correct weather info.
My assumption is that Google didn't invest much in partnering with national weather stations and thus it relied on information that's not quite accurate. So if you are relying solely on the default OS weather app you're better off sticking your head out the window in the morning and looking at the clouds. If you want and need accurate weather data my suggestion is to try apps dedicated solely for that purpose.
My choice is WeatherBug, the app that brings sunshine in my life (or at least predicts it quite accurately). You can see it in action here:
Others definitely agree with me as the app closes on almost 50 million installs on Android alone, not mentioning the iOS installs or web usage. It is developed by Earth Networks, a company that for the past 20 years has operated the world's largest and most comprehensive weather observation, lightning detection, and climate networks. Their goal is to integrate their hyper-localized weather data with Internet-of-Things smart devices, and it was only obvious that the first step is to release apps (for smartphones & smartwatches). WeatherBug has eveything for every type of user interested in the weather, in has quick reports (and notifications) if you simply need to know the temperature/when it'll rain, but it also has detailed weather info if you need it.
Main Features
Ultimate weather dashboard. Aside the brief weather information you see in your notifications, WeatherBug has a full blown dashboard with weather details for right Now, Hourly forecast or 10-Day weather reports. The NOW tab displays real-time temperatures (how it feels, highs and lows), wind speeds, spark information (how close the latest lightning strike was), weather/traffic cameras with live videos (if available) plus news about weather and user-submitted photos. If you head on to Details you'll get additional weather information such as more accurate display of wind speeds, temperature/humidity/pressure, the sun & moon phases, pollen/UV data and forecasts for precipitations (for today, this day in the past, …). You can also see an Hourly overview for the day for more granular weather conditions. If you need forecasts for a longer period of time you can access the 10-day forecast tab – in terms of accuracy I believe 3-days should be the maximum period for predictions, but the 10-day forecast can give an idea of what type of weather you can expect to have.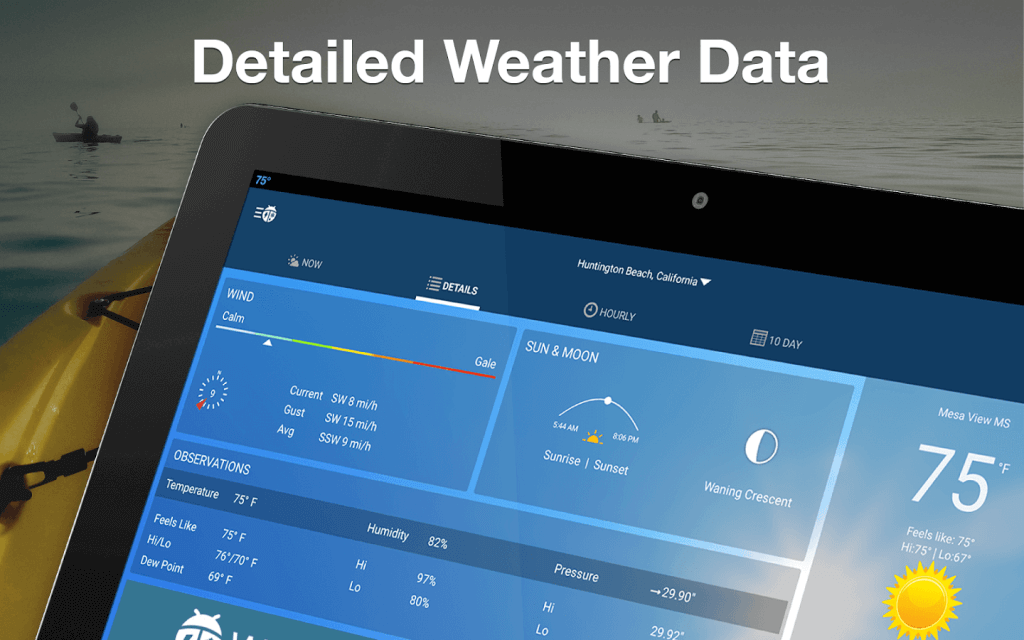 Location, location, location. With a risk of sounding as a real-estate mogul, location is one of the key features in any weather app, and WeatherBug handles that as a pro. The minute you finish installing the app and start it you'll see weather details tailored to your exact location. Nothing to select or confirm and it even goes further to set the correct temperature units you're used to (i.e. Fahrenheit for US, Celsius for the rest of the *sic* world). So as soon as you unlock your phone you'll have access to local weather conditions, a weather map & radar with your location and surroundings.
WeatherBug also supports multiple locations, so you can easily add/delete/edit locations, as many as you want. This way you could have all your locations of interest on a quick weather display.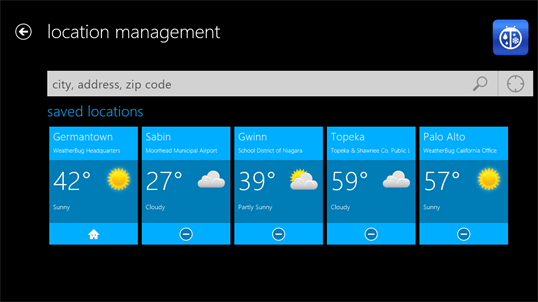 World's Largest Professional Weather Network. WeatherBug is able to provide realtime hyper-localized weather information due to the fact that it uses information from the largest network of weather stations in North America. I was pleasantly surprised to see that the weather information is accurate for international locations too (EU for instance). They probably pay for and use information provided from national weather stations all over the globe to be able to give accurate international weather predictions too. Currently it has support for over 2.6 million locations across the globe. I'd say "and counting" but I don't think there are other locations of interest to add.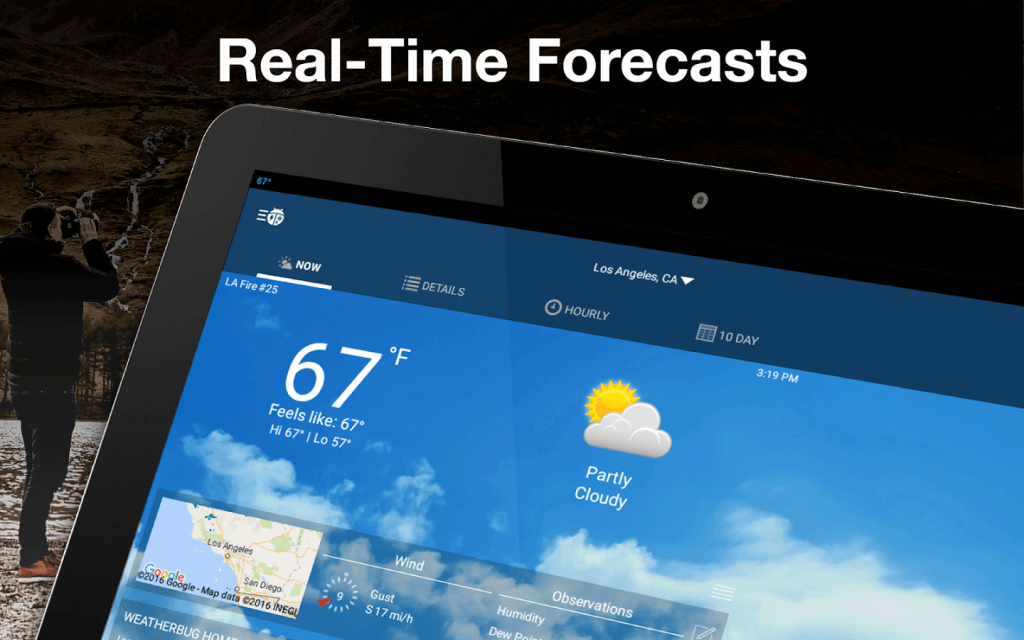 Notifications. WeatherBug adds a beautifully simplistic temperature display in your notification bar. Tap and drag to expand and see a quick overview of how the weather is today. I love the clean display for this part and appreciate apps that keep it simple. Since you are able to define multiple locations you can also select which notifications you want to receive for them, individually. By default the notifications are silent but you can enable sound for them if you feel the need to do so.
WeatherBug has a unique feature called "Know Before Notifications", and when this is enabled you receive notifications for severe changing weather conditions.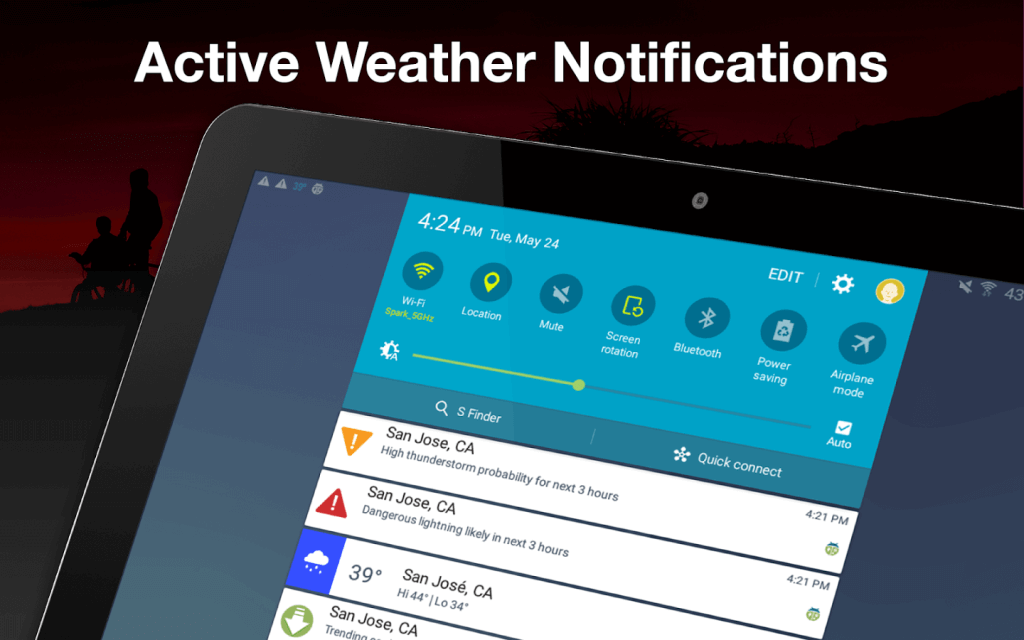 Important weather alerts. WeatherBug sends national weather service watches & warnings and exclusive dangerous weather alerts. While this might sound dull, there are certain situations when an alert can be a lifesaver. Imagine you're backpacking on a plateau and you're the highest object around when a lightning storm closes in fast. Assuming you don't have the multiple lives of Scratch from Ice Age, WeatherBug to the rescue. There's actually a feature called "Spark Lightning Alerts" and that sends in the dangerous thunderstorm alerts 50% faster than under normal conditions.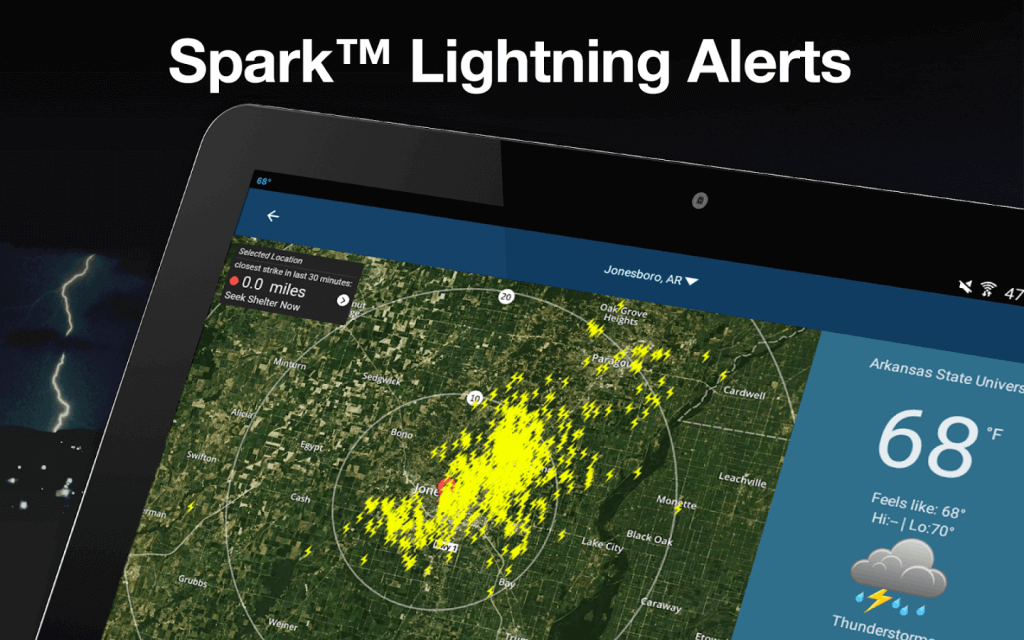 Account management & synchronization. If you're a (little) lazy as I am you'll appreciate the fact that registration is optional with WeatherBug. Not only that, but you can sign-in using your Facebook account if you don't want to create a WeatherBug.com account. While registration is optional, it brings in a cool feature, the ability to sync various saved locations and settings across multiple devices. So if you have a smartphone you can have the same locations/settings on your tablet as well, plus multi-platform support (iOS, Android).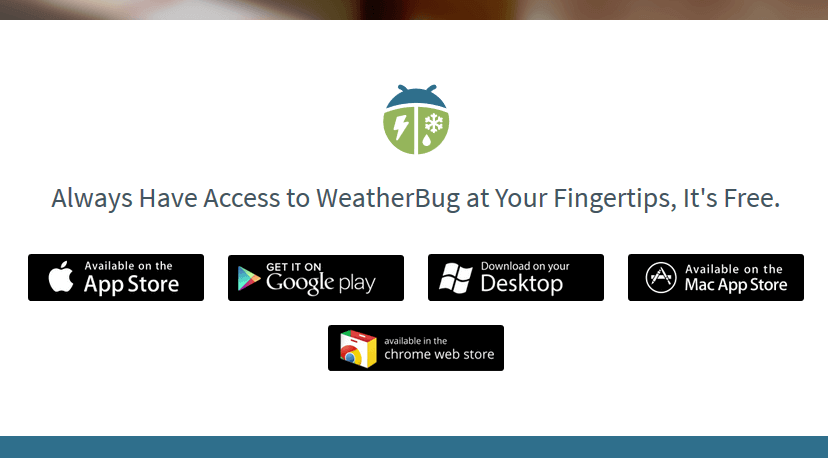 Activity-based forecasts. A special section in its dashboard is dedicated to showing custom weather forecasts for certain types of activities. For instance you can see if it'll be a good day for Lawn Care or Gardening, or if it's ok to plan an Outdoor Nature trip, Barbecue or a Beach day, and other lifestyle activities. It also gives weather information that's vital for those suffering from allergies such as local pollen details with pollen count & data for the region you're in. If the pollen level is above a threshold and your allergic reactions could kick in, then using the information provided by WeatherBug you could take your medicine prior to venturing outside. Luckily for me my only allergy is going shopping but wife understands and life is good.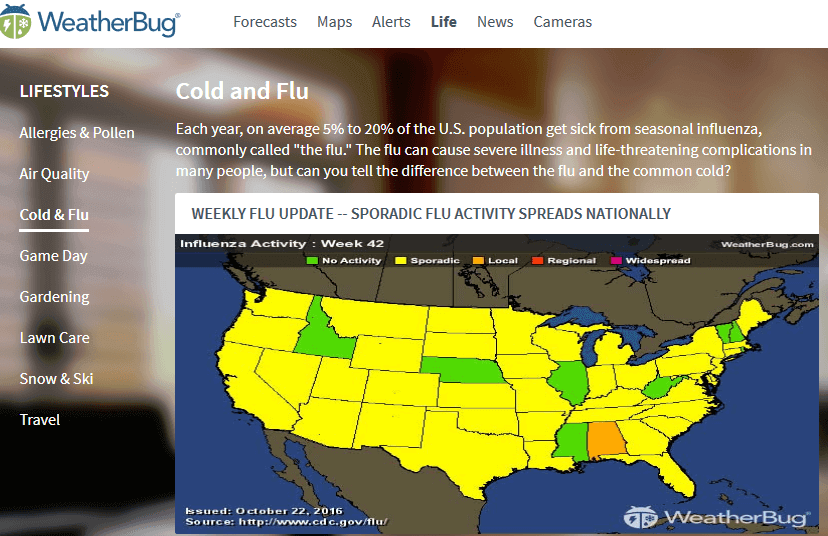 Choose your weather parameters. Of all the countries in the world only the US still uses Fahrenheit for temperature units. Oh and again, of all the countries in the world, only 3 still use the archaic Imperial system of weights and measures (i.e. inches instead of millimeters): Liberia. Myanmar aaaand… the US. So that's why every app that includes any kind of measurements has the 2 different systems. Anyway, rant aside, WeatherBug lets you choose Fahrenheit (°F) or Celsius (°C) for temperature units, MPH, KPH, Knots and MPS for wind speeds and Inches/millibars for pressure display. It also has its interface available in Spanish & Portuguese (aside English).
WeatherBug also lets you add weather information to your home screen with several weather widgets so that you have a broader weather overview without starting the app. Though I'd still open it just to play with their interactive animated maps (18 different ones). In terms of picking a free weather app, I believe WeatherBug is a no-brainer. It doesn't force you into any in-app purchases, the only way they make money is through some targeted ads but those don't feel intrusive at all so I'm ok with that.
Conclusion
Every year the Europe's largest independent mobile phone retailer organizes The Appy Awards, a ceremony where the best apps by category are lauded. WeatherBug is the winner of the Best Weather App for 2016 so quite the achievement if you ask me, given how Appy Awards are basically the Oscars of the app world. Just without that many plastic surgeries per square meter.
WeatherBug is available for free on Google Play and for iOS. You can also access it as a web app from your desktop or other OSes: WeatherBug Online Just don't try another weather app until you give WeatherBug at least a try – and whatever app you pick just remember it's going to be better than the default one you have on your phone.
[pb-app-box pname='com.aws.android' name='WeatherBug for Android' theme='light' lang='en']