[SCAM?] TokenFire Review: Get free Google Play Gift Cards & others (Amazon, Playstation, Steam)
UPDATE 2: It's been over 30 days now since I requested my Google Play gift card and Tokenfire still shows it as "Redeem pending – Purchase is being processed". I have contacted them but to no avail, so this makes me believe that Tokenfire is scam. So beware before investing any time in it. If you however received your gift card add a comment, until then I have a strong feeling Tokenfire is scam.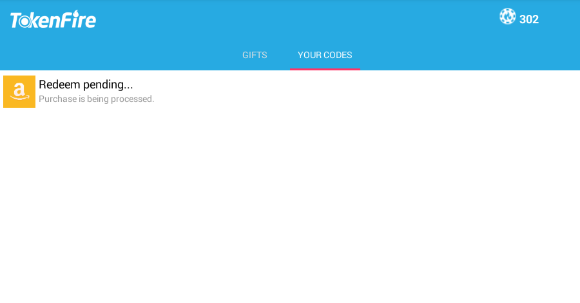 ---
Original post:
UPDATE: You can get 50 free tokens for Tokenfire by using this referral code: 55AM8
Last year Google introduced Promotions for Android devs to be able to share redeemable promo codes that unlock in-app purchases in their apps and games. So as a dev you'd go into your Google Play dashboard, set a start and an end date, then generate promo codes and share those with your users. Those codes could be redeemed via the user's account on Google Play. Easy-peasy. Just that with my popular post about this here, at least half of the visitors don't understand what type of Google Play promo codes are those. As much as I tried explaining, that other half seems to be looking for Google Play gift cards instead. The confusion is that Google Play gift cards are redeemed via a code as well.
It seems very strange to me that someone believes that they could receive a free redeemable Google Play gift card just like that, but instead of fighting with the never ending comments I decided to try and find a solution to really get free gift cards. There are a lot of bogus sites out there, but I've found some Android apps that offer "gaming rewards", which basically means you can get a free gift card for Google Play, iTunes, Steam, etc. by doing stuff.
Technically the gift card you receive is free, but to obtain it you must complete some offers. These range from installing 3rd party apps, to visiting the app regularly, watching videos and even invite others. Instead of paying $10 for a Google Play gift card, you do pay for it with your time. These Android apps get money from advertisers that are looking for installs, and in return they give you a small share in the form of a free gift card.
One such app is TokenFire. I've stumbled upon it after a recommendation from a friend that really received a $10 Google Play gift card from them. I see the app is getting close to 500,000 installs and the rating is quite good, so I'd say this could be a good way to get your much desired Google Play gift card.
Here's how TokenFire actually works:
You sign-up via your Facebook or Google account. I used Facebook and the only permission required was that to access my email address, so not a permission to post. Signing up was a breeze.
Once signed up you will see your Home dashboard where you will be asked (the first time you login) if you have an invite. Adding an invite in there will give you 50 free tokens, so here's one you can use: 55AM8
After that you can start claiming other bonuses to get more tokens. You get a free daily bonus, you get tokens for following their Twitter/Facebook accounts, watching an introductory video and a few others. I was able to get 355 tokens in like 10 minutes.
Tokens are the in-app currency and those are used to ultimately redeem your free gift card. As an example, a $10 Google Play gift card requires around 2500 tokens. With a little effort you could get that in around 10 days.
Once you have enough tokens you go to the Gifts section and decide which gift card to redeem, based on how many tokens you have.
In terms of usability, TokenFire is a breeze to use. I also like how it doesn't show you any useless ads, nor bothers you with all sorts of notifications. You go into the Offers section to see what you can do to redeem more tokens, so nothing done without your interaction. As stated above, I believe that you could get a $10 gift card (for Amazon, Google Play, Steam, Playstation, …) by spending less than 10 mins daily for a week or 10 days.
The minimum interaction you can have with TokenFire is just opening it daily to collect your bonus and then visiting the Offers section to see what new offers are available. However, you can be more active and invite other users to get even more tokens. It basically depends on how much time you have available.
TokenFire Features
Home Dashboard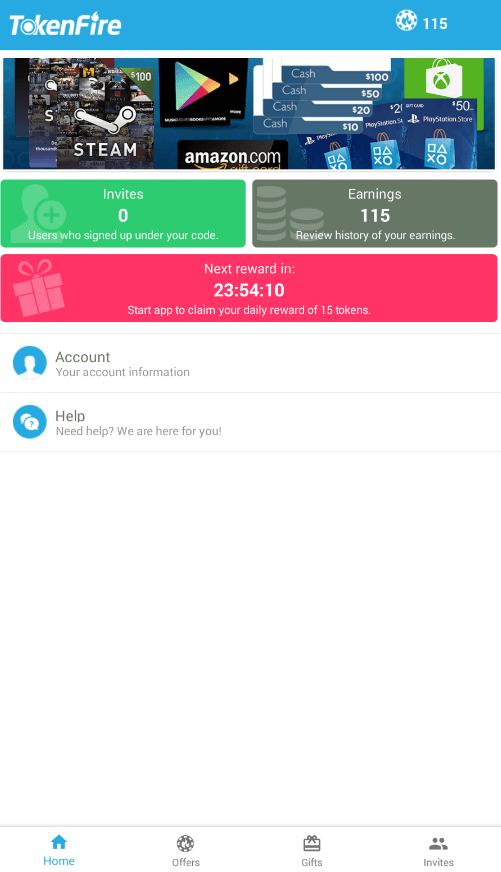 After the blazing fast installation and sign-up process, you will see your Home dashboard. This is your "command center" where you will have an overview of your account performance. You'll see how many tokens you earned, the number of people you referred and your current earnings (with the option to access a history of those earnings). Last but not least, you see how long until you get your daily sign-in bonus of 15 tokens. By default you get 15 tokens for starting the app every 24 hours.
TokenFire will pull your account information from Facebook/Google, but you can access your profile and change your name/avatar if needed, as well as access the help to learn how to use it – though it's pretty straightforward.
Offers with Incentives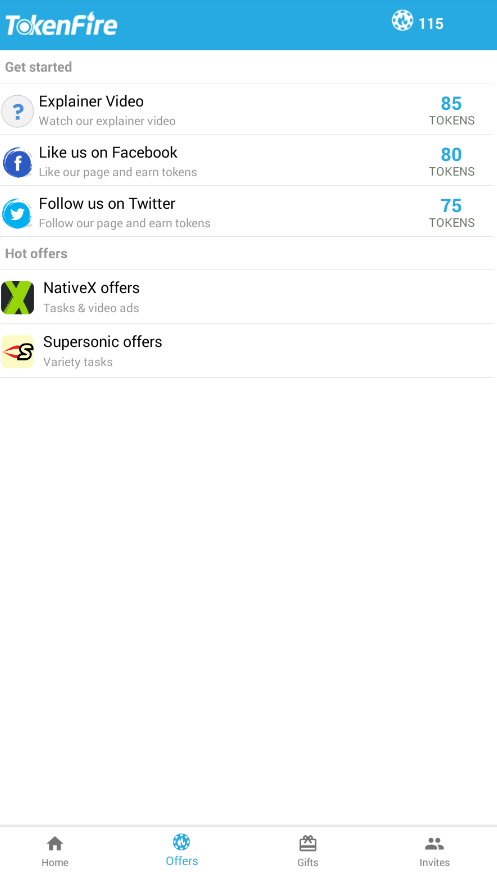 This is where the fun begins. In the Offers tab you'll have quick access to all available offers that reward free tokens. There are some "Get started" offers that you can claim only once and get tokens for following the official TokenFire Twitter/Facebook accounts, or watching the introductory video. The Hot Offers section will show offers from 3rd parties that you can take on and claim the reward. For instance the Supersonic offers will recommend some apps/games to install and you'll see exactly how many tokens you'll get for each. These offers are tailored for each country, and I got to see some too even if I'm from Eastern Europe. Granted US offers will pay the most tokens, but I'm good with what I got too – i.e. between 10 and 40 tokens for installing a recommended app.
Redeem Gift Cards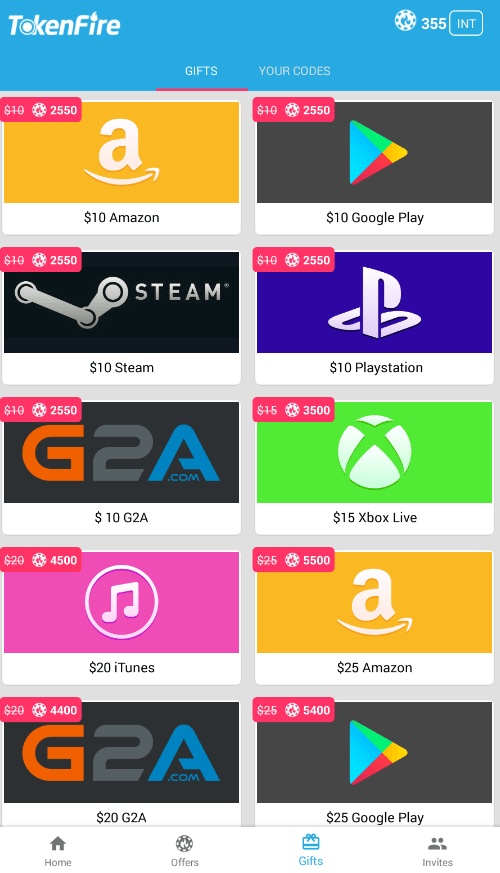 They currently have 17 different claimable gift cards sorted based on their value. Here's what you can redeem:
$10/$25/$50 Amazon gift card
$10/$25/$50 Google Play gift card
$10/$25/$50 Steam gift card
$10/$25 Playstation gift card
$10/$20 G2A gift card
$15/$25 XBOX Live gift card
$20 iTunes gift card
$25 Gamestop gift card
Each gift card requires a certain amount of tokens to redeem it. For instance the $10 value gift cards require 2550 tokens to redeem. The highest-valued ones for $50 require 10400 tokens to be redeemed. As soon as you have enough tokens you can select your gift card and redeem it. Usually within 24 hours you should receive your gift card code to redeem.
Send Invites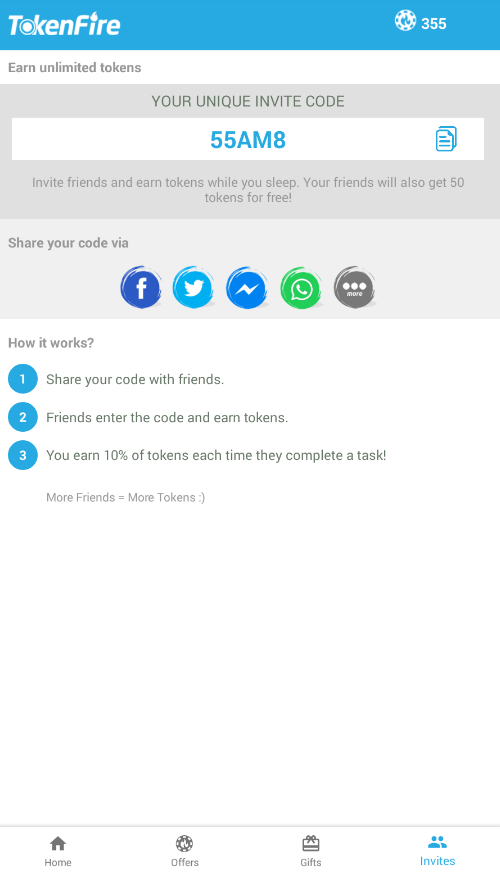 TokenFire has an invite/referral system as well. This has the advantage of helping you earn more tokens by sharing it with friends, not to mention that your invitee will also get tokens by using your code. So it's a win-win situation, you get tokens for inviting users and your invited users get 50 tokens for free as well. Just be sure to share your TokenFire invite with them. If you are looking for a TokenFire invite use mine, you'll get 50 tokens and I get 50 too: 55AM8
Claim History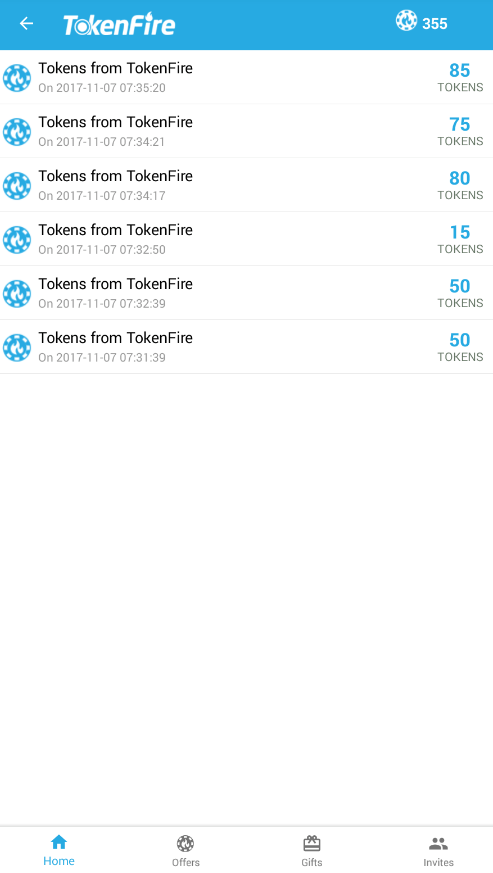 TokenFire also has a claim history page where you can see a detailed view of all the tokens you received. This will be helpful especially with those offers that don't redeem tokens immediately. You can access your token claim history page from the main Dashboard.
I was able to get around 350 tokens quite fast, still on my way to 2550 to claim the first gift card. The app currently has a rating of 4.5, with close to 0.5 million installs which is not bad, though a lot of comments contained self-promotion for invite codes. What I liked about it is its unobtrusiveness, for an app in this category (incentivized offers) this is pretty rare. You only see ads from the offers you decide to go with to receive tokens.
Similar Android apps
TokenFire isn't the only app in its category. In fact there are dozens others with millions of installs and as many active users. I've stumbled upon TokenFire on a recommendation, but if you're seriously into free gift card redeeming, then these are other apps you can try out (for Android). One thought is you could install them all and do them all at once to see where do you get a free redeem card from first:
AppKarma follows the same pattern, 1 million current installs and it has free Google Play gift cards as bonuses too. URL: https://xkr.ma/m/j2JolKwrll
AppBounty with 10 million installs, has free gift cards but seems more focused on in-app purchases. Get 250 credits by entering this AppBounty referral code: gjefbrto
AppNana is another app that offers free Google Play gift cards for doing certain actions. Has between 10-50 million installs as well. If you decide to use it, here's an AppNana referral code (invitation code) you can use to get 2,500 points for free: c24953770
Gift Wallet offers Google Play cards as well, has around 5 million installs. You can get 5 extra coins by using the following Gift Wallet Referral Code: HBXD4E5
Google Opinion Rewards. This is an official Google app so trust level is 100%. It has between 10 and 50 million installs. Basically the Google team will send out surveys from time to time, with Google Play credit as bonuses. Surveys are more often shown for US users, so if you're from a country with less interest for the Google team you might not get any. URL: https://play.google.com/store/apps/details?id=com.google.android.apps.paidtasks
These are only a selection of apps, if you have used apps that offer free gift cards in exchange for completing offers add your comment so I'd add it to the list. If you've had negative experiences with any even better, share it here so that we'd know which is scam or not.
You can install TokenFire with a simple search on Google Play: https://play.google.com/store/apps/details?id=com.g2top.tokenfire