Lode Runner 1, the game that made me feel young again
I was about 9 years old when communism was overthrown in my country. Soon after various shops started popping like mushrooms after a rainy day. One of them was a constant magnet for kids all ages, it was an electronics second hand shop. They'd bring used stuff from abroad to sell it here. It was a magnet because they had a wonderful device in there, a computer (Commodore). The shop owner's son would play games on it, and seeing for the first time in your life a colorful Arcade game on a computer was mesmerizing. I'd spend literally hours staring through the window at him playing. The day he let me play for the first time (in exchange for helping in the shop) was a dream come true. He only had a handful of games but by far the most luring one was Lode Runner.
Meet the new Lode Runner
Lots (and lots) of years later, I still remember those times and cherish those moments. And recently something reminded me of those times. I follow Google Play on Google+ and one of their updates intrigued me: "A reimagined classic of a strategy game that'll knock your socks off." And what do you know, at the other end of the link I clicked was Lode Runner 1, a re-mastered version of the classic (I'd say puzzle more than strategy) game created by Nexon. I couldn't resist the temptation and played it for a few hours, feeling again as a 9 year-boy that just discovered man's greatest invention yet, Arcade gaming. You can also see the "clumsiness" of that boy in this quick demo I created:
If you've played the classic trust me when I say that Lode Runner 1 will meet & exceed your expectations. The gameplay in its essence follows the classic style, you run to collect gold while avoiding guards. Just as the classic it has ladders and bars, you can dig holes to entrap guards temporarily and walk over them, you collect all gold bars before heading to the exit. And it does have a level editor. The "reimagined" part kicks in with:
A Championship mode. Start a level and see how your score compares with what other real worldwide players have.
New & Classic play modes. In the new play mode you advance from level to level that increase gradually in difficulty and introduce new elements. Different types of guards, brick blocks that have to be destroyed in a particular order and so on. You also unlock new playable characters with different abilities, some climb ladders faster, others run faster, …. You still have access to the Classic play mode as well.
Create & share levels. Not only you can create your own custom playable level, you can also share that with others and gain worldwide fame. You can also play levels created by other players, either based on how popular those are or randomly.
Achievements & Leaderboard. That is if you would like to brag to friends or see how big yours is compared with others. The score I mean.
Action scheduling. That's right, during a level you can pause the game and then schedule some automatic moves to be executed. You'd have to be a very good problem solver as you'd need to take into account the guards' movement.
Beautiful design. And a matching soundtrack. Not that the classic wasn't beautiful back then, but this remake is better.
Design & control your beast
The design of Lode Runner 1 is just perfect. Not too shiny, not too washy, just perfect. It has a neutral coloring for the background, with well picked contrasting colors for gold, guards, ladders and obviously yourself. This helps you focus better on the action. And the graphics have that material design look that indicates the devs are detail-oriented.
Controlling your character is surprisingly easy. You have six actions available and you can imagine the challenge devs faced trying to make those easily accessible when playing on your phone. But as I mentioned it's rather easy to do, with one finger you move using the virtual joystick, with the other you tap to destroy bricks in front or behind you. The only minor difficulty I had was trying to destroy brick blocks while climbing ladders and sudden direction changes. I'd say that could be a factor of experience, rather than design.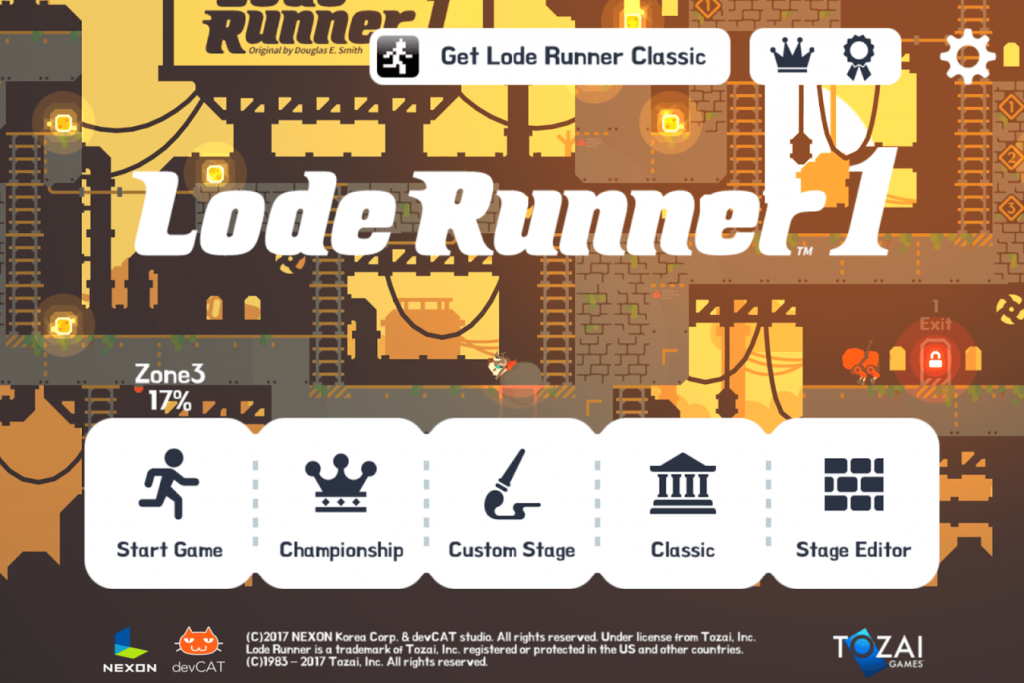 The new, the old, the championship
My favorite game play mode is the New one they introduced. I like it because it starts easy and gradually helps you advance while learning to control the character better. Finishing a level is not only a matter of dexterity. My strategy here is to pause the game and then analyze a bit the level virtually drawing a path. Only when I'm ready I unpause and start the game. Guards will follow you everywhere as soon as you pick the first gold item. Luckily if you destroy a brick block in front of them they'll be temporarily trapped in there and you could walk over them. They respawn soon after but that's enough time for you to move. The game will also show hints when new elements are introduced. I wouldn't have known otherwise that brick blocks with numbers on them actually show the order in which you can destroy them.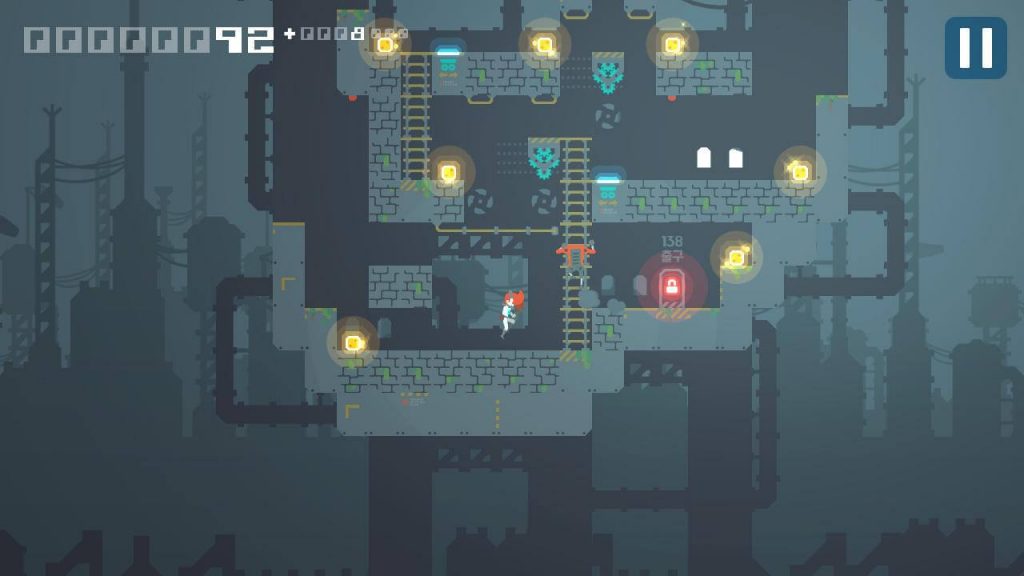 The Classic play mode is more difficult. Because the play area is much more complex and more guards … well guard. I'd play a few levels of the New play mode before heading over to Classic. You still get the same actions as in the other play mode, just that the play area is bigger. I'd talk about the numbers of levels but I believe theoretically they're unlimited. For each play mode there are hundreds of levels already created (at least 300), with the usual finish the current level to advance to the next, but after that you also can create your own level or play one created by others.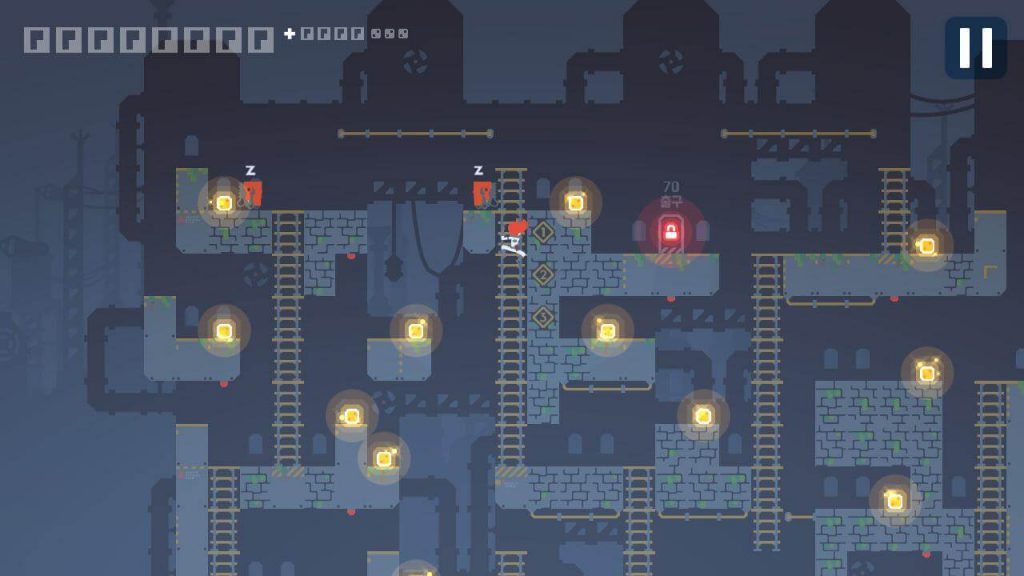 Your score for each level is very important because that's how you pay for things, for instance you cannot participate in Championships if you don't have at least 10,000 gold coins. That's why you'd need to focus not only on finishing a level, but finishing it "cum laudae". There are combos that increase your score, time is of essence and the best part is that you can replay a level until you're happy with the new high score.
Championships are a way for you to test how good you've become. In Championship mode you play levels that other real worldwide players already completed to see how your score compares. I felt very confident in my skills until I've seen what highscores others had for the same levels I played.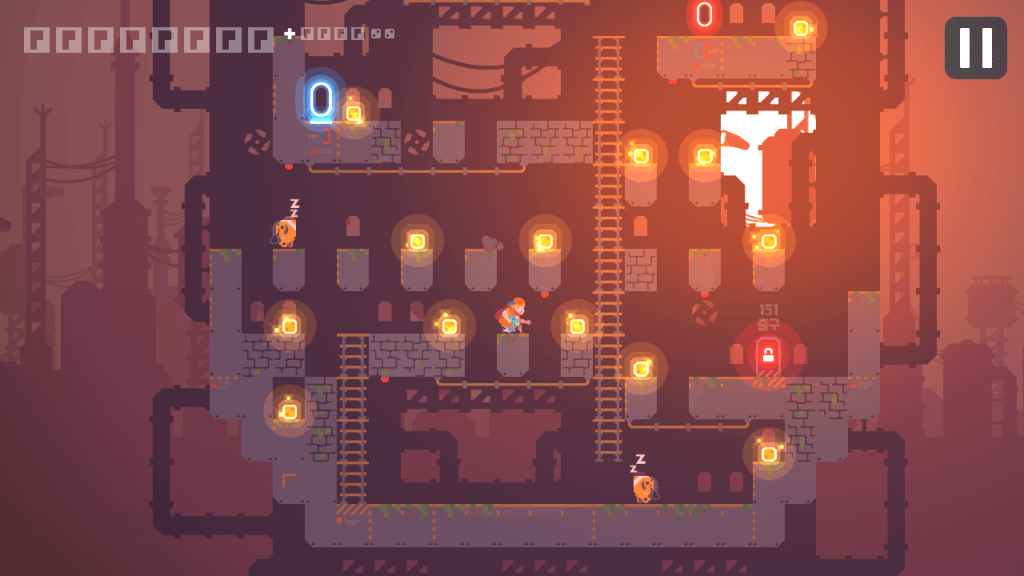 Ever thought how tough some Math/Physics problems are? Imagine how difficult is to create those. That's the case with Lode Runner 1 custom stage creator is. You can create levels but you can also play levels created and shared by others. And it's amazing how well designed some are. If you're not happy about a particular predesigned level, you can edit it too. That makes the number of levels available for playing actually unlimited, as you can also play something that others created.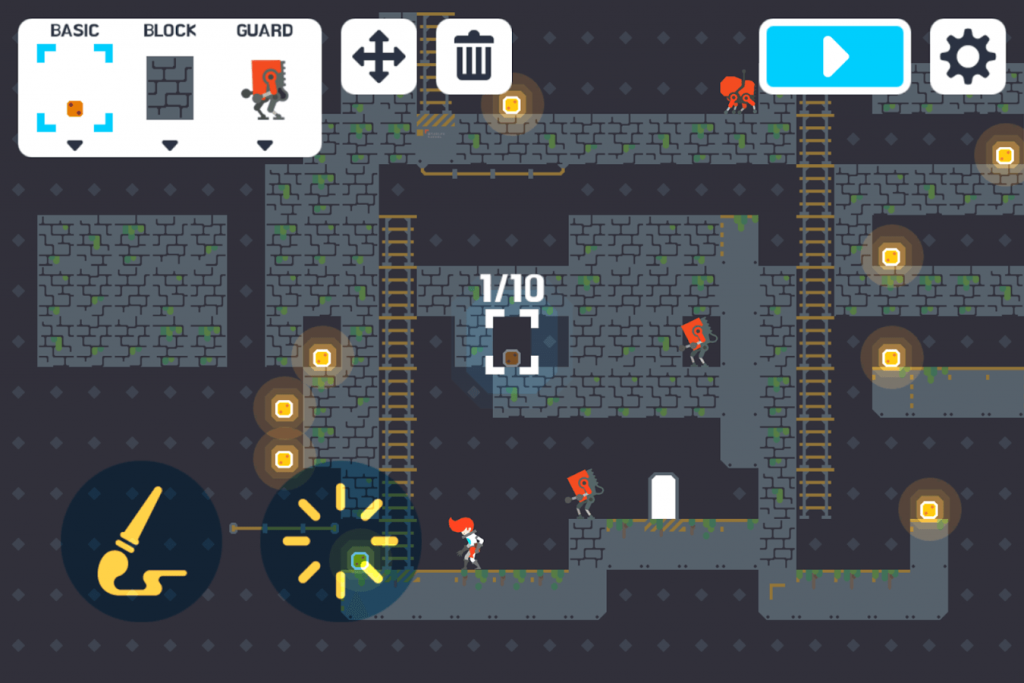 Conclusion
Lode Runner 1 gave something more than entertainment. For a little while it made me feel young again. Sounds cheesy but I'm not kidding, I'm sure you had that feeling too when immersing into something (a game, movie or food) that reminded you of your childhood. And for that I cannot recommend it enough to all those looking for a puzzle slash strategy slash reflex-testing slash platform game. Genre doesn't matter in life, why would it matter in gaming categorization. It's beautiful gaming that counts and Lode Runner 1 excels at that. To the point where I'll help another boy create beautiful memories for the future, my own son.
I write as I think, without going over my text so if you've played Lode Runner 1 and feel that I've missed something drop a comment. You can also do it if you'd like to share tips, tricks or your overall opinion of the game.
[pb-app-box pname='com.nexon.devcat.loderunner' name='Lode Runner 1′ theme='light' lang='en']