Darkest Hunters, a retro RPG with match-3 elements
When Diablo was released I played it to the point where I was almost kicked out of school. It was my first game with a sort-of "dark" theme and to this day kept his place in my good memories from those times (ahhh, all the gaming).
The Game
I'm always scouting Google Play for new thrilling gaming adventures and to be honest at first I was suspicious when I've seen a mention on Darkest Hunters' play listing "If you like the dark atmosphere in Diablo, this title is what you're looking for". My doubts were due to the fact that there's no first person action as in Diablo, the main gameplay as its roots has a match-3 like play mode. But I stand corrected, as a Diablo-nostalgic I did find Darkest Hunters to be that game that makes you think of the classic.
Darkest Hunters has a retro look due to its pixel-art graphics. Everything is designed in a dark-ish style and the combination between the retro look and high end dynamics makes a powerful combo. You even get an introduction scene with an epic voiceover that will give you the Diablo chills.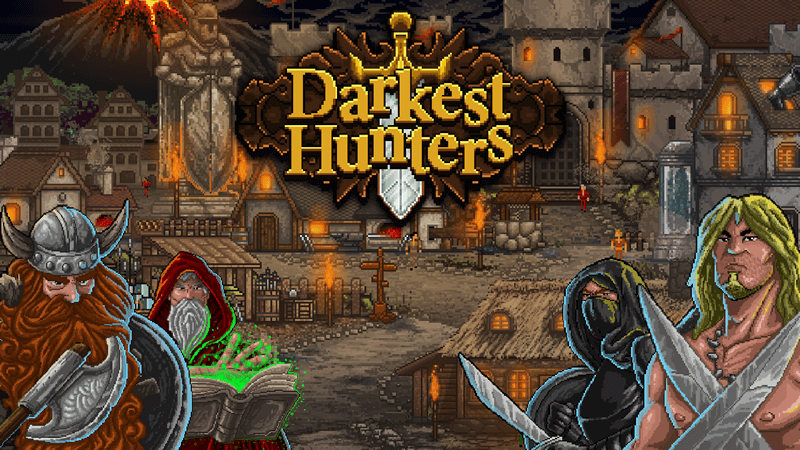 The gameplay is quite unique as it combines several different play styles. There are 2 main play directions here, on one side there's the match-3 gaming part, on the other is the RPG style. You start with a hero and fight your way through 5 different worlds, each with at least 10 levels. However, for each level there are multiple quests, which in total counts up to 300+ quests. As in a typical RPG, your hero has a bar for life, one for attack and another for mana (to casts spells).
The game area varies from level to level, but in essence it will be a dungeon-like area and you must advance by matching 3 or more elements. Right now there are 4 elements to match:
Red swords – collect these to recover your attack power (this gets consumed everytime you fight)
Green crosses – collect to recover your health
Blue vials – these contain mana used for spells
Yellow coins – collect coins to use for upgrades & buying gear
Whenever you combine 5 or more elements you create crystals which have a destructive power. The more elements you combine, the more destructive the resulting crystal's power. Typically it will clear a line or column, but a level 3 one clears tiles in any direction.
The gameplay is turn-based, so whenever you encounter an enemy you must take turns in fighting each other. You can either attack the enemy by swiping your hero directly towards it, or from a distance by shooting arrows. The fun comes as you can merge multiple elements and swipe continuously towards the enemy to inflict a more powerful damage (fire, ice, earth, …). You can see the gameplay in action here:
Your hero gains experience everytime you fight and it will level up allowing you to increase its health, attack and/or spell power. During fights you can use your weapons but also spells that you learn in the town. You can collect chests to discover powerful gear that you can equip with and deal more damage. Each item is also upgradeable.
In Darkest Hunters you can collect gold coins and also get diamonds by completing quests. Coins are mostly used for upgrading items, while diamonds for other in-app purchases (i.e. baking bread that gives you energy to move). Now do you believe me if I tell you that Darkest Hunters offers a very vast gaming experience? I literally played several hours just to finish 1 of the 5 available worlds. And if your hero reaches level 20, then you can unlock a special multiplayer play mode and challenge real worldwide players.
You can follow your hero's progress on a map, and the best part is that any level is replayable. Which is actually mandatory since some quests require replaying a level – some are so difficult that you will replay anyway as you get killed quite fast. Enemies you fight against have different levels of toughness as well, and can also be resistance to some type of attacks (i.e. good armor against melee, no protection against ice spells). Luckily you can long tap on an enemy to see a detailed status and what they're vulnerable at.
When you're done fighting you can "relax" by going into the town. Here you can visit various rooms:
Go to the shop to buy gear
Visit the mage to learn new spells
Visit the Tavern to recruit new heroes and learn about your enemies
Go to your baker to bake new bread. Every move you make in the game area requires 1 bread (for energy).
Lastly, if you've reached level 20 you can access the PVP multiplayer mode.
As you can see the RPG side of Darkest Hunters is quite big and that's what makes the game so attractive. There's also influences from strategy games, as without a strategy you won't be able to complete a lot of the given quests. For instance, one of the most challenging quests is to create crystals of level 3 or more. This requires merging in one big swipe around 15 different elements. You can only swipe from one colored element to another of the same color, that's what makes it more challenging.
Features
Summing it up, here are the main features characterizing Darkest Hunters:
Beautiful Graphics. If you're a retro nostalgic (like me) the graphics will be the first thing that catches your attention. That pixel-perfect art will please the eyes of the gaming connoisseurs. And a touch of dark of course,sometimes literally as the whole screen gets covered in a dark mist.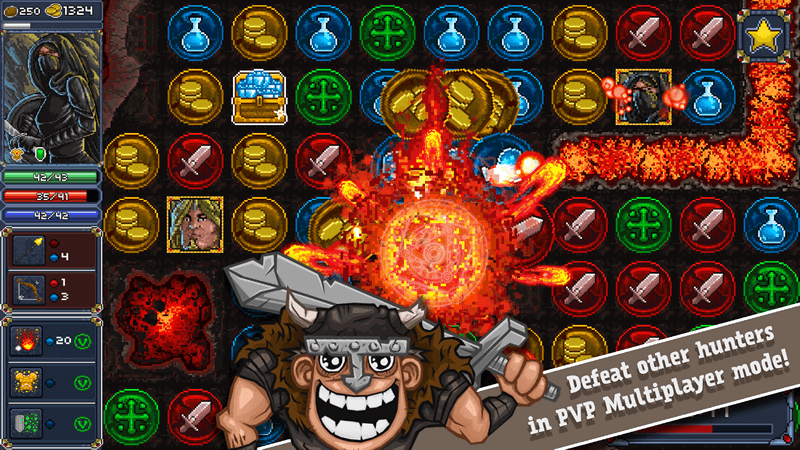 Multiple Heroes. I counted 13 different heroes for now, and I'm sure more will be added. You can use diamonds to unlock new characters. Each has different attributes, some are better with the bow, others with spells, so depending on your fighting taste you have what to choose.
Upgradeable gear. Your hero is equipped with a hat, body armor, amulet, ring, shoes and 2 weapons. Each of these items is upgradeable and as you play you'll discover chests that can hide unique equipment. For every piece of equipment you'll see how those will help your character (i.e. adding more armor, fighting power, providing resistance against poison and so on).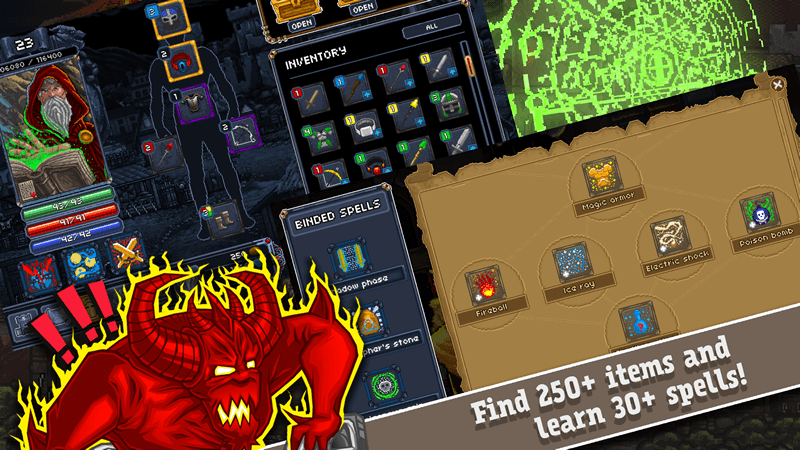 Quests. For each level there's a number of quests available. You can head on to the exit portal for a level without completing a quest, however quests give you access to more gold, diamonds and unique items. If you complete one-third of the quests for a level you get a chest full of gold, for two-thirds you get a chest full of diamonds and for completing all quests you get a chest full of upgraded equipment.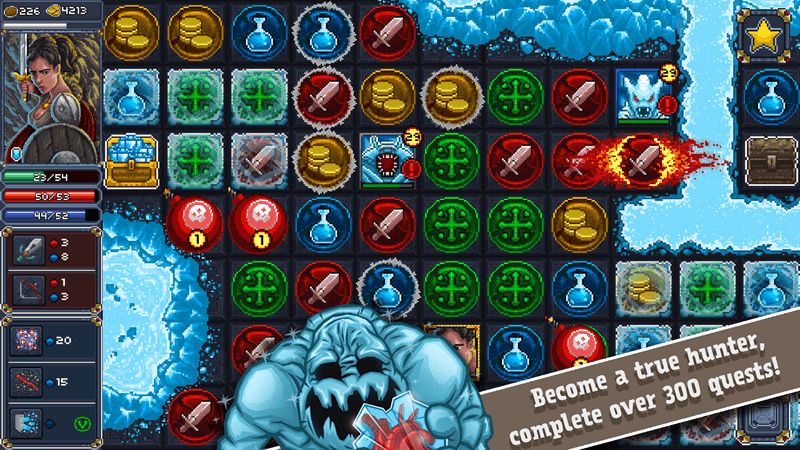 Lots of enemies. Ants, spiders, ents, bears, wolves and many many other types of enemies to fight against. My recommendation is to study the enemy (long-tap) to see what it's vulnerable against, as otherwise you'll fight blindly. Every now and then you'll have to fight against a boss, those are the toughest enemies to defeat.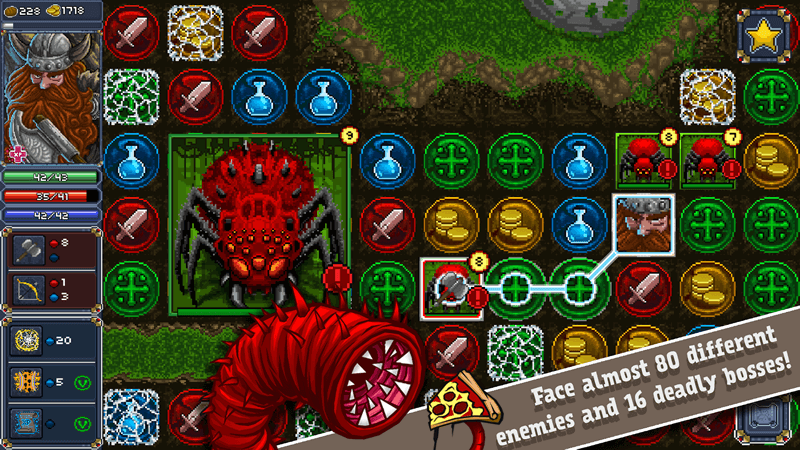 RPG meets Match-3 meets Strategy. This sums up the unique gameplay, as all these 3 play modes are part of what makes Darkest Hunters cool.
Conclusion
Darkest Hunters is monetized via in-app purchases and some occasional ads. But the IAP isn't crippling the gameplay at all, you can play to earn diamonds & coins to unlock items. Even the bread, energy needed to move throughout the game, can be baked in time. At first I thought this is an inconvenience, having 250 loafs of bread which equals 250 movements, but I discovered that a break is good from time to time. You can still bake/purchase breads in lots of 25 after if you really insist on continuing the play.
I had fun with Darkest Hunters and I'll continue to play it for sure. You know a game is good when it doesn't just entertains, it comes with a full gaming experience. And that's the case with Darkest Hunters. Happy hunting!
[pb-app-box pname='com.eccgames.darkesthunters' name='Space Frontier' theme='light' lang='en']