AtHome Camera Review & Download
My first camera surveillance experience
Becoming a parent is unlike anything else you've experienced (except if you're becoming a parent for a second time). If you're the type that likes to have most risks under management as I am, you're in for busy times. Anyway, one of the risks for babies is that they can suffocate during sleep in the first year of their live (it's called the Sudden Infant Death Syndrome) – it always happens during sleep and there are several factors, but the idea is that you must monitor your baby carefully. And I took that as my priority, to monitor the baby while he slept since his crib was in a different room. After my thorough research I ended up a baby monitor camera (supposedly one of the best for the buck) and installed it – think the brand was Levana. It had this smart detection thingy that, whenever the baby would make a noise or move during the night, it would start-up the receiver and alert us. The only problem is that it started even when there weren't actually noises – the other solution was to always keep it on, but then it had this static that made sleeping impossible, especially since new parents, well, they suffer from sleep deprivation. So, I ended up tossing the camera and bringing the baby in the room with us and that solved it (though on the long term that's bad since a few years later he still doesn't want to leave our room).
My next attempt at using a surveillance camera was with a Foscam IP camera. Granted, it was one of the first models, but trying to have it successfully connected to the internet and accessing it remotely was an impossible task. I think I even invented new swearing words when trying to connect it. I gave up after 1 day since I realized I had to buy a new wireless router for it to work externally – maybe it wasn't the manufacturer's fault as I'm generally a bit slouch, but using surveillance cameras, for any purpose from baby monitoring to bird watching or whatever, should be easier. And, it apparently is if you have the right app.
The App
A couple years fast-forward and now there are several mobile apps that can transform other devices (with cameras on them) into surveillance cameras. Such an example is the AtHome Camera, an app that lets you manage from your smartphone several other surveillance cameras that were connected into their system. Before I delve into details here's a video overview of what this app is about and how it can help with setting up a surveillance system the EASY way:
That's right, I emphasized the EASY part because I couldn't actually believe how easy it was to have a laptop transformed into a surveillance camera and managed from your smartphone where AtHome Camera was installed. The principle behind this app is simple. You have to install a streaming program on the device you want to transform in a monitoring camera. Say for instance you have an unused laptop. Just install the streaming program called AtHome Streaming Software (here's the link where you can download it) on your laptop and it will let you set an username and a password for it. Plus, it will assign it an identification number (called CID). Then, on your smartphone install the monitoring app, AtHome Camera, and add the laptop by entering its CID, username and password. That's it, now you have real-time video and your surveillance system (albeit a small one). Nothing else to install/pair, no troubleshooting to do on why the connection drops, no nothing. It just works.
The key to success in every app (and everything else by that reasoning) is to keep things simple, stupid (KISS). The simpler things are, the less prone for error they'll be. Back to the app, the best part is that any device with a camera can be used as part of your surveillance system: old desktop/laptop computers, older smartphones, tablets, smart tvs/set-top boxes, cameras – you name it, as long as it has a good working camera and connection to the internet you'll be able to use it.
Here are the steps involved in having your own surveillance system in place with AtHome's products:
Decide which devices you want to use for streaming video to your smartphone. Download and install the AtHome Video Streamer on those devices. Currently there are 4 operating systems supported: Windows, Mac OS X, iOS and Android (no support for Windows Mobile yet but I bet they're working on it). Once installed, for each device you'll have an username, password and CID (identification number)
Install the AtHome Camera app on your smartphone. Currently you can install it on iOS/Android.
Add your streaming devices by using their details (CID, user/pass). Optionally you can also add them by scanning a QR code generated by the streaming app (useful if you're close to the devices). Lastly, you can have AtHome Camera search your network for compatible devices it can add.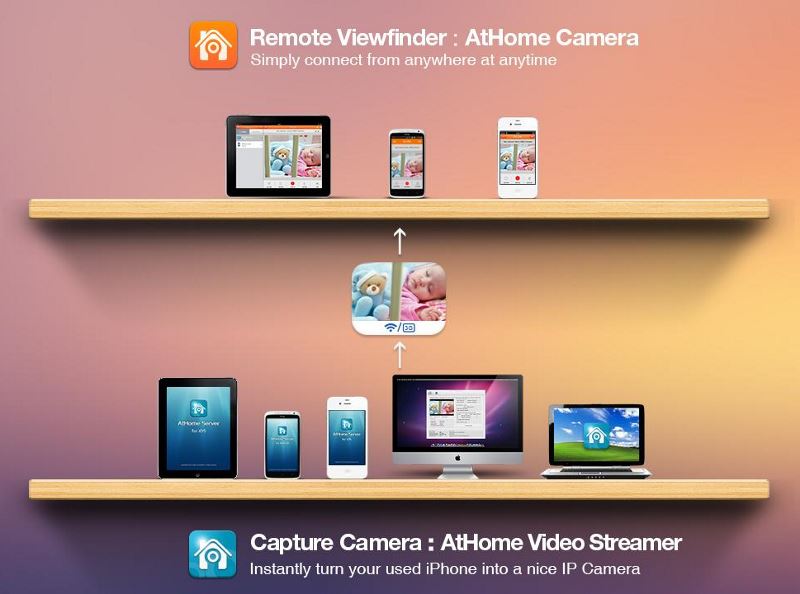 iChano, the company developing AtHome, mentioned that it has been installed on over 4 million devices, an incredible number if you think about it. Judging that both the Android and iOS apps are around 0.5/1 million installs, I believe them considering they also support other platforms. It just goes to show that there many out there that want a surveillance system to monitor their babies, pets, nannies, buildings, businesses and so on. No matter what you want to keep an eye on, AtHome Camera will help and even send you alerts in case it detects something (i.e. movement in your house when you're on a holiday).
Features
Here are the features that I consider makes AtHome Camera a good choice if you want a cheap surveillance system:
Remote Monitoring. I'd say this is the key feature in AtHome Camera, the fact that you can monitor something remotely (from babies and their nannies to pets and your neighbors). Just be sure you have at least one device with a camera capable to be on the "internets" and once you install the streaming app on it you'll be able to manage it from your dashboard. If you don't have an old device good for remote monitoring around, you can always get a real security camera and install it. In this later case, AtHome helps because it will let you manage that camera and others you have from a single location and without any complicated setups. AtHome Camera is installed on your smartphone, so as long as you have 3G/4G or WiFi on it you'll be able to monitor your cameras from anywhere and at anytime.
Multiple Platforms. The AtHome system has 2 components: AtHome Video Streaming app and AtHome Camera app. The first can be installed on the device that needs to act as the monitoring camera, while the last one is installed on your smartphone/tablet and allows you to manage/view the cameras. You can install the streaming app on any device that has Windows (PC not Mobile), Mac, iOS or Android. The camera app can be installed on Android (tablet), iOS (iPad tablets) or Windows (desktop/laptop PCs). So it is truly a multi-platform monitoring solution, you can install and use it both from desktop or mobile devices. The only downside I see here is the fact that Windows Mobile is not currently supported, so if you own a Nokia smartphone you're out of luck – but then again, who owns a Nokia smartphone anymore :).
Motion Detection. When the app will detect motion it will send you an email or a push notification depending on how you set it up. This is great for instance when you're monitoring your house while on vacation and you know that there shouldn't be any movement – when the motion detection is triggered and you're notified you can quickly call police so that they can catch the culprit. You could also have another company provide quick response in case of emergency and CC-them in the email, so when something suspicious is detected they could show up and handle the situation. Motion triggered notifications are also useful when you're using it as a baby camera and obviously in many other situations.
Scheduled Recording. You can configure the camera to fire-up the recording automatically at certain time intervals. Do you have a suspicion that your nanny isn't taking care of your baby as it should? Schedule the recording to start after she picks up your baby from daycare or kindergarten. Are you suspicious that your cleaning lady steals from you? Set up a recording to start and run between the hours she cleans your house. Are you suspicious that your wife is cheating on you? Well, I don't know what to recommend in this case. For everything else, you have AtHome Camera.
Two-way Communication. If the device that does the streaming has a mic too you'll be able to communicate via AtHome Camera as well. This is especially useful when you want to calm down your baby and instead of getting up and going over there you can talk to him/her and sing a lullaby (or run one on your phone). It works in other situations as well, say you've seen burglars entered your home, why don't you scare them away screaming "I CALLED THE COPS" – even worse you could make gunshot noises and imagination is the limit for what else you could do to scare them away.
PTZ Control. Pan/Tilt/Zoom is supported, as long as the controlled camera has support for that too. This can't work with smartphones used as cameras for obvious reasons, but with IP cameras for instance it's a good way to zoom in on a subject, move it up/down, left or right. I kept thinking how they can provide the AtHome Camera app and the streaming one for free – I guess they do get some money off selling cameras (hardware) on their site.
Conclusion
A surveillance system has a very important benefit, it offers you peace of mind. No matter what you monitor, if you decide to do so it means you care so a surveillance can help reduce stress and let you … worry about other things :). With AtHome, both the Camera and the Streaming app, you can build your own surveillance system without spending thousands on the hardware. Plus, the easy-to-install and use part won me over.
Have you ever tried to use the software that comes with an IP camera? It's obviously that if the manufacturers spend most of their budget on producing the camera, they will spend very little on developing the software, that's why as good as a camera would be, the software is in most cases lacking something. AtHome is that missing link and a very good solution in this situation. If you were looking for a live streaming-camera management app my suggestion is to try this too. You won't be disappointed.
[pb-app-box pname='com.ichano.athome.camera' name='AtHome Camera' theme='light' lang='en']