Intel Security Battery Optimizer helps your device last longer
I'm not a fan of expensive smartphones for the sole reason of being too clumsy. After I learned my first lesson bricking a $500 phone I decided I would "invest" in Chinese brands that cost around $100. That's why I end up with phones called Doogee, Cubot or other brand name that's similar to something else. These are pretty standard phones, nothing extraordinary, and one field they don't excel in for sure is how long the battery lasts between charges. At first I thought it was only for my "low-end" smartphone, but apparently high-end smartphones aren't that great in terms of battery life either. CNET tested recently high-end phones and decided these were the 5 best ones in terms of battery life:
Samsung Galaxy S7, Active and Edge range between 16 and 21 hours
OnePlus 3 around 14 hours
Xiaomi Mi 5 up to 14 hours (on a 3000 mAh battery)
Huawei Mate 8 around 15 hours (on a whoooping 4000 mAh battery
Samsung Galaxy J3 with up to 15 hours
So some of the most expensive smartphones last under a day if actively used and that's depressing, if you think that the good ol' Nokia 3310 went at least 260 hours between charges. Anyway, nostalgia aside until hardware technology evolves maybe it's the software innovations that can help.
The app
This brought me to search for apps that help optimize smartphones to extend the battery usage between charges and after testing several ones I decided to pick Intel Security's Battery Optimizer. I tested even the popular (in terms of installs) DU Battery Saver but I was disappointed at how "in-your-face" their advertising technique is now. Practically every time you run a manual battery optimization, you'll see an ad. Anyway, I find Intel Security's better and I'm happy with my decision. It is definitely quite simple to use it and focuses on what its core function is rather than trying to force you into installing other apps. A video is worth 1,000 pictures (and 1 picture 1,000 words) so watch this quick demo to see what the app is about:
Exactly how I presented it, a clean interface (material-design style) with just 5 different sections that give you access to almost everything the app can do: Save Battery, Free up Memory, Clean Storage, Limit Data and Quick Boost, the one combining the cleaning functions. Everything you'd need from device optimization app. I don't have any "insider" stats but Google Play reports it as having between 1 and 5 million installs so reputation is already established. Originally the app was released under the McAfee brand, however if you didn't know (like me) that was purchased entirely by Intel® Security.
Battery Optimizer separates itself from competitors with one key aspect, they offer 24/7 customer support via email and chat. None of the other optimization apps I tested offer this so that's one thing to put into balance when deciding which one to pick. The app has multi-language support too and it's up to 27 different translations – not that you'd need to read much from it, as the interface is intuitive enough to understand it fast.
Main features
Boost your device's speed. Your device's memory is "sucked" little by little by every process that's running at a certain point. If a particular app or game is not well developed, it might use much more memory than it should. The link between memory and device speed is very simple, the more free memory you have available when you're doing something (i.e. playing), the faster your device will respond.
This is where Intel Security Battery Optimizer steps in. With a simple tap you can have it free up memory. First it will run a scan and reveal how much memory you could free up by cleaning temp data from running apps. You will also see the affected list of apps. All that's left is to confirm the action and your device will run faster (for a while, until other apps start clogging the memory). Do note that this only cleans temporarily the memory and doesn't uninstall your apps – the apps will still be there.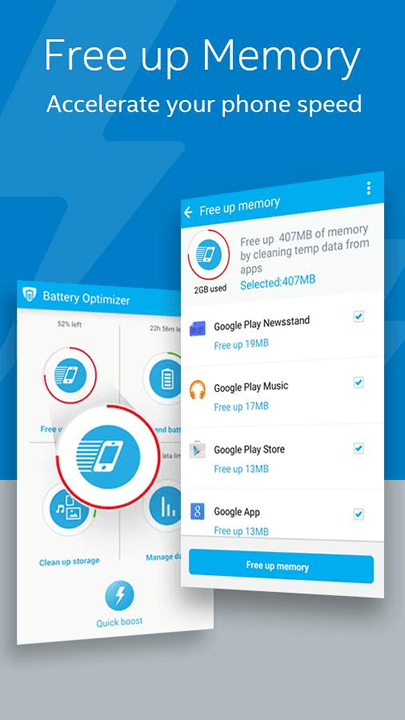 Extend the battery usage between charges. No matter how long your phone/tablet battery lasts between charges now, using this app will make it last longer. You can see an estimate of how many hours your current battery charge will last for and with a simple tap you can extend that duration.
What it will do is basically close the apps that are currently running (even background apps) and also you have icons for various settings you can adjust to save battery (i.e. disable Wi-Fi, Bluetooth, adjust brightness, vibration, …). You will also see a list of top battery draining apps in time so that you can disable/uninstall those if they're not necessary. This action (i.e. saving battery) can run on demand whenever you decide to do so or it can run automatically.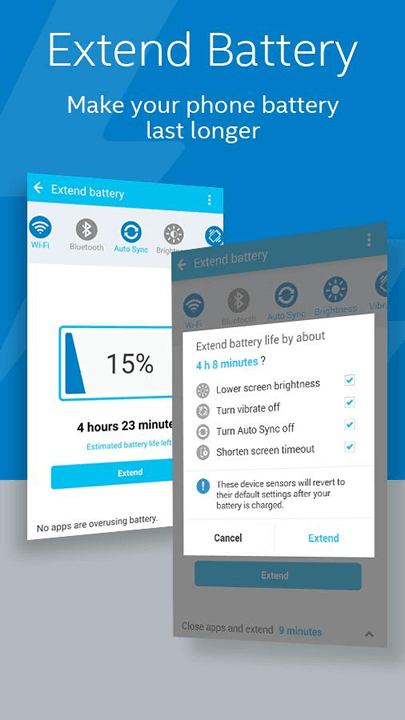 Free up storage space. If you're running low on storage space you can use this app to clean unnecessary files and free up some space. Once the process starts it will show how much used storage space can be freed up.
You can delve into details as it will show separate sections for Junk files (i.e. app temp files, along with how much you'll save), Apps that you can uninstall (and how much you save for each one) and Files (large files you can remove and downloaded files). You can then individually run these actions to save some storage.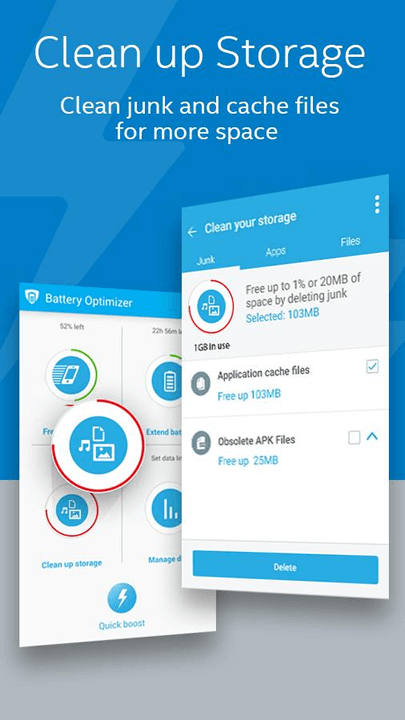 Track mobile data use.  Data usage is important especially when traveling. Intel Security Battery Optimizer monitors your data usage and helps you stop data consuming apps to avoid fees. When you first install the app it won't have any information to display as it needs some time to estimate your data use, but you can still set a data limit to be sure you won't go into extra costs.
Once it gathers information you'll see a graph with how much data was used (based on the limit you add) and how much you have for the billing month (you can set a custom billing date to see precisely how much data you have left for the current month).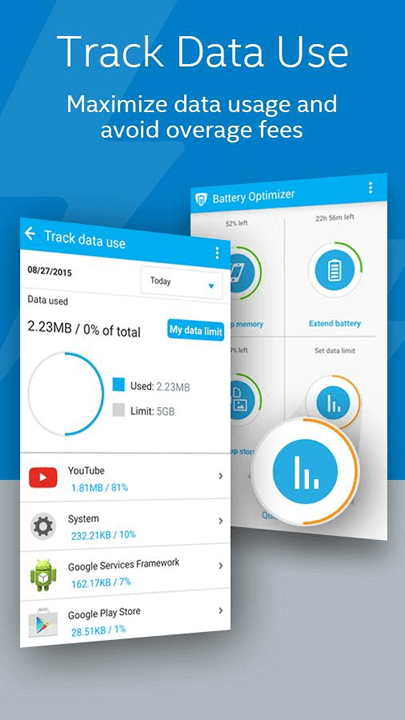 Quick boost. This option will free memory, extend battery and clean the storage with a simple tap. So basically it runs all other utilities at once and gives your device a quick speed-up when you don't want to mess individually with the options. Linked to this option it's also the possibility of stopping apps with a single tap when you want to shut everything down easily – this requires some extra permissions but it will do the job.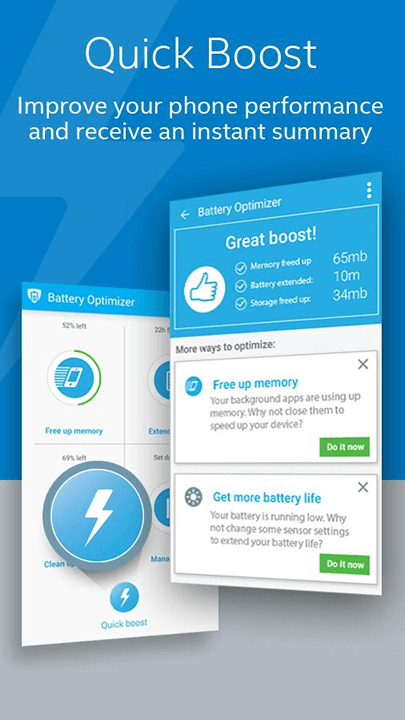 Toggle menu & Notifications. The app will enable an active toolbar and also will show it on the lockscreen. This gives you a quick overview of the device for the main 4 categories: Memory (how much is free), Storage (how much free space), Battery (hours left on this charge) and Data. Finally you have also a Quick Boost button to run the optimization right from the lockscreen or notifications toolbar.
Intel Security Battery Optimizer allows several types of notifications that will help you manage your phone better. It can notify when memory used surpasses 75% so that you free it up manually, then it has notifications for battery levels below 40% or 20% with the option to auto-extend battery life when it gets there. This will automatically run the battery saver tool.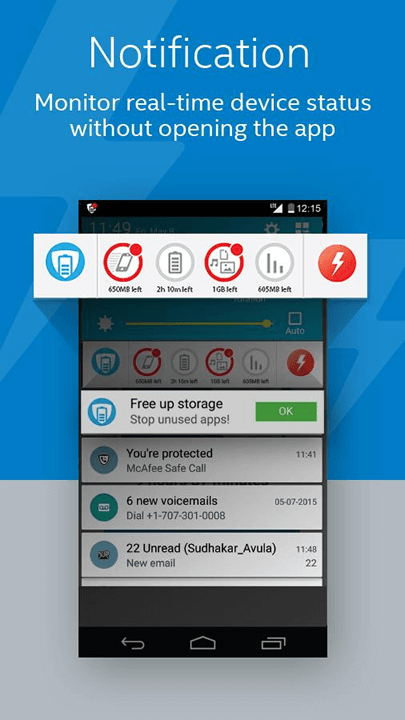 Next, you have notifications for storage space so when 70% is reached you get a warning. Lastly you can have notifications for mobile data, when that reaches 70% of the allotted monthly plan you'll know to take action. By default sticky notifications are turned on too so you'll see the battery percentage in the top left of the status bar.
In conclusion
Other battery optimization apps play a game of cat-and-mouse with apps, basically they close all app processes, and the apps after a while open those again and so on. But Intel Security Battery Optimizer does it smarter, as it allows auto-extending battery life saving actions based on your preferences. Not to mention that it also includes the storage cleaning function, which helped me realize I had several large downloaded files that were just sitting there.
I see the memory freeing action more of a "game mode" for your device – at least that's how I use it, whenever I want to play something that I know is resource consuming I just hit the "Free up memory" and it will allow me to enjoy my minutes of joy (yes, after a certain age you've only got minutes for relaxation). My only small complaint so far with it is the long name (Intel Security Battery Optimization) – I would've personally went with something shorter, even an acronym such as ISBO (kinda like how this sounds "Is your phone ISBO-ed yet?". But then again, I don't like my own name either due to its length, that doesn't mean I'm not a good person :).
Everything considered Intel Security Battery Optimizer is and will continue to be my choice mainly for battery optimization. So if you're looking to get more juice out of your battery try it and compare how much more it lasts – that until Duracell starts manufacturing smartphone batteries. I truly recommend it.
[pb-app-box pname='com.mcafee.batteryoptimizer' name='Intel Security Battery Optimizer' theme='light' lang='en']