BetOnDroid, Android app for Betfair sports exchange
Overview
Gambling has a long history dating back to as early as the 15th century and most games that you can play now in casinos have their roots in China. As early as gambling started, only after 1994 online gambling first became a viable option and online casinos started up. Partly due to legislation and lack of online customers, online gambling climbed up in popularity and it was at the height of the Internet bubble (2000) when Betfair launched. Betfair is currently the world's largest Internet betting exchange company and to have an idea of what that means they claim to have over 4 million customers and a turnover in excess of $320 million per month. Yes, you read that correctly, it adds up to almost $4 billion per year, mind blowing if you take into account that we're talking about betting here.
Betfair started in UK and was one of the companies that received in 2003 the Queen's Awards for Enterprise in the Innovation, a prestigious award. Unfortunately for the UK, as most giants do, Betfair moved its operations to Gibraltar in 2011 to save lots of money in taxes. If you think that's unfair, think about your favorite tech company and pretty sure they're based in a fiscal paradise too (Google, Apple, Microsoft, …). Politics aside, Betfair allows its clients to bet on anything sport related, horse racing, casino games (i.e. poker), even Vegas slots and Bingo games.
Betfair has recently launched a developer program that allowed third party developers to create applications that interface with Betfair. This was a great move on their side as now there are dozens of apps that can help you interact better with Betfair. If you have an Android device then you can use BetOnDroid, the first app with a ladder interface that lets you manage your Betfair bets.
The app
BetOnDroid is free and obviously it requires you to have a Betfair account (or sign-up for one before using the app). Its dashboard will give you the default login/logout actions, as well as allowing you to create a Betfair account. From the dashboard you can access your account and bets, see all the events you can bet on and two sections for InPlay Now Markets and InPlay Soon Markets – basically current games or soon to start ones that you can bet on while the game is still playing. For your account information you can see general info such as how many betfair points you have and discount commission, as well as details regarding your current wallets. You can have wallets in different currencies and for each you'll see the amount deposited, how much of it can be used for betting, how much can it be withdrawn and lastly what is your current exposure (plus the maximum limit) for that currency. From your account you can also transfer funds between wallets.
The interesting part happens when you access the most important section of the app, the bets one. That's what you've seen in the screenshot above and this is where you can place your bets with a simple tap. The top section will show you the event name you've selected and what market is part of (along with market status, start time and total amount in this market). You also have actions at the top to cancel all your unmatched bets, change the size of the bet (Betfair has a minimum of 2) and enable virtual prices. You can also see all the bets from that market, a chart with pricing fluctuations for bets and runner information (only for horse racing). Its interface uses a ladder system, as you can see well described in the image below: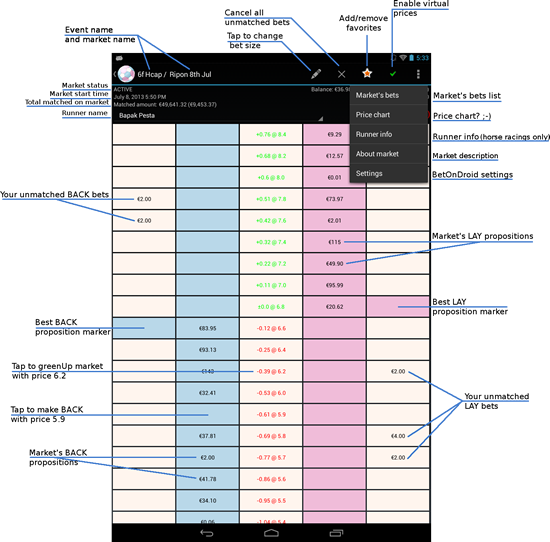 Here's a list of features that BetOnDroid has:
Ladder interface. If you're a novice in the betting area, here's a little bit of mandatory Trivia: LAY bet means placing a bet that something won't happen; BACK bet means placing a bet that something will happen; HEDGING/GREENUP means placing both lay and back bets on an event with the purpose of getting a profit no matter what the turnout of the event will be. From BetOnDroid's interface you'll be able to place both lay/back bets, you'll see the suggested best ones for the market, all in a tabular view with color coding. This is designed in a manner that will help you act fast especially for inplay betting where time is of essence.
One tap actions. From the bets interface you have 'one tap' actions that will let you place a bet with a single tap, cancel one or even hedge/greenup a bet.
Multiple wallets and markets. You have access to odds from the UK and Australian betting exchange markets. This means that you also have two wallets for your account, one in pounds (for UK) and another in Australian dollars. It's also possible to transfer funds between these wallets.
InPlay access. With BetOnDroid you have quick access to "Inplay now" and "Inplay soon" markets. Inplay means placing bets for a game/event that is currently taking place. The amount and type of bet will vary depending on the bets that were placed before the match and also that are currently placed. You can place any type of bet for an Inplay event, as long as someone else will match your bet.
Runner info. For horse racing you will also see information regarding the horse that's running. You'll be able to see who's the jockey, what's the age/weight of the runner, how long ago the last race was, who is the trainer, what is the official rating and other details that you could use to decide on how to bet.
Price info. You can enable virtual prices to be shown for betting and also see price charts for each market. Surely prices will vary depending on how many bets are placed in a direction, that's why the price will fluctuate.
Settings. BetOnDroid has various settings to improve your betting experience. You can choose to keep unmatched bets for inplay games, you can enable betfair starting price, you can enable confirmations for betting/cancelling/greening-up, set the refresh rate for prices (1 second by default) and various view settings (blink amount changes, set height for cells, highlight best bets). Lastly you can select what to view from the markets available.
Free. BetOnDroid is free and doesn't show any ads. It is one of the apps approved by Betfair and available in their directory. The app is also available on Google Play, however it only has read-only functionality in there as Google doesn't allow real-betting apps in its market.
Conclusion
BetOnDroid is definitely a must for betting experts and novices. It can be downloaded for free however since the download isn't offered directly via Google Play there's an extra step you have to make to install it, enabling the installation of apps from Unknown Sources. To do so go to Menu -> Settings -> Applications and check the box marked "Unknown Sources" (allow installation of apps from non-market sources). After that just download the .apk file and run it.
You can read more about this app on its official website at betondroid.com or download the .apk directly here: Download BetOnDroid
Name: BetOnDroid
Developer: BetOnDroid
Size: 1.6Mb
Package: BetOnDroid.apk
Version: 1.8.6
Last update: October 6, 2013
Price: Free