Angry Birds Explore: AR game with Angry Birds Movie 2 characters & BirdCodes
I wasn't a fan of the original The Angry Birds Movie, but I guess I'm not part of the target audience – being old might have something to do with it, although I still enjoy the first Ice Age iteration.
Nevertheless, the movie did ok financially for Rovio and Columbia Pictures, as it had over $350 million in revenues. Not to mention the promotional materials and other things that brought in money. Anyway, due to its success, the movie has a sequel that will be released this summer, nearly 3 years after the original. The Angry Birds Movie 2 will feature new characters and basically the same style as the first one.
In order to promote their movie Rovio released their first ever Angry Birds AR game. It's called "Angry Birds Explore" and basically offers an augmented reality experience through a series of mini-games with characters from The Angry Birds Movie 2. Rovio had some previous attempts at using AR in their games, but this one is the first AR mini-game collection with the Angry Birds cast.
Angry Birds Explore lets you experience the Bird Island, your own bird hut and the characters from the movie using augmented reality. Just point the phone at a surface (i.e. your own room) and see the magic unfold. Well, sort of. I still haven't played an AR game that looks good and is easy to control, and ABE is no exception. Here's basically what it features:
Augmented reality. The game mainly allows you to explore the Bird Island in Augmented Reality. You have your own Hut on the island that can be decorated with various items, all based on AR of course. In the Hut you'll discover the Mystery Box (which provides daily surprises such as Anger Coins or new experiences) and the Mirror (which adds items to your mirror image). You can decorate your Hut by purchasing different objects (furniture, Zen gardens, …).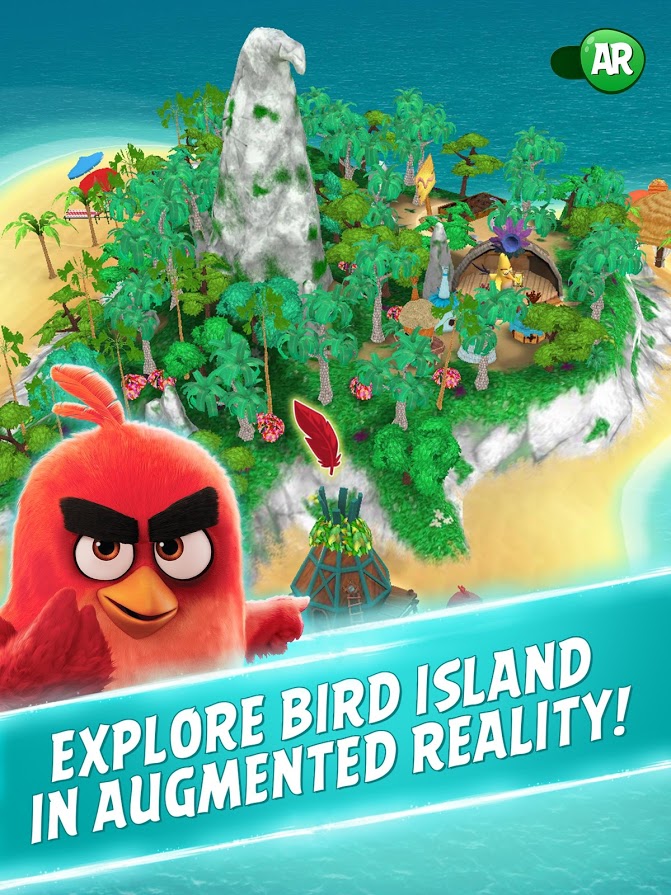 Real BirdCodes. This is the part that links the movie with the game, from a marketing point of view. You can buy various Angry Birds Movie 2 products and receive BirdCodes with those. Scanning the BirdCodes will unlock even more attractions on the island. These allow for instance playing the mini games, or unlocking animated face masks. After installing and running the Angry Birds Explore application, you will find a blue button that looks like a BirdCode at the bottom left corner of the screen. Press it, and a camera viewfinder opens with Red looking for BirdCodes. Point the camera to a code, and it will work automatically.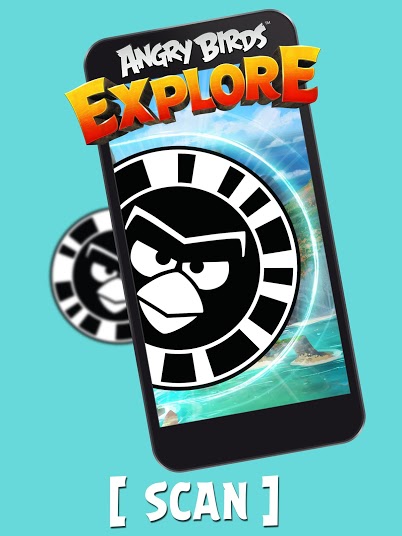 Anger Coins. You can earn Anger Coins from playing the game and those can be traded for decorations for your hut. Even if you do not have any physical BirdCodes, you can enjoy other experiences as well. For instance there is a Mystery Box that provides a free bonus every day.
Other fun activities. There is an Art Studio where you can place Angry Birds Movie characters in your own world, and then take selfies or videos with them. There are also various mini-games that can be played.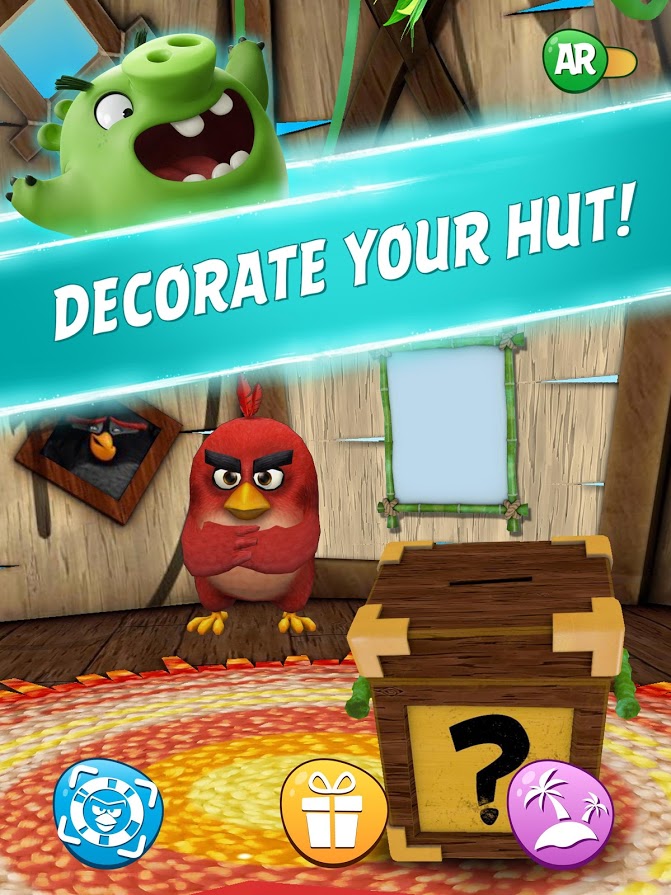 The Worm Garden. This should have its own section, because it's an important part of the game. Here you breed worms to feed the hatchlings from the movie. The garden contains different types of elements. To plant a worm, first you'll need to dig a hole. Then you plant the worm seed (yes, you read that correctly, the worm seed), water those and give them worm food. You can also "combine" any 2 full grown worms into the same square, to make them produce baby worms without needing the seeds. If this doesn't resemble real life, I don't know what does.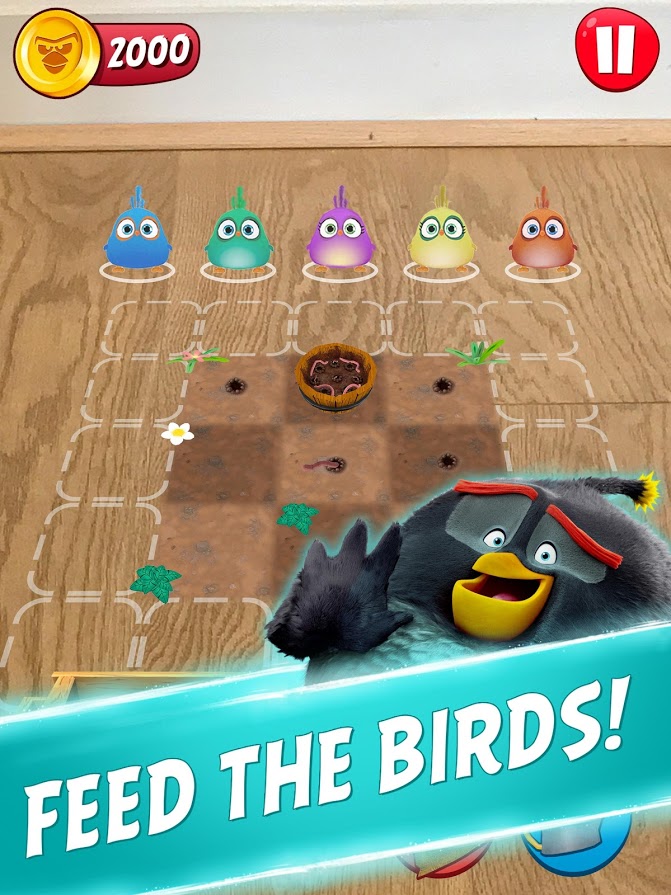 Angry Birds Explore was recently released (June 3rd), so as of now there's less than 1,000 installs but that's about to change in the coming weeks. I'm sure it'll enter at least the Trending section on Google Play. If you have any questions regarding the game they do have a dedicated area for it, but I've compiled a few of the most common questions and here's what's of interest:
Phone compatibility. The game doesn't require ARKit or ARCore compatible devices to function. In fact the only requirement is for the phone to have a camera and to be gyro-enabled (most smartphones are). So you can easily play it on any Android 2.2 or higher device. There's an iOS version as well.
No in-app purchases. That's true, even if the game has an in-game currency called Anger Coins, those can be gained by playing the game. You cannot buy those with real money. The game does display occasional ads though.
AR best practices. Some of the game experiences will ask you for a floor or flat surface that'll use to display the elements. Ideally you'll choose flat areas that have some sort of texture (i.e. won't work on a plain white floor) and obviously the more light in the room, the better will be for the camera.
That's it, one more gimmick to play with to experience the upcoming Angry Birds Movie 2. Sequels rarely match the success of the original movie, but who knows, maybe this will be the exception. In the meantime, the game is live on Google Play: Angry Birds Explore.