In Between – Play a game and help fight cancer
The story
Headup is an indie game studio that develops and publishes multi-platform games (duh!). My first interaction with their games was last year when I discovered Bridge Constructor Portal, a game that to this date still helps scratch the itch on my brain from time to time. Their games are loved and that's one reason they have 70+ million mobile clients. The other being that their games totally rock.
A new initiative caught my attention late last year, so when I returned from my sabbatical month I decided to send my kudos to Headup this way. In between November 2018 and 31st of January 2019, 50% of revenues for purchases of their "In Between" (sic!) game will go directly to the Cancer Research Institute. The In Between game is on Steam, iTunes and Google Play, so this is indeed a chance to play a great game while also helping fight cancer. Close to $1,650 were raised so far with 2 more weeks to go.

The collaboration helps not only raise money for cancer research, but also to increase awareness for the burden that cancer creates to patients and their families. That's what makes In Between special. The game's main character is a man diagnosed with terminal cancer and you follow his story as he struggles to accept his fate and achieve peace of mind. As you play along, you go through different psychological phases that also require a different play mode. In Between received the "Red Dot Award" and its jury summarizes the game in a way that I found to be just right on spot: "The innovative approach turns this game into a true art project". Just watch this quick demo to get a glimpse on what you can expect:
Another thing I like best is its graphics. They're entirely handmade, and I can tell that much of the effort in releasing the game was put into its graphics. Every scene looks like a painting and every asset is entirely made by hand. Coupled with a unusual interactive soundscapes, it creates a beautiful frame for a tragic story. One thing I noticed is that the main character's voice has a similar vibe to that of Rorschach from Watchmen. Beautiful visual and auditory story.
The game
Unique & touching story.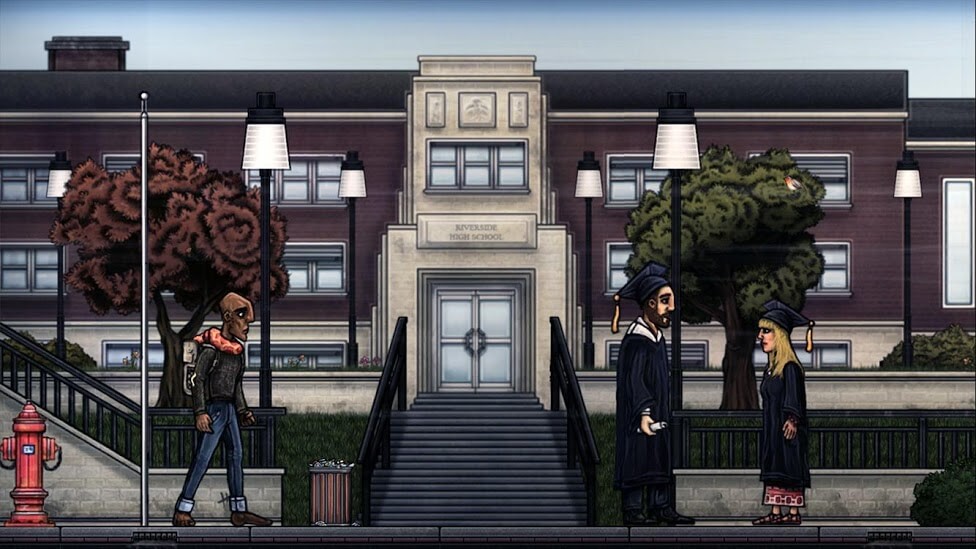 I've tested thousands of games and I can honestly say that In Between comes with a truly unique story. I've never played a game where the main hero is a dying cancer patient that tries to cope with the reality of mortality and the depression associated with it. The story starts in the clinic where the patient is treated and nicely unfolds chapter by chapter. The game is all inside the character's mind and as the story progresses you also experience memories from important life milestones (happy or sad). And I promise, the more you play, the less depressive the game feels. And that profound voice narrating the story really captures your full attention.
60 levels.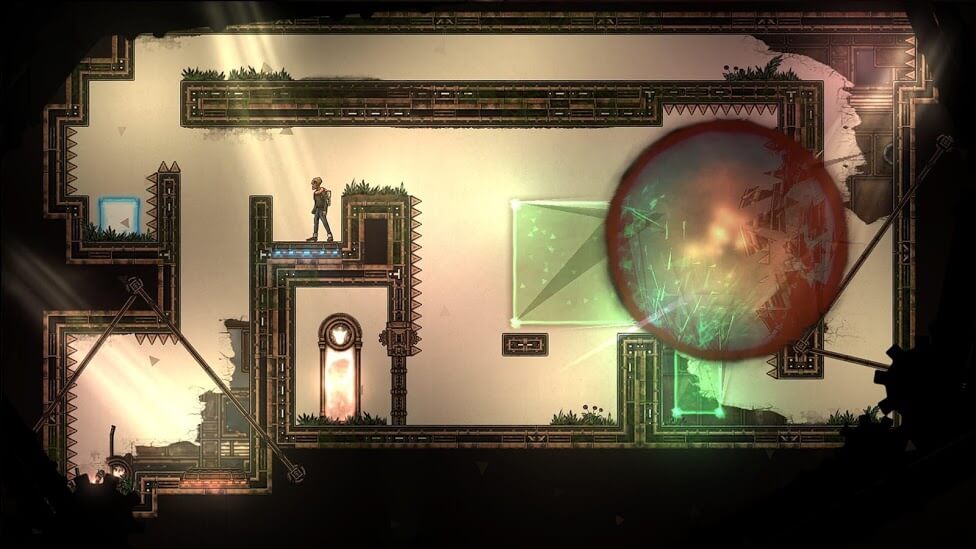 As for the gameplay, In Between is a platformer with mind-bending puzzles. Why mind-bending you ask? Well, since you are playing actually inside the main character's mind, there's no laws of physics to abide. That's why you'll be able to jump and walk upside down or to the side defying the element that governs our physical bodies, gravity. At first I thought a tutorial level would've been needed, but once you play you realize the tutorial would've spoiled the fun of discovery. I've only played a few levels and I'm excited for what's to come. Because new mechanics are introduced as you progress through the levels, with each stage "reflecting the emotions that surface when the protagonist copes with his fate" as the author best said it.
Unique mechanics.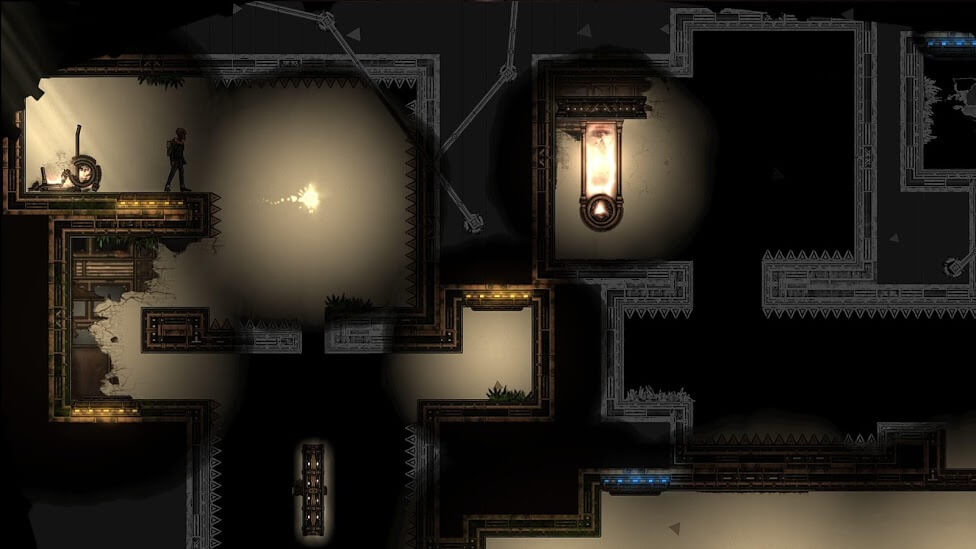 Doubt that you know this (I didn't until now), but thanatology is the scientific study of death and the losses brought as a result of death. Yes, there is a study of this too. Thanatology investigates not only the physical mechanisms of death (i.e. what happens with the body), but also wider wider psychological and social aspects.
The mechanics of In Between are derived from thanatology. This means that if this game was a movie, it would've had "Inspired by true events" written at the beginning. But it's not gruesome at all, in fact it actually helps the player experience virtually what a dying cancer patient goes through.
Gravity alteration.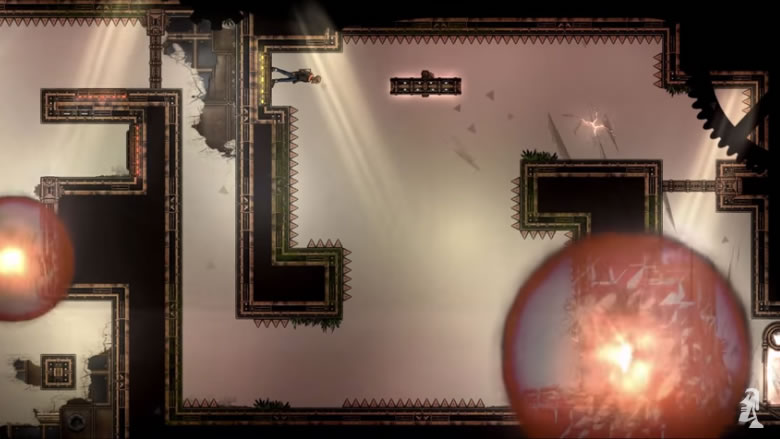 I've already mentioned the gameplay above, but gravity alteration sounds so good it needs its own topic. Your character can move 4-way defying gravity and that makes you think even bigger when trying to solve a puzzle. You'll see it's much more difficult to "think" in 4 directions than 2. But this makes the game even more challenging and that's good. You also get to avoid with static/dynamic obstacles that react to your actions and overall the gameplay is physics based.
Other perks.
By connecting your Google Play Game Services account you also unlock achievements, but what will drive you to play the game is trying to finish it and see if there's a happy ending. If you have a Bluetooth controller you can connect and play with it, and I strongly recommend playing In Between on a tablet to enjoy the spectacular graphics.
The Conclusion
Cancer is a disease that doesn't discriminate and that's one of the reasons I encourage everyone to try In Between. In comparison with other games, this one will give you a particular feeling due to its serious theme and unique story. And as mentioned in the beginning, 50% of all revenues from In Between (1st November 2018 till 31st January 2019) will go directly to the Cancer Research Institute as donations.
I also have 2 Google Play promo codes that unlock the full version to give out, so if you've read all the way to the bottom and like this genre add a comment and you might win it.
In Between is multi-platform and you can play it on Windows, Mac, Linux, XBOX One, Switch, Android and iOS. Would love to see it on Playstation as well, so fingers crossed: