RoundAPP: Heroo, Word Ninja, Jumping Car, Roamy and Warriors 2
Heroo puts your mind to the test
Heroo (not a misspelling, Hero with an extra "o") is a free color-match brain puzzle that just feels right when you have some time to spare and are tired of playing the same games over and over. In Heroo the rules are very simple but this doesn't mean the puzzles are easy, as they grow in complexity after each stage. The only elements available in the game are some hexagonal shapes, each with a "slice" in a random color. When you tap on an hexagon, it rotates and the goal is to match color of the edges for each adjoining element. Sounds easy, right? Well, the thing is that moves are limited and if you run out of those (or time) you lose.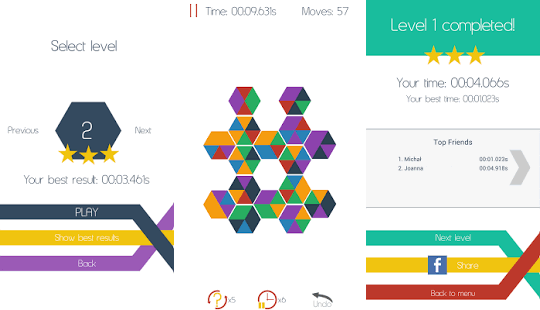 Heroo requires some logical practice, but this is good since it puts your mind to do some thinking. Here are Heroo's (pardon the phonetic repetition) main features:
The game has 250 levels and all available for free
Simple graphics that allow you to focus on the puzzle. Just hexagons in various colors and information on how much time you spent on the level and how many moves.
It integrates with Facebook so if you want you can share your score and challenge friends. My 2 friends though didn't want to play it (don't feel pity for me, see the Facebook icon on the top-left and befriend me)
Star rating based on how many moves you make. At the end of each level you get 1, 2 or 3 stars based on how fast you solved the puzzle.
Powerups and undo moves. You get a free undo move (just a single one) and Heroo also has some powerups but these are available only as in-app purchases.
[pb-app-box pname='pl.bizcore.heroo' name='Heroo' theme='light' lang='en']
---
Word Ninja, when Fruit Ninja meets… a spelling contest
Fruit Ninja introduced a new genre, that of swipe-to-slice games. It's fun to cut watermelons and bananas with a sword on a tablet but let's face it, you just play it empty-minded. Here comes Word Ninja, a game where instead of slicing fruits you slice correctly spelled words. So you benefit from the same easy gameplay but instead you also do some thinking and practice your spelling. Don't be fooled, the game is educational but not only for kids, as I'm pretty sure most can't recognize the correct spelling for Fahrenheit in less than 1 second as it takes to slice it.
I'm not a native English speaker and I prefer Word Ninja over the fruit massacre one as I get the feeling I can improve my vocabulary (Potato or Potatoe?). Still not sure if in this digital version the saying becomes "the mind is mightier than the finger", but I know that you get several features with Word Ninja:
4 stages, 12 levels, and over 4,000 words to practice spelling with. That's enough to learn at least the spelling for the most common words.
Easy gameplay, just simple swipe-to-slice actions. Think fast, swipe faster and you'll get all the stars.
Social integration is present too, as highscores can be shared over Facebook to show your friends that you know how to spell too, even if your wall posts contradict it.
Great graphics (played it on a tablet), they mention the graphics are HD not that I could tell the difference between HD/non-HD versions on a tablet.
Two game modes, you can play also in Arcade where you endlessly slice words. You also can get some tutorship from Teacher Simon, an in-game character.
[pb-app-box pname='com.blueboat.wordninja' name='Word Ninja' theme='light' lang='en']
---
Jumping Car, a game where a car does… guess what?
You guessed right, the car you control in Jumping Car jumps (though it might be referring not to the fact that the car is jumping, but that you jump over cars). The game is a reminder of an old Commodore 64 classic game called Burning Rubber. In "Jumping Car" the goal is to crash into as many other cars as possible, but also bushes and flowers if you want to get a high-score. Your car automatically accelerates so all you have to control is the left/right steering, jumping and braking. It doesn't have levels, the game ends when you die and your score gets saved in the daily leaderboard and the total overall (if the score is worthy of such, not my case though).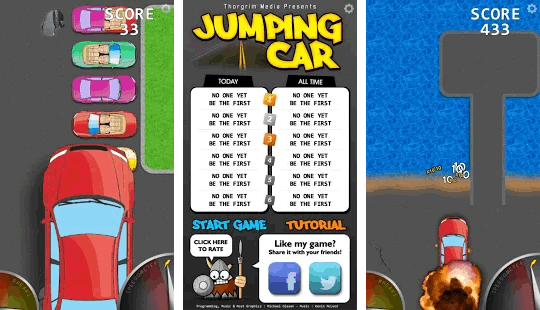 One thing though, I didn't mention how you die. On your way you will encounter stones, barriers and even water that you need to avoid by driving around it or jumping over it with your car. If you don't you die and have to start over. Here are some features I could think of after trying to get a highscore:
Easy controls, swipe up to jump over obstacles, down to brake, left/right to move sideways (similar to those in Subway Surfer)
Turbo speed items that boost both your car speed and the score while driving under the influence (of speed)
Daily/all time high-score leaderboard
Awesome action soundtrack made by Kevin MacLeod, a known royalty-free composer
The game is free but it has in-app purchases, as you can buy extra-lives and avoid to start from the beginning each time. The free version also shows you an ad everytime you start it from the beginning, but nothing too in-your-face.
[pb-app-box pname='com.wickedmedia.jumpingcars' name='Juming Car' theme='light' lang='en']
---
Roamy, one app to rule the data access of all
Roaming is incredibly expensive, though there are some European directives that say it will get cheaper in the future. Still, if you're not paying attention you'll pay money, real ones. Think about this, most of the apps you have installed once they detect internet they go nuts and start transferring data (updates, messages, conversations, …). Depending on your data plan, roaming could be as high as $1 per megabyte. If you're roaming and have your email client running unknowingly in the background, you'll really regret that your mother knows your email address and forwarded you that funny PowerPoint presentation which has 20Mb. You'll end up paying $20 for a couple of minutes.
https://www.youtube.com/watch?v=kGRLO9sTBKs
That's why you either disable data transfers completely, or use an app as Roamy that can limit your internet connection to be used only by your favorite apps and optionally set a limit on their data use. You'll get a warning about data usage and you have real-time monitoring of current usage as well as other important features:
Automatically enable Roamy when going abroad. This means that even if you forget to start the app when you switch to roaming, it will automatically detect that and start monitoring/limiting transfers.
Set up monthly limits (when you're in the country for all apps) or travel global limits (for all apps when you're abroad). If the limit is reached, the data transfer is cut off and apps won't be able to connect to the world-wide-web.
Pick your favorite apps and let Roamy give access only to them
As an example if you only want to let Whatsapp access the internet and set a limit to it of 1Mb, you'll still be able to get almost 150 text messages. Or if you're travelling allow only Tripadvisor to connect and do its thing, this way you only pay for what you need.
[pb-app-box pname='com.roamy' name='Roamy' theme='light' lang='en']
---
Warriors 2: Road to Ragnarok
The first Heroes games were devastating for my education as I played instead of going to school. There weren't any cheap portable devices back then, as I would've went to school and be physically there, mentally elsewhere. Luckily enough the sequels were crap and I managed to continue my education.
Warriors 2: Road to Ragnarok is a turn based strategy RPG that feels just like the original Heroes. You assemble an army and start your adventure in the lands of Bors. There's a story behind the game, with warriors that fight Wargods and their Titans to save the world, but the core of the game is the turn-based strategy fights. In the game you can pick your warriors from over 300 available ones, though they are grouped in 12 combat styles each with its own ability:
You have a large map to conquer and a lot of fights to take part of. For each adventure you have a goal (i.e. kill 5 fire bats) and once you accomplish that you move to the next one
Badges for various goals that you achieve
Extensive list of warriors and enemies available, each with different strengths and weaknesses.
In-app currency with which you can purchase upgrades
Right from the beginning this reminded me of Heroes, so play it only if you like that game style. Warriors 2 is free, the in-app purchases are optional, obviously.
[pb-app-box pname='com.enigmagames.warriors2′ name='Warriors 2: Road to Ragnarok' theme='light' lang='en']